Author's insight into the world of writing for radio

Author Cathy Feeny set Creative Writing students the task of writing a piece for radio when she visited The Priory's Sixth Form group.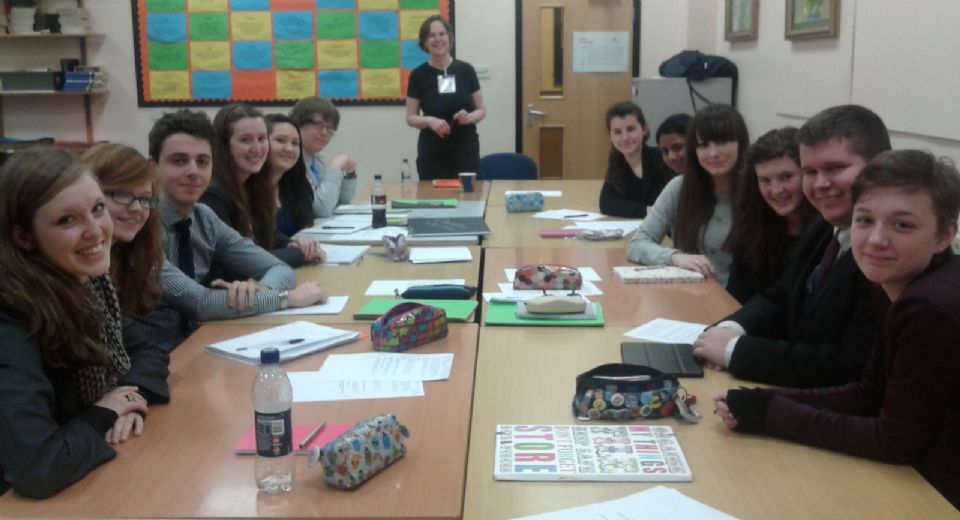 Tuesday 14th January was an important day for Mrs Oliver's Year 12 and 13 Creative Writing class at The Priory Academy LSST, with a visit and workshop from Cathy Feeney, a writer whose work is regularly played on BBC Radio Four and local radio stations around Brighton.
It was an interesting and insightful visit, detailing not only what sort of work is popular on the radio, but also the process of getting your work heard on the radio, from writing your first piece to becoming a regular writer for a radio station.
Although writing for radio is a brilliant way for new writers to start writing professionally, it is a difficult feat: you have to make sure that your work is engaging so that it instantly captivates the listener as they will probably be listening to the radio while doing something else, and your story has to last for around 15 minutes, as otherwise you risk losing your listener.
"Marketed writing often comes down to budgeting, and how much a buyer is willing to pay for what," Cathy told the students, explaining that writing for radio provides a much larger scope for subject matter and setting, which would be incredibly expensive if the same story was written for television or film.
Cathy then gave an outline of the process a writer embarks on when approaching a radio producer for the first time, suggesting many hints and tips to the students about how they can make themselves seem more professional and desirable to work with.
The students were then confronted with the task of coming up with a short story based on the theme 'Lincoln Green.' With Cathy acting as the radio producer commissioning the story, the students worked in small groups to outline their idea and give a brief summary of the plot.
Cathy then gave feedback to each group about how they could improve the delivery of their story if it were on radio, giving the students another insight into the process of writing for radio and the industry itself.
"It was really interesting to hear from a perspective of writing that would never be shown in the classroom, and a further insight into professional writing and the magnitude of media forms that you can write for," said Liam Hardy, a Year 13 student on the course.
Cathy Feeney is the fourth guest speaker to visit the AS Creative Writing class since Mrs Oliver started teaching the group in September 2013 and it has been extremely inspiring to hear from a selection of writers of different styles, as well as helping the students to learn the skills that will be useful to them in both their A-Level course and the writing profession.
The Creative Writing students would like to thank Cathy for giving her time to deliver such an inspirational workshop that provided information about the process of writing for radio and the radio industry itself – it was wonderful to hear from someone with a wealth of experience in this field.
Daisy Savage
Year 13