Priory's Got Talent!

Emily reports on this year's annual Talent Show...
As I took my place in The Old Hall amongst the expectant audience of The Priory Academy LSST Talent Show, on the 15th of November, an excited buzz lifted from the crowd, and when the lights dimmed, friends and family turned their attention to the stage.
When the curtains lifted, sixth-former Scarlett Rowland's performance opened the first act with a sweet song accompanied by her guitar, which, as Miss Nicholson (the Sharon Osborne for the evening) said, was "A lovely way to start the night". Halfway through the act a Year 9 student Thomas Osborne-Day did an amaz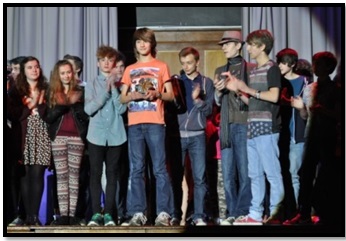 ing cover of "Naïve" by the Kooks, and in the judges' words: "the Kooks would have loved it. You did them justice". After a short break the presenters introduced Tunde Megyeri, who dedicated her beautiful song to the victims in the current tragedy that is afflicting the Philippines. It was her sixth time performing in the Priory Talent Show, and her voice was "a combination of all the great divas into one" as judge, Mr Bain, said. The rest of the second act was dominated by energetic rock boy bands, such as Blind Ambition, B.O.B., and The Hyde, who came in Second after their an remarkable jamming session. The show was rounded up with last year's winners, "Luke's Dad is Chewbacca" and a Mystery Performance, our very own Mrs Pomeroy, who provided a brilliant conclusion to a wonderful show.
Before the winners were revealed, the presenters Jennifer Reeves, Tom Jarvis and Sajiv Sharma, who had led the show in an informal but amusing and engaging way, giving us the occasional giggle, thanked the crew, the judges, Deputy Head Girl Chloe Boyes, Miss Nicholson, Mr Bain and Senior House Captain Katie Whelan and Talent Show Organizers, Mr Baker and Mr Walker.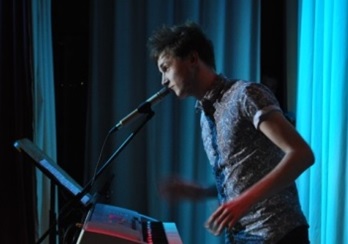 Third Place was awarded to Archie Moss, who skilfully played a Spanish song called "Romance" on his acoustic guitar, and who won Third Place last year, too. The winner of this year's Talent Show was a Year 12 who came second in last year's show, Jesse Wilkinson. His comical mash of "Let Her Go" by The Passenger and "Live While We're Young" by One Direction (a definite crowd pleaser) made him stand out as a "Born showman, with real talent". At the end of the show he did an encore in which the crowd joined in with many a laugh, and backstage, later, the only thing I managed to get out of him was the word "Bewildered".
This year The Priory Academy's Talent show was yet another hit, with young singers and experienced performers, sweet duets and Rock and Roll bands, demonstrating that The Priory Students aren't limited their academic studies - they can put on a good show, too!
Emily, Year 12