Leading poet visits Creative Writing students

Alice, a member of the AS Level Creative Writing group, describes an inspiring visit by poet Michael Blackburn ...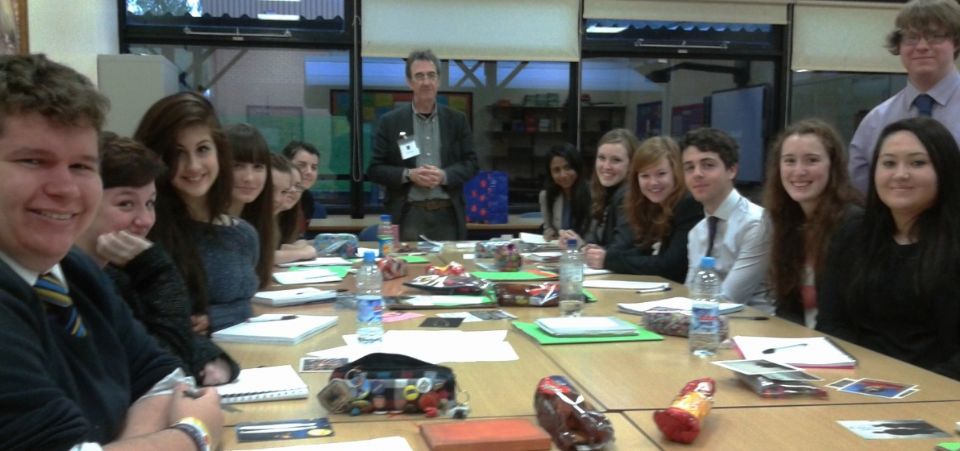 Michael Blackburn visited our mixed group of fourteen Year 12 and 13 students currently studying the AS Level Creative Writing course on Tuesday 5th November.
Michael is a lecturer in English Literature and Creative Writing at the University of Lincoln and specialises in contemporary poetry. He has formerly been the editor of Stand Magazine and the founder-editor of Sunk Island Publishing. He was also the first Literature Development Officer for Lincolnshire, as well as a Royal Literary Fund Fellow at Lincoln University and a Fellow of the Royal Society of Arts; he has further been a part of the Writer in Residence Scheme.
Graduating at the University of Leeds, Michael achieved a BA Honours Degree and a Masters in English Literature, and has received the Arts Council Writing Bursary in both 1996 and 2004.
The purpose of Michael's visit was to give us an insight into the world of poetry: the many different paths in which it can be taken and the many different paths he has personally taken with it.
We got the chance to be able to listen to Michael read some of his own poems to us and ask him some of our questions. His work is incredibly commendable and it was fascinating to hear the stories behind his poetry and why he began writing it in the first place. He said how he feels the urge, when he hears or sees something, or is reminded of something brilliant, to make a note of it and jot it down, ensuring that he writes about it later.
Michael further gave an insightful and unique description of how he looks at his work when it is complete. He said how a poem almost does a little dance when it is finished; if when you read it, you see it doing a little dance, you know you can stop and it is complete. He told us how writing poetry is not something he likes to do; it is something he needs to do.
Michael even told us how he set himself the challenge of writing a poem every day for an entire year. He absolutely exceeded his target by writing a poem every day for the past four years instead; an amazing achievement!
We then got the chance to have a practice at writing a bit of poetry ourselves. Michael gave us the task of choosing a postcard which inspired us and asked us to write a short poem about it, whether it was a memory or the picture on the postcard itself. There was certainly a small wave of panic hovering around the room, but after Michael's excellent feedback on what we had written, we felt much better about what we had produced.
Veena Chandar, a key member of our Creative Writing group who specifically enjoys and has a talent for poetry, said how much she enjoyed Michael's visit:
"I found Michael to be very intriguing. I especially admire the personal depth his poetry has, which became more vivid as he read out his work to us. Closing my eyes and just listening to his words made me feel a sense of peace and made me smile at the unusual metaphors and witty conversation.
"After shakily reading out my poems, I received feedback from Michael which made me feel more confident about my work and also gave me another perspective. Ultimately, I really enjoyed the experience and gained a lot of insight from having the opportunity to spend time with such a talented poet as Mr Blackburn."
We cannot thank Michael enough for coming to visit our Creative Writing group. We are particularly thankful that he was kind enough to give us each a copy of one of his books, 'The Ascending Boy', as well as donating a selection of his books to the library. We thoroughly enjoyed the 'university feel' to the discussion and we learnt an awful lot about the concept of poetry. It was wonderful to hear from someone who has made a living out of doing something they truly love, giving us the inspiration we need to hopefully do just the same.
Alice Cammell, Year 13