Amy plans to cut off her waist-length hair for charity

Year 9 student Amy Clarke is to cut off her waist-length hair in aid of a cancer charity for young children.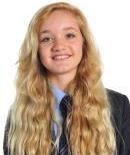 Year 9 student Amy Clarke is to cut off her waist-length hair in aid of charity.
Amy's locks will help make wigs for seriously ill children who have lost their hair to cancer.
Amy, 14, is having a "number three" head shave four days before Christmas for the Little Princess Trust.
This week, her story has been reported in the Lincolnshire Echo. She told the paper: "I have made the decision to shave my hair the day after we break up from school.
"The reason is that I have always been known for my long, thick blonde hair. Therefore shaving it off will impact my life greatly.
"The charity I am donating my hair to is the Little Princess Trust and I am also collecting sponsorships from anyone willing to help.
"I'm hoping to raise at least £500 in cash because my hair has such a big impact on my life and I feel sorry for the children who lose theirs through cancer treatment.
"It's going to be a chilly experience – but my mum has already bought me a nice hat so I should be fine!"
The Little Princess Trust, based in Hereford, raises funds to make fashionable hair-pieces from donated natural locks at an average cost of £350.
Charity manager Monica Glass tolfd the Echo: "Everyone at the Trust is amazed at how much Amy is doing. It is truly heartening that someone so young is so keen to help others.
"On behalf of everyone the charity helps, thank you Amy."
To read the Lincolnshire Echo report, go to: Lincolnshire Echo online.
For information about the Little Princess Trust, go to: www.littleprincesses.org.uk