A World Challenge in Madagascar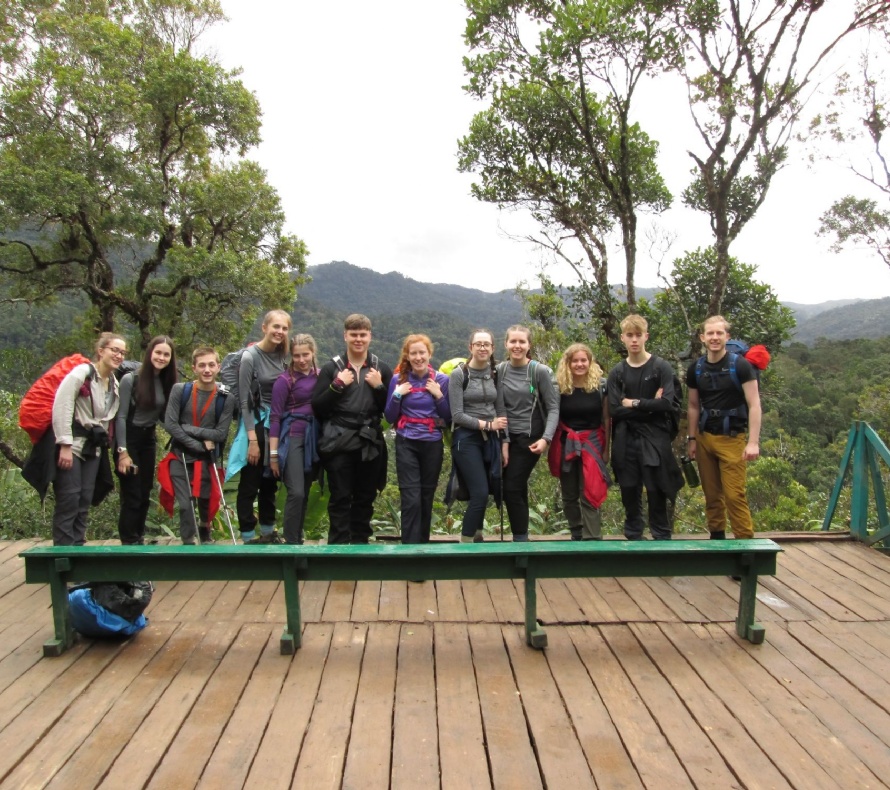 Have you ever wondered what a lemur sounds like?
I'll tell you now, every time you hear a car alarm from now on, just imagine a lemur, and that is almost 100% what they sound like!
On Wednesday 17th of July 2019 a small group of students, most of whom didn't know each other at all and two very professional teachers, embarked on a twenty-four-day life-changing experience to Madagascar with world challenge.
Madagascar is a third world country, experiencing some of the most extreme poverty in the world. To help you to understand the condition people live in, here are some facts; almost a third of children aged between fifteen and twenty-four cannot read and write, Madagascar is the fourth most food insecure country in the world, and in 2015 forty-five thousand children were orphaned across the country due to Aids.
Since 2014 World Challenge has sent over 50 teams to Madagascar to work with local charities such as Feedback Madagascar, to build, renovate and teach in schools across the country, collaborating with over 17 different communities, and if you're reading this, you could be a part of one of those teams like I was.
Despite the facts mentioned prior, one of the most extraordinary things about Madagascar is its population. Everyone is included and part of a massive community, from bus drivers leaving their vehicle to help disabled people to cross the busy city streets, to children lifting what I can only guess is triple their body weight to contribute to their family's income working in the rice fields which span for miles. The world feels completely different in a country like Madagascar. Everyone you meet is ecstatic and passionate about what they do, and even those in the worst of conditions happily go about their life.
When we set our feet on Madagascan soil for the first time, it was a strange and terrifying moment. For many of us, we had never been over nine thousand kilometres from home, but we were quickly reassured after an acclimatisation period, and over the first few days we began to get systems in place for how we would be handling money, dealing with food, and establishing plans for the activities we had ahead.
Our first destination was the Ranomafana National Park, a tropical rainforest which is the exclusive home to the critically endangered Golden Bamboo Lemur (which we had the privilege to see), as well as many more exotic species of wildlife, from Ring-tailed Lemurs to the Mongoose, and even to the smaller (and admittedly more terrifying) golden orb weaver (That's a spider by the way!). The rainforest is full of wildlife, and the greatest thing about it is how natural it is and , unlike being at a zoo, you get to see how animals interact with their environment and what they do to survive. It was here that we realised how beautiful (and cold!) Madagascar got at night, with stars littering the sky for miles.
Soon after we completed our three-day venture into the rainforest, we moved on to a remote community in Ifanadiana, where we stayed for four days working with the locals to renovate three classrooms in a local primary/secondary school. Before we even began work, we received an emotional greeting from the school, who were already so appreciative of our arrival alone and after witnessing a traditional Malagasy dance, we began to get to know the people we would be working with, and for. For the rest of our first day at the school, we played with the children and may or may not, have been completely and utterly destroyed by their football team.
The experience of renovating a school in the middle of nowhere, where the children and staff don't even have what we would call proper toilet facilities, was truly impactful. The people we met such as our nineteen-year-old translator Matthew and the children who worked with us to help scrape and paint the school the colours of the Madagascan flag, were among some of the most inspirational people you could ever meet, and after days of hard work, and a few cooking lessons in-between, we were ready to leave, knowing that we had accomplished something truly special.
Eventually, it was time to head to our greatest challenge, the mountain of Peak Boby, and the forbidden bridge (which may or may not be forbidden again- don't ask) which was challenging for various other reasons than what we expecting. It was at our accommodation within the area of Andringitra that we noticed how food scarcity affected the country. Every day we dined at the hotel restaurant the food was subtly different, with meals varying in portion size and sides, even if you ordered the same thing as someone else – this is simply because of how limited food is in the country, and it is admirable to see how the people provide for you despite these conditions.
On our trek up the mountain, we saw some of the most breathtaking views Madagascar had to offer, from the twin waterfalls to a sunrise unlike any other. It was a scene completely unique, and when it was time to descend, we knew we had seen things that we would never be able to see elsewhere.
After conquering the mountain (or maybe it was the other way around!), we headed to the D'Anja community park, which is a narrow forest bordering the base of the three sister mountains, full of ring-tailed Lemurs and your fair share of Zebu. Here we learned about traditional practices of the ancient tribes who originally lived in Madagascar, and it is also where we discovered just what a Lemur sounds like. We also witnessed plenty of spiders, cacti, and oddly enough, a really big snake.
Soon enough, it was time to head to Toliara, the tourist city within Madagascar, and home to plenty of Baobab trees. It was refreshing to finally have access to the facilities we take for granted back at home, such as a shower with mixer tap, or beds with actual mattresses. Here we ventured into the markets and brought Madagascan produce, including fruits which we had no idea what they were (But the Madagascan friend we met certainly did!). Once we had spent a day relaxing in a hotel resort, we moved to our final challenge - The Honko Mangrove project. Honko is a massive swamp where the ocean meets what can only be described as a desert, and I know what you're thinking. The words 'desert' and 'Madagascar' don't seem to mix, but trust me it was a desert with a surprising amount of crabs and a large swamp. Here we were tasked with renovating a boardwalk and creating a dock for canoes – which we got done with the help of a fellow World Challenge team. Honko was absurdly warm, and we spent the night cooking a relatively large feast with all the food we brought from the city. Afterwards, we sat on the dunes and watched the night sky.
It was almost the end of our expedition, but we still had more to do, because now we were finally able to relax on the beach of Mangily. We spent our final days in Madagascar in beach apartments, taking part in snorkelling and whale watching throughout the day as well as spending time by the infinity pool in the Bamboo club.
Before we left Madagascar we took a flight from Toliara airport back to Antananarivo, where our adventure began, where we spent the final day in a huge craft market, buying souvenirs and keepsakes, until we finally packed our bags for the last time and made our journey back to the UK.
With all that said, if you are reading this, you are hopefully considering the Academy's next World Challenge expedition and I'd like to take this opportunity to offer some advice.
First of all, live in the present. I know that when I was preparing for Madagascar I was terrified of malaria and all the other diseases that could exist there. But as long as you get the vaccinations and take your tablets whenever you need to, you are very unlikely to get ill. The most any of us ever got was travellers diarrhoea which passes after a day or two.
That also applies to technology, I was really worried about not having a 'phone to call my parents on, but I feel that if I had a 'phone the trip wouldn't have been the same. There is something so refreshing about being truly independent and you come back a far stronger and bolder person.
Secondly, don't worry about fundraising. If you want my advice, write letters asking for sponsorships then raffle what companies give you in support at tombolas. It works surprisingly well and if possible try your best to get a part-time job. The money comes in surprisingly fast if you get stuck in.
Oh, and finally, if you do decide to go, travel light, and make sure you take some of those flavourings for water as well as some ear muffs because you may just hear some snoring whilst you're camping!