Art and Photography Trip to Florence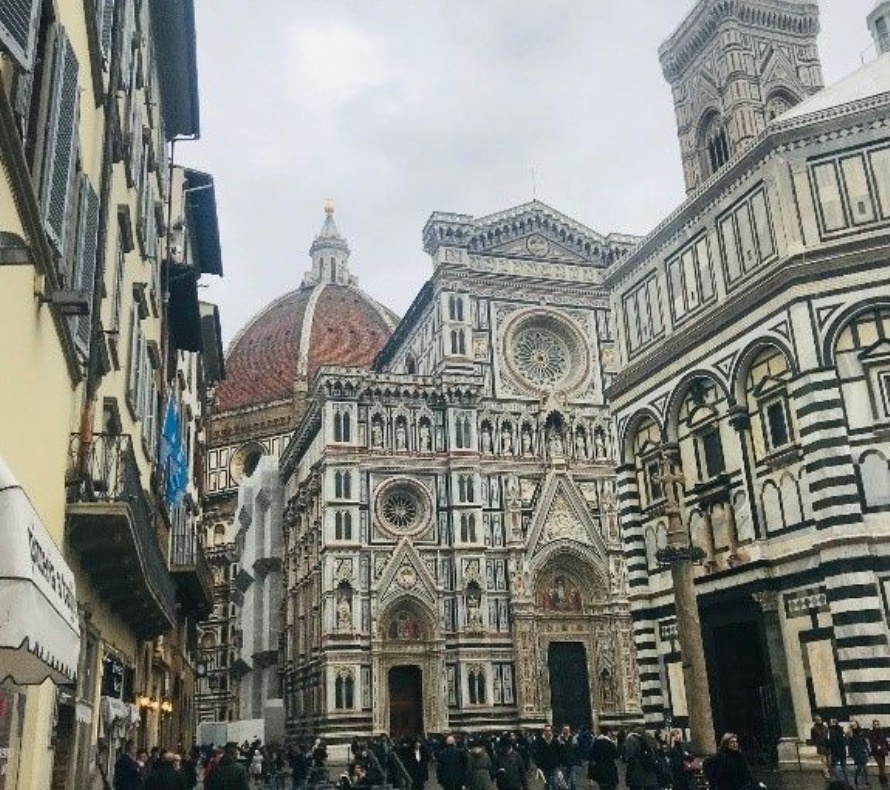 The Art and Photography study trip to Florence set off early on Tuesday 29th January. After a long journey we arrived at the beautiful Hotel Donatello and after checking in walked to a local restaurant where students filled themselves up with the local cuisine.
The following day we began to explore Florence where the museums, palaces and churches house some of the greatest artistic treasures in the world. Students were lucky enough to visit the Ufizzi gallery where some of the most renowned works by Giotto, Botticelli, Leonardo da Vinci, Michelangelo and Raphael can be found. Students were able to draw and photograph statues and art work as well as recording the amazing views over Florence from the roof terrace.
After a quick lunch stop in Florence we made our way to Pitti Palace, a famous home of the Medici family. Students toured the palace and took in inspiration from the historical décor and beautiful artwork and ceiling decorations. Part of the palace has been renovated into a museum for Costume and Fashion where we were lucky enough to see the new exhibition "Animalia Fashion". This was a stunning exhibition showing works of designers such as Galliano and Christian Dior. Student were keen to fill their sketchbooks up with drawings of fashion garments and accessories.
On Thursday students visited the Galleria dell'Acedamia where they finally saw the statue of David Michelangelo and a wide range of Renaissance art work.
In the afternoon we walked through the winter rain, across the famous Ponte Vecchi bridge, a large number of stairs, finally arriving at Piazzale Michelangelo for a spectacular view of Florence.
Friday morning we were up early and packed ready for the journey home. Once our cases were stored we had a final walk across Florence to the Boboli Gardens where students completed their sketchbooks with drawings of sculptures, statues and beautiful views. A final lunch of pizza and gelato before heading back to the coach. All students thoroughly enjoyed the trip… even in rain, sleet and snow!