World Challengers Return from the Trip of a Lifetime

Alice's final and much-anticipated installment about her adventures in Costa Rica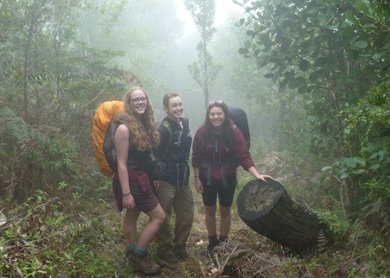 Just last week, the World Challenge team and I returned from our month-long expedition in Costa Rica. It was undeniably a month I will never, ever forget!
After a nine hour flight from Heathrow to Miami, and another four hour flight from Miami, we finally landed in sleepy Costa Rica on Saturday evening, only to find that when we reached Baggage Claim, two of our team members' bags were missing – great! So far, so chaotic! After being told that not a lot could be done, we had no choice but to leave the airport and find our 'in country agent', Javier, who would get us to our hostel where we would spend the next couple of nights.
We had been warned that the hostel didn't look like much from the outside…but I don't think we were expecting it to really not look like much from the outside! It had huge iron gates with graffiti sprayed across the walls, and quite a few 'drunks', shall we say, hanging around outside. But to our surprise, as soon as we walked in, smiles were beaming across all of our faces. It looked brilliant - not state of the art, but just fine for us challengers! The paintings on the walls (as in paintings painted on the walls) were amazing – there were superheroes on the ceilings, Smurfs behind the doors, gnomes behind the reception (if only they were all real!), and patterns streaming across the room in every direction. It was fab!
We then explored the rest of the hostel and found some very fancy loos (always the one thing most appreciated after a day of travelling!), HOT showers (we had no idea how much we would miss these until we were at the top of Mount Cerro Ena!), a pool and a social area upstairs with a balcony, restaurant and bar! I don't think any of us realised that we would get this sort of treatment on our first night!
The following day we then spent sorting out the first week of our expedition – we met with Javier, we sorted out where we were going, how we were getting there, how much of the budget we were going to use, where we were staying… all the confusing and stressful things about the expedition: having to organise everything yourselves! Jerome (our expedition leader) also arrived that afternoon.
Our expedition officially began on the Monday when we departed from our lovely little hostel and headed for the bus station to travel up to Rincon, in the North of Costa Rica, to begin our Acclimatisation Stage. It was beautiful. We stayed on a campsite called 'Rincon de la Vieja Lodge' which was surrounded by jungle and an abundance of wildlife. However, we arrived just as it was getting dark because our taxi was late (fabulous!). We therefore had the joys of putting our tents up in the dark, with no insect repellent on and our gorgeous torches strapped onto our heads – fun fun fun!
But after the stresses of the first night in our cramped tents ('three man' – I don't think so!), we really did have a blast. We went on hikes through the jungle, seeing monkeys and colourful birds and all kinds of creepy crawlies, but also waterfalls and many volcanic hotspots, such as fumaroles, which were just amazing! (Although, myself and my tent group may have lead the team to the wrong waterfall but never mind! We wouldn't have seen the monkeys otherwise!) We also went on a two hour hike to the Hot Springs which were just amazing – it was just like one huge bath that never got cold! Although of course, because of the sulphur, it STANK of rotten eggs! Lovely! We also then had to cook for ourselves every evening after planning a rota on who was doing what – let's just say I prefer cooking indoors on a proper cooker in daylight! However, we ended our week in Rincon with a fantastic, yet incredibly tiring, two and a half hour hike up to the 'Hidden Falls' which were just phenomenal – it was as if the views from the film Avatar had just been taken off the TV and laid out before our eyes. We were in the clouds and we were having the time of our lives!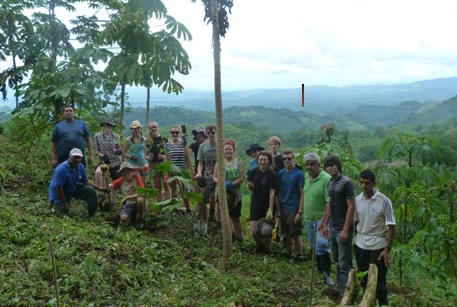 After we had completed our Acclimatisation Stage, we journeyed right down to the south of Costa Rica, enduring a ten hour bus journey to Ciudad Neily. Here, we spent one week with the local church, which was also a school, helping out around the local area. The church people were the kindest people I have ever met – they welcomed us all with open arms. I don't think I have ever felt so accepted! Their passion for the church and their passion for God is certainly something I will never forget; they were truly beautiful people. We then got to visit many schools, painting their classrooms, planting trees, scrubbing the paths and pavements, and playing with the children which was brilliant fun! (Although, it was rather embarrassing when they could count in English better than we could in Spanish!) We also involved ourselves in the church talent show – I haven't stopped performing the Cup Song since!
But after seven days, we had to leave our little church and begin our last week of the expedition. We would complete our Trek Phase by climbing Mount Cerro Ena which was over 3,100ft high, and then finish with our Rest and Relaxation phase where we would be zip wiring through the tree tops and visiting cheese and coffee factories! We were so excited!
It took us a total of ten hours to get to the hut at the top of Cerro Ena, and surprisingly, we all made it to the summit! My self, Sian and Lydia (two of my very good friends) stuck together all the way up in that exact formation – Me, then Sian, then Lydia. We christened ourselves "the line". If anyone got between "the line", our OCD struck in and we couldn't cope - it was absolutely hilarious! Laughter was certainly the most important ingredient to get to the top! It was a very long and very steep climb, but when we reached the summit the following morning to see the sunrise, it was all worth it. If you can imagine looking out the window of a plane and seeing all the clouds beneath you – it was like that, only, we had climbed that high. We could see the Pacific Ocean on one side and the Caribbean on the other. The sun was just peaking above the clouds and for once, we could actually feel a cold breeze. We were peering down at the mass of jungle beneath us thinking, "we have climbed through all of that, and look at us now!" It was an amazing feeling.
But then, after a seven hour trek back down (which certainly proved a lot easier than going up!), our expedition was drawing to a close, with just one more phase to go…but what a phase to finish on!
We travelled back up towards the North of Costa Rica where we stayed in Monteverde, a tourism hot spot, and the hostel we stayed in was just HEAVEN! There were blue, silky, velvet blankets on the beds (yes, proper BEDS!), a kitchen, a bathroom and a dining area downstairs. Apart from the FREEZING SHOWERS (the leaflet lied to us about them being hot!), it was perfect.
On our first day, we got to go zip wiring through the tree tops! It was amazing when we looked out and saw our friends just disappearing into the clouds ahead of us. We also got the chance to jump off a 26ft Tarzan swing – definitely one of the scariest things I have ever done; I don't think any of us have screamed so much! We then went on a reptile tour, a tree top tour and a night tour all in one day! We saw racoons, sloths (which were just adorable!), and an orange-kneed tarantula which wasn't quite as popular! Then, on our last day of the phase, we organised a cheese factory tour followed by a coffee tour for us to visit – I have to say that pure chocolate is disgusting! Pure caramel on the other hand is something quite different!
But the following day, we had to pack up all of our things and say goodbye to the people at the hostel and head for San Jose, ready to depart the following morning. Although we were ridiculously excited to go home to our own beds, fast food and Mum's cup of tea (!), we were gutted that soon we wouldn't be a World Challenge family anymore.
I can safely say that Costa Rica, World Challenge 2013 has been the trip of a lifetime and something I will never, ever forget. We all created some amazing memories that will stay with us forever and made friendships that will never be broken.
I cannot recommend World Challenge enough to anyone who is even just the slightest bit interested! All I can say is GO! Work hard to raise the money and just go for it! It will be the best decision you ever make.
Alice, Year 13