Dual Linguists Engage with Locals in France

Dual linguist students visit the Centre des Etoiles to be challenged outside the classroom...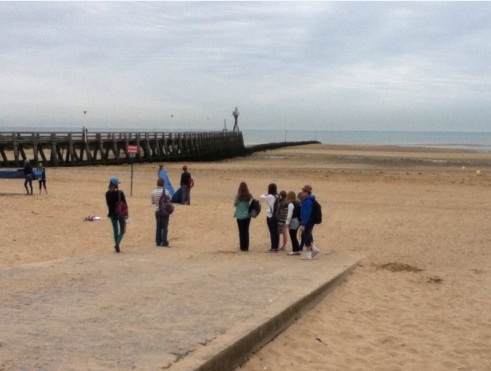 When the time comes to prepare for GCSEs you may have noticed that some students study two Modern Foreign Languages (MFL) whereas the majority of pupils take just one MFL. These 'Dual Linguists' have been selected by their teachers, based on abilities and grade predictions, to take two MFLs for their GCSEs.
The purpose of this trip to the Centre des Etoiles was to expand their knowledge of both French and German. This was fulfilled by various visits to places and to using their language skills to communicate with local people in everyday situations.
On Monday 1st July the group left at 7:30 from school with an incredibly long journey ahead of them; however, they were unaware that there would be delays which would mean that they would arrive at the centre at 9:45 in the evening. The highlight of the drive was certainly dinner at the French 'McDo', or McDonalds as we know it!
On Tuesday the pupils had a very busy day as they visited a market, a castle, and took a trip to the town hypermarket and a beach where they stopped for lunch. Throughout the day they were required to speak in French, which some students found "challenging" as most of the locals knew very little, if any, English.
Wednesday began with a very interesting visit to a snail farm where they learnt about the snails' living and breeding habits - but the slight difficulty was that the tour was given in French! Pupils were also invited to sample the local specialty, snail, cooked in a garlic sauce! After a picnic lunch they went to see various animals at the zoo and spend some Euros in the gift shop before their departure for the centre.
Thursday commenced with a visit to the new and much improved Bayeux Museum; they were one of the first schools to visit the place since its renovation and were asked to complete a questionnaire, again in French.
After this relaxing and interesting tour of the museum students were faced with a huge challenge…kayaking! There were only a few people in the group who had kayaked before so this was very new to most. Many found this very difficult, and a little disgusting as there were millions of bugs, flies, mosquitoes, and insects. Kayaking was a very tricky art to master, as many discovered. There were only a few pairs who managed to keep themselves from either capsizing or crashing into trees!
On the final day, Friday, students had to get up at 3:15 to leave at 3:30 in the morning! As you can imagine, it was a bit chaotic! It was lights out on the coach until 8:00 when they reached the Eurotunnel crossing. Everything went according to plan this time and they arrived smoothly at school 15 minutes before their expected time of arrival at 1:45.
A big thanks to Mr Irving and Miss Cameron for taking the time to accompany the students on this challenging and exciting visit.
Charu, Year 8