Year 11 History visit to Germany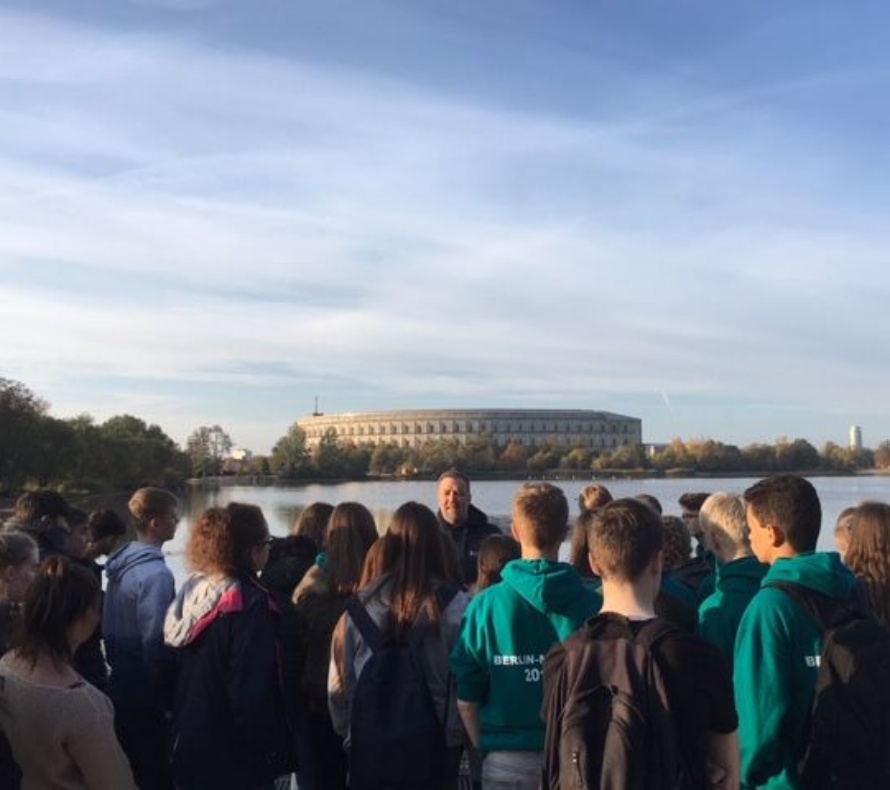 The Year 11 History visit to Germany took place between Thursday 18th and Tuesday 23rd October. Departing from Lincoln Academy at 3am, the group of 54 students managed to catch some sleep on the long drive to Munich, arriving very late due to traffic delays ready for a busy day on Friday.
On Friday we walked the path of the Munich Putsch, from the city gates to the Felderenhalle via Marienplatz before heading for the documentation centre to be given a guided tour of the artefacts and displays there. The day ended with some traditional German food in the Lowenbraukeller before we headed back to the hostel for some well needed R & R!
Saturday began with a guided tour of Dachau Konzentrationslager (Concentration Camp) - the first such camp opened by the Nazis as soon as they took power in 1933. This was a highly emotional and moving experience, as the group heard personal stories of how individuals were affected by the Nazi regime.
The group then headed back to the coach to make the short journey to Nuremberg, where a fantastic walking tour took in the Congresshalle, the Zeppelinfeld, the Luitpoldfeld and Silbersee - the site of what would have a 410,000 capacity sports arena! Nuremberg was a fascinating experience to fully immerse oneself in the egocentricity and megalomania that surrounded Adolf Hitler in the early 1930s. On Saturday night after yet another busy day we headed to our wonderful accommodation in the heart of Nuremberg - a youth hostel in the medieval Nuremberg Castle.
On Sunday we got back on the coach (we were becoming accustomed to "coach life" by this point) and headed for our final stop - Berlin. After visiting the Wannsee Conference venue and the ever evocative Gleis 17 we headed to the heart of Berlin to visit a memorial the Sinti-Roma. After some currywurst in the Pavilion restaurant in the shadow of the Reichstag we finally went up to the top of the current seat of european power - the German Reichstag - for fantastic night time views over the city. After yet another action packed day we made for our final hostel - Amstelhouse in the heart of Berlin's working class district.
The last day was another packed day, visiting the home of the SS during the 1930s, Berlin Olympic stadium and various memorials around the city before ending the tour at the place (it is believed) where Adolf Hitler's body was burned - the "Fuhrer Bunker" - now a car park at the bottom of a block of flats.
We headed back to the coach once more to start the 16 hour journey home.
The Year 11 students were an absolute credit to themselves and the Academy and all of them got a lot out of what was a thoroughly worthwhile visit.