World Challenge Preparation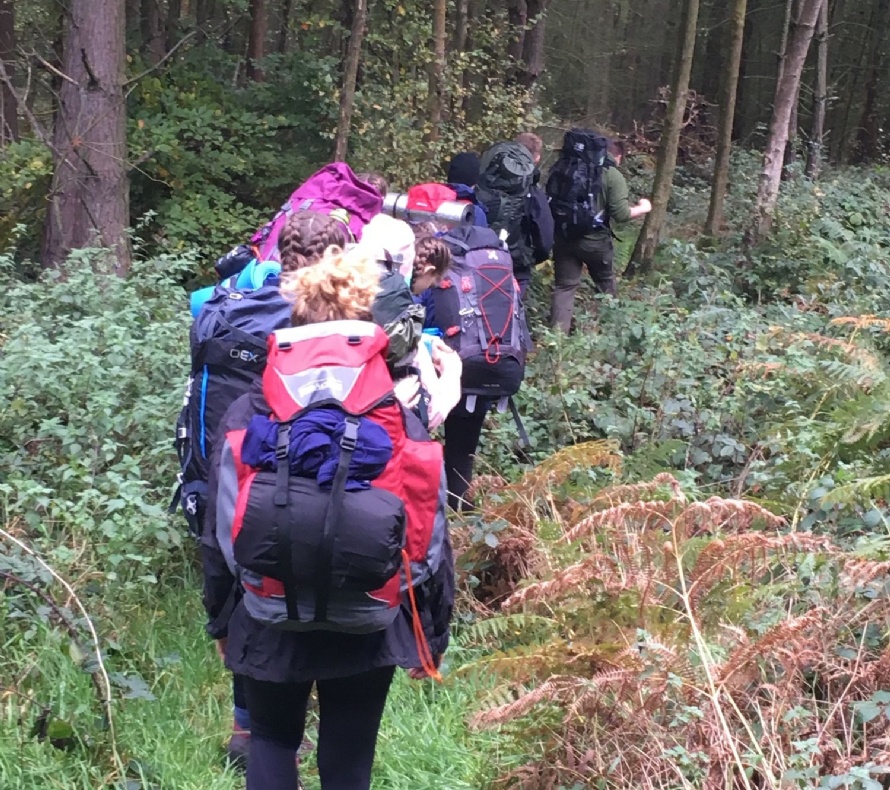 On Saturday the 13th of October a group of Year 12s and 13s gathered at the bus bays at 6:30 am to set off to Cannock in order to embark on the beginning of their world challenge practice expedition for Madagascar in 2019.
After two hours of travelling and a few stops every so often, we had made our way to the campsite where we would be staying for the weekend. Unfortunately, the weather had not been on our side, as the ground was wet and the temperature was even more unpredictable than the ground we would end up trekking on. Once we had arrived it wasn't long until we met with our guide (who we may or may not have been calling the wrong name for the duration of our journey) and to our dismay were promptly ordered to repack everything we had put in our daysacks and instead to place the majority of it into our holdalls. Shortly after this we were issued our group kit and were underway with our first trek.
After half an hour and a few conundrums with map reading we had made our way to Castle Ring, and it was at this point that we realised that we were in for a walk straight through a forest, and by straight I mean a simple beeline walk (also known as a "bimble") to a river in the middle of the forest. Sounds easy right?
As it turns out this would quickly become our first challenge. The path we wanted to follow didn't exist. We continued to press forward until the obstacles became too challenging to navigate through and we ended up climbing uphill until we came across a marsh, which also just so happened to be impossible to navigate through! The whole ordeal tested our physical and communication skills but as a team we managed to pull through, deciding to circle back the way we came until we found a clearing in the woods. After being hit in the face by a twig way too many times and the occasional slip we managed to find a road that guided us to our next few locations.
We made our way around to an opening in the trees where we stopped for lunch and a much-needed break. It was during these occasional breaks where we were reminded of how to communicate as a team and ensure that no one fell behind. After recovering our stamina we headed back downhill and finally found the lake we were looking for. It was here where we tested out some of our group kit, such as a briefing on how to use the water purification kit as well as a chance to practise throwing the Throwline bag, just in case one of us were to get stuck in the water during the expedition.
After testing we headed back to the campsite, which turned out to be far more tedious than originally expected. We made many simple mistakes along the way but never lost our temper when something went wrong and after six hours we were back at camp. We took the time to rest for the evening before setting up our tents and heading to one of the nearby facilities to practise cooking. Once we had washed up and had our debrief for the night (as well as few card tricks and games that were thrown in here and there) it was time to get some much-needed sleep. This for a few of us turned out to be easier said than done, particularly as the night grew colder and colder and sure enough it began to rain.
The next morning we awoke and after solving the problem of the missing matches began to cook our meals for the morning before heading out once again on a trek to Castle Ring. It was here where we practised the procedure to follow in case any of our team members went missing as well as taking the time to try putting up the group shelter. This trek, however, ended up being cut short by the downpour of rain which didn't seem to ever end and after learning how to use the stretcher in case anyone got hurt during our expedition and attempting to cross a tightrope we headed back inside the campsite to get warmth and to dry our clothes.
Due to how early we were after we had lunch we ended up waiting for our debrief. During this period of downtime we took down our tents to the best of our ability in the rain and assigned who would be responsible for keeping them safe until expedition day next year. Once the debrief had concluded we headed back to the minibus and made our way back to the Academy to get food and head home for a well-deserved rest.
I found the weekend to be both challenging and extremely enjoyable despite the rain. It really acted as a good way to introduce us to the things we would face once we made our way to Madagascar in 2019 and to also get us to work together as a team to make the most out of our expedition.