AS Language Students Teach at Priory Witham Academy

Jade takes us through her recent experience of teaching a primary school lesson on a recent trip to Priory Witham Academy.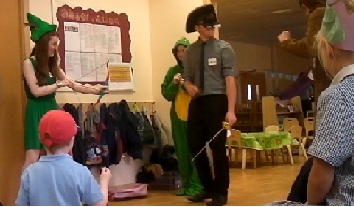 On Thursday 27th June 2013 all English Language students, currently Year 12 moving into Year 13, visited the Priory Witham Academy. All students had to decide on a year group they would like to teach between nursery and Year 2 and had to plan a structured lesson, of 45 minutes in length, either as individuals or in groups. This trip has been in place for the last two years and has been very successful with regards to its impact on students of both of the schools involved.
The purpose of this trip is to enable all Language students to get a true insight into children's development of language through the years. The course that Year 13 Language students will be studying mainly focuses on child language acquisition; by experiencing it first-hand it really enabled us to thoroughly understand and see for ourselves how our language changes as adults whilst speaking to children of different ages. I personally found the trip itself to be extremely beneficial; it put all the theory work from lessons into practice and enabled me to get a stronger understanding of what I was being taught within my Sixth Form studies. Also, by having the trip very early on in our Year 13 course it has given me the confidence to use correct terminology in latter stages which is very beneficial within my coursework on the other unit of the course.
Not only was the trip extremely helpful educationally; it was also a lot of fun. A group of five Year 13 pupils including Ciaran McMahon, Beth Warden, Laura Williamson, Sarah Bell and Fabian Hervas Peters found themselves dressing up as all kinds of animals from Puss in Boots to dragons, which captivated seventeen nursery pupils. The Year 13s had organised and scripted the play themselves. Another group consisting of Kirsty Davidson and Chloe Smith found painting masks to be great fun as well as enjoying the classical game of 'Duck, Duck, Goose' more than the young children they were working with! I also personally had a great time with my group of six nursery pupils and found myself singing 'Old McDonald' like a young child again.
Our subject teachers Mrs Oliver, Mrs Pomeroy and Mrs Coupland visited the Priory Witham Academy with us to provide moral support. Whilst there, the teachers also filmed the Year 13 pupils interacting with the younger children during their lessons and this will later be analysed and worked with in future lessons to help us throughout our Year 13 English Language course.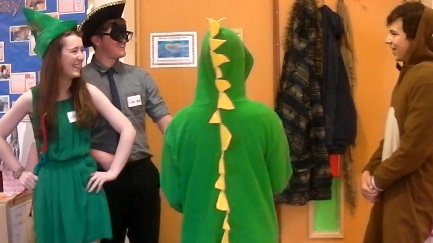 Mrs Oliver said, 'The trip is very valuable preparation for the A2 Child Language Acquisition course as part of the examination will require students to analyse how adults socially interact and adapt their language when speaking to children.'
The experience also introduces some students to possible future career pathways. Since the trip I have become very keen to look into teaching courses at university and have got some work experience at a local primary school. I would recommend the English Language course to any Year 11 looking to join the LSST Priory Academy Sixth Form as it offers superb opportunities to see key concepts taking place in the real world.
Jade Lawson, Year 12