Duke of Edinburgh Silver Expedition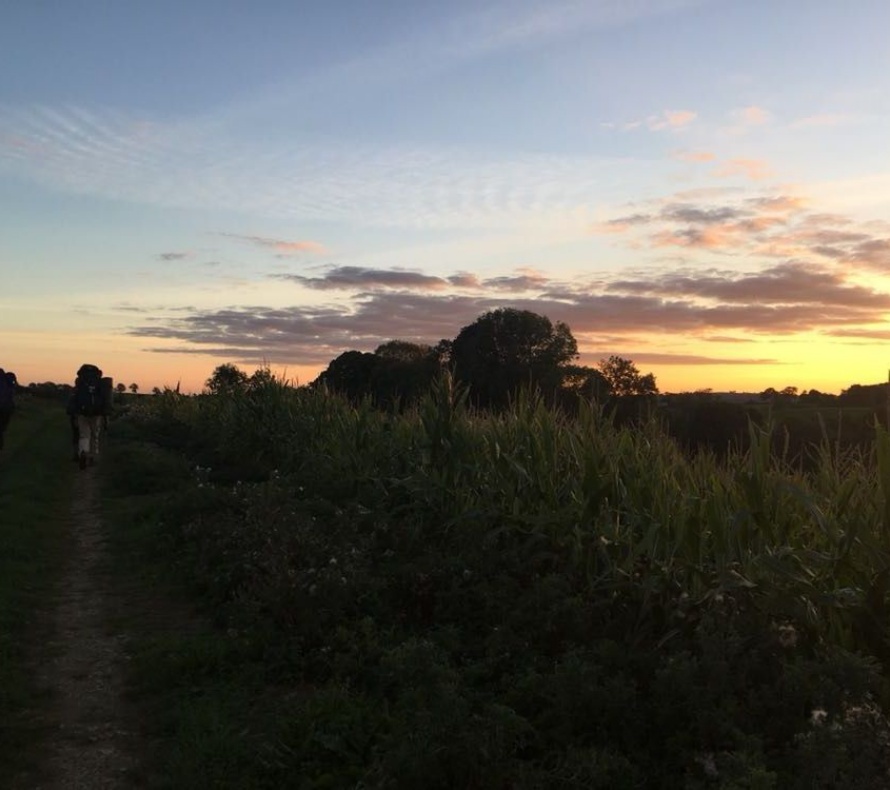 On Friday 28th of September, a group of year 12s went on their 3 day Silver Duke of Edinburgh assessed expedition in Derbyshire.
On Friday morning, a group of year 12s gathered at the CCF area to complete final preparations for the weekend ahead and at 0830 we set off for Derbyshire. After a short while of travelling the first two of four groups were dropped off at their start positions ready to begin the long expedition. The other two groups were taken a bit further to another location to also begin the expedition. We were full of energy as we began walking for our first and longest day (16 km). At the very start we encountered our first trial - the route we were meant to be following didn't exist! After looking around, we came together and re-planned our route before once again setting off raring to go.
Half way through our walk we were overjoyed to receive the news that we would be heading to a campsite that not only was closer to our current position, but which also had much better facilities such as warm showers, toilets in heated buildings and fresh water taps very close by. Despite the day's trek being definitely more difficult than the Bronze expedition we were inspired to carry on faster than before thanks to team support and the prospect of a better campsite.
In the evening my team got to experience navigation during the night; as we had the longest route we were caught in the dark and decreasing temperatures whilst 1.5 km away from the campsite. Nonetheless we managed to reach the campsite and set up tents and cook without getting lost in the dark or getting too cold!
The next day started by being bitterly cold, the night before was the coldest we had ever experienced with DofE. We were up at 0630 to cook breakfast and pack our bags (both of which helped us to keep warm!) My group set off ready to go for our shortest day over the weekend (12km). The first half of our route was spent in a valley; which had some amazing views and we got to see the stepping stones at the bottom (which, to Mr Stones' great disappointment, were closed off for repairs).
After lunch we concluded our day by walking through different fields including multiple quite steep hills which tested our physical skill and team cohesion, however we yet again pulled through as a strong team.
When we reached the campsite (in daylight this time) after the 7 hour journey we were glad to discover that we were the first to arrive at the campsite (and thus had first choice of where to set up camp!)
Our third and final day started off better than the second. The night was much warmer and the anticipation of being on the last day of the assessed expedition improved everyone's mood. Yet again we cooked and packed away tents before getting ready to set off for the final 14km of our expedition.
We started the day more pumped to go than on any of the other days; this was only added to by the beautiful scenery we walked through (that being the other half of the valley that we missed on the day before). At the start of the valley we came across a cave in the hill which contained a perfect cooking area as well as amazing wind cover and even better views.
When we left the valley we encountered a road at which we had to wait in order to catch up on timings due to how early we were. We decided that a road wasn't the best place to stop and so to get off the road to a safer place we moved further along our route to try and get to the next checkpoint where it was safer before contacting our assessor. However, the further along our route that we travelled the colder, wetter, and windier it became so we agreed to power ahead until we reached somewhere more suitable for stopping. After about an hour of walking we found an old tunnel which provided wind cover for both us as well as the cookers we used for our lunch. Although at this point we realised a grave mistake, as we were over an hour ahead of schedule and had to inform our assessor that we were in the wrong place for the time we were at.
After lunch we set off again with the thought of being home soon at the forefront of our minds; but from now on we stuck to our timings much better than before. With about 1km left to go we arrived in a village for our final break before finishing the expedition. Following a short debrief and evaluation of our weekend we got to try some fresh Keswick apples which gave us more energy to power on until the end.
The final stretch seemed to be over in an instant as we walked quickly and kept each other entertained the whole time. We reached the end point shortly after staff who took us back to the Academy to clean up and head home for food and a well-deserved rest.
I found the whole weekend to be very enjoyable and not something you would normally be able to do. I got to see some great sights and my team helped make it not only fun but also helpful in improving the skills I had been taught as well as teaching me new things.