Gold Duke of Edinburgh Expedition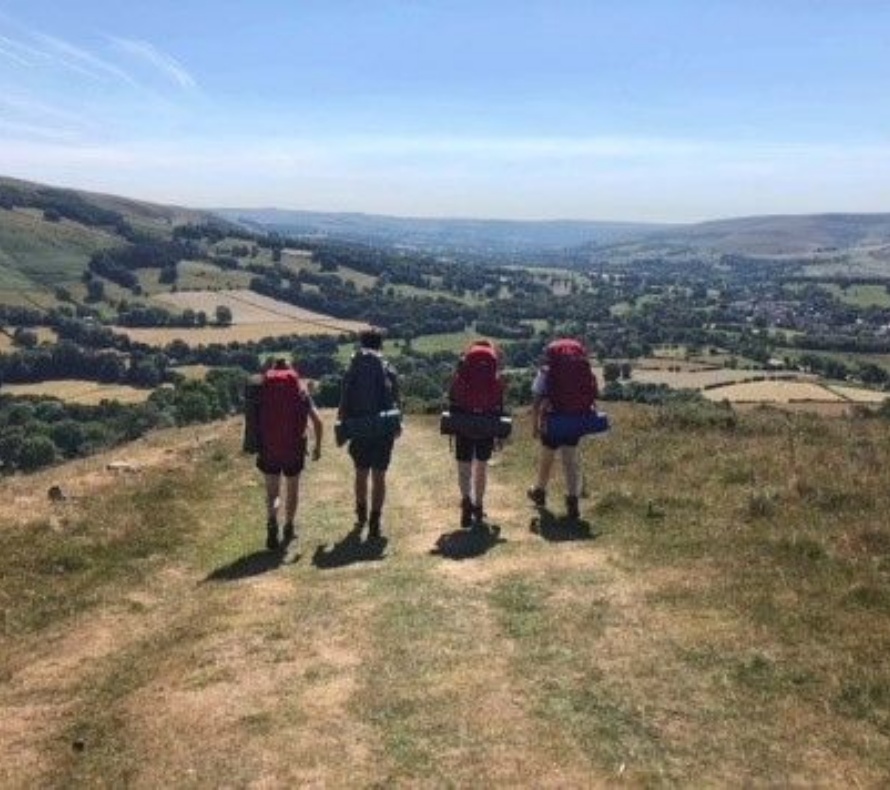 On the 23rd - 27th June, a group of Year 12s went to the Peak District. It was a very warm weekend for it and perfect weather, however they needed loads of sun cream as we would probably have got sunburnt a lot more than we did! We walked about 16-18k each day for about eight hours per hike. The first day we were all full of energy getting ready to get out of the bus after a two hour bus drive there. We had to carry all of our gear, clothes, tents and food for the four days all in one bag, which was slightly heavy! We had pretty flat ground for half of the day through fields which was very scenic and we got to understand more about the map and land. Nearing the end of the day we climbed up Mam Tor, which was quite a big hill and quite steep! Then some of us lay on our backs and slid down the rest of the hill going down the other side of Mam Tor to get to the campsite, which was really fun! There were a lot of vertical hills we had to climb up which varied from a 200m climb to a 2k climb, being all pretty difficult and a challenge to climb, but we got to the top eventually, just in time to have a break. The scenery was beautiful when we got to the top because you should see how far we had climbed up and all the valleys that we had walked across.
On the second day we still had a lot energy, with energy bars getting us through it! We went through some fields and then climbed up Jacob's Ladder which was fairly steep! It was a challenging hill as there were many steps…. Once we got to the top we had our lunch and then continued on to Kinder Scout, which was a very puzzling part of the Peak District because you could get lost very easily, as when you are on the top you can't see the other side where you have to be. All you see is more land. We managed to find our way out of Kinder Scout at the end, however we ended up having two team members getting stuck in the bog which was kind of like quick sand! It ended up being a really funny memory to take back. Once we got off Kinder Scout, we ended up meeting another Gold DofE group who were lost so we took a route down some rocks, which was pretty scary at first but with a lot of teamwork and support we ended up getting down safely and getting back to camp whilst the sun was still out.
On the third day we had not as much energy, but were raring to go as it was the last night! We started our walk climbing up the same hill we had climbed up the day before, but this time we headed left and went down a stone pathway for about 3k. Then we went through fields until we got to a big upper field where we had to climb 200m up as it was very steep and felt like more than 200m! We all eventually got to the top and started walking through the lake reservoir which was so scenic and beautiful. We continued for a further 6k through the lake reservoir. We started walking through fields and seeing all the sheep.
Then we approached the final day. When we looked up we realised we had to walk up the hill that we had slid down on Mam Tor, which was going to be interesting! As we had been walking for three days in a row now, we were a little bit tired, so we did take a couple of breaks. However, we were determined to get to the top so we fought through it. Once we got to the top of the hill we went to the other side of the hill, and were walking through some fields with the lovely hot weather! We then went through forests with shade which was really nice after being in so much heat. The walking was quite hard, but everyone was quite peppy and we had a sing-a-long whilst we were walking to keep the positive vibe. We had a few water stops as it was up to 37 degrees and therefore very warm. We ended up meeting the van in Edale at around lunchtime and we stopped for a break but then realised we were able to leave and go home!
I thoroughly enjoyed the few days we were in the Peaks as we got to see the beautiful scenery and spend time with new and amazing people, who were very funny and kept up a positive vibe for the whole time, which made the experience worthwhile.