Cook-a-long with Masterchef, Mark Heirs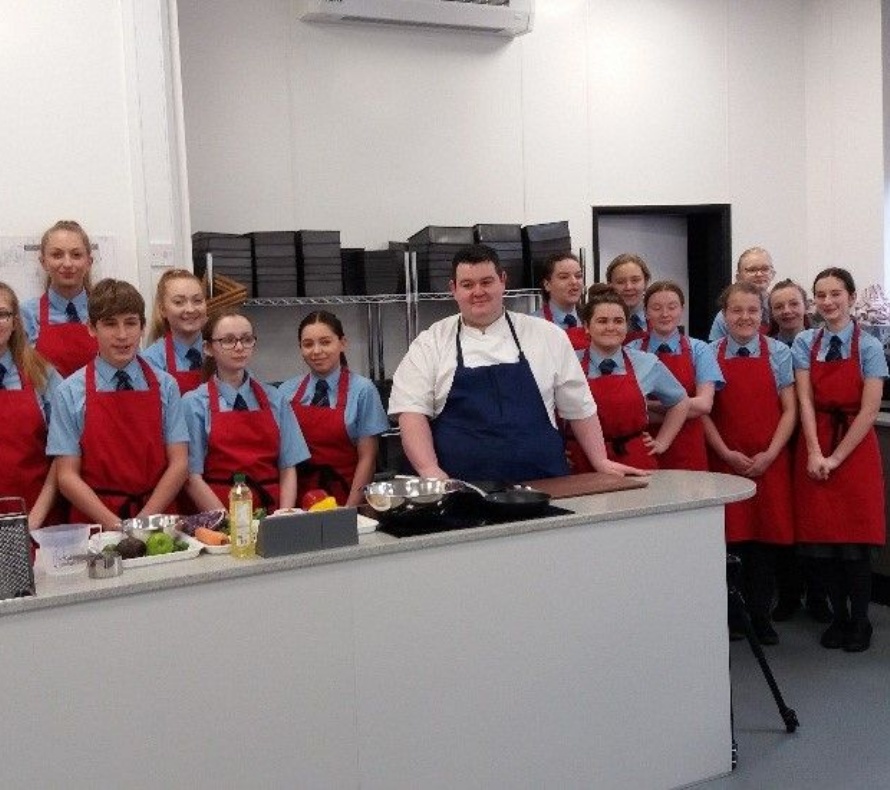 On the back of recent success in the Future Chef competition 2017 and 2018 and the newly refurbished foodroom, Springboard, the organisation which runs the Future Chef Competition, contacted the Academy to host a cook-a-long session. The Academy duly accepted and was lucky enough to welcome Mark Heirs to come in for the day and cook with KS4 students for the day. In a question and answer session Mark told his career story.
"Having grown up in the hospitality industry, becoming a chef was the only career path I ever considered. Food has always been a huge passion of mine and I'm lucky that I've been able to turn that passion into my career.
I started my culinary training at catering college in Glasgow, where I also worked in one of the city's most prestigious hotels, One Devonshire Gardens. Like many young chefs, I aspired to work at the highest level, so I moved to London to work in the 3 Michelin star Fat Duck, at that time voted the number one restaurant in the world. Since then I've gone on to be a quarter finalist on the first series of BBC's Masterchef The Professionals in 2008, I've held several head chef positions of my own and even spent time teaching in a well-known cookery school. I have now ventured away from restaurant kitchens and spend my time as a private chef and consultant.
I'm a regular chef on STV's live topical weekday program Live at Five and can be found demonstrating at many food festivals across the UK".
At the end of the talk the Year 9, 10 and 11 students were in awe of Mark and had mixed feelings about cooking with him – being nervous, apprehensive and excited all at the same time. I am pleased to say all of the students performed extremely well. Observing and listening to Mark's instructions intently and then executing them to the letter for all four component parts for the Blackened Hake with Avocado Salsa, Kaleslaw and homemade Tacos. The students got a lot from the session – cooking with new ingredients/ techniques, observing, learning and practising new skills. Most importantly of all they were learning from their mistakes and how to correct them. The presentation of their dishes was commended upon and they eagerly consumed and enjoyed.
At the end of the day Mark said, "It was my pleasure to be cooking with you on Friday. What a great group of students. They did you and the Academy proud!" The feedback received from the Springboard representatives stated that they enjoyed their day with us and they would like to comeback for a visit in the future.
Regards
Mr Goffe