SPARKler. Go Kart Challenge Victory!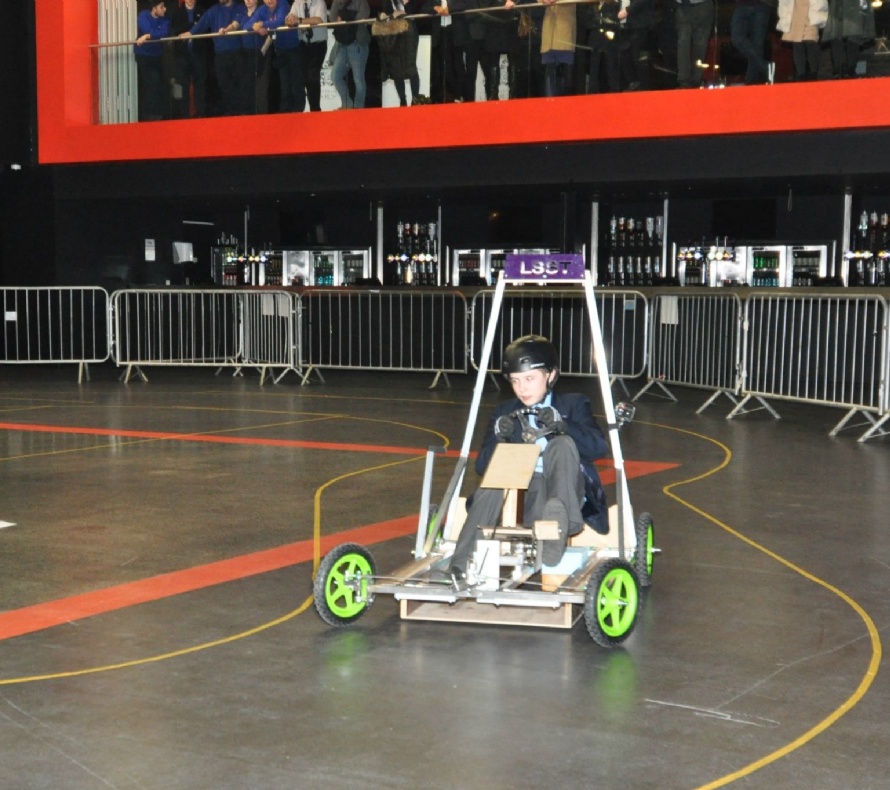 During the dark winter months two teams of five Y9 students have each been designing and building go-karts to take part in this challenge. The design brief was supplied by Lincoln University as part of their Sparkler Go-Kart Challenge Project. The teams were supported by Mr R Jones and Mr T Walker together with a number of mentors from Siemens UK Ltd, undergraduate and postgraduate Mechanical Engineering students from Lincoln University. The teams have spent many lunchtimes and after-school sessions building their pedal powered vehicles. Each kart was built using a mixture of new materials, adapted components and supplied homologated parts, the creativity and variation in design solutions was quite fascinating.
On Wednesday the 10th of January they had an opportunity to test their go-karts in the Engine Shed against other Lincoln schools taking part in the Sparkler Go-kart Project. This involved a sprint event, with top speed measured by radar. A challenging slalom course followed by a 662 metre endurance race.
Despite early hitches, where LSST Team A had a burst tyre and LSST B had a broken pedal they performed well in all events. The outstanding team, winning all three events, were LSST Team A, led by Aaron Browne who was also the driver. They achieved a top speed of 18km/h and completed the 662m course in 3m8s. In second place was LSST Team B who achieved a top speed of 16km/h and completed the endurance in 3m59s. Third place overall went to Lincoln Christ Hospital School.
Hopefully the University will be aiming to run this event again in the future with the opportunity for us to defend our title. Well done to all who took part.
LSST Team A
Owen Jones 9.2
Nikith Nagaraj 9.6
Harrison Taylor 9.9
Melbin Biju 9.9
Aaron Browne 9.7
LSST Team B
Spike MacGregor 9.6
Oskar Wierzelewski 9.4
Hugh Collins 9.9
Kian Watkins 9.5
Leo Millar 9.4