Philosophy and biscuits!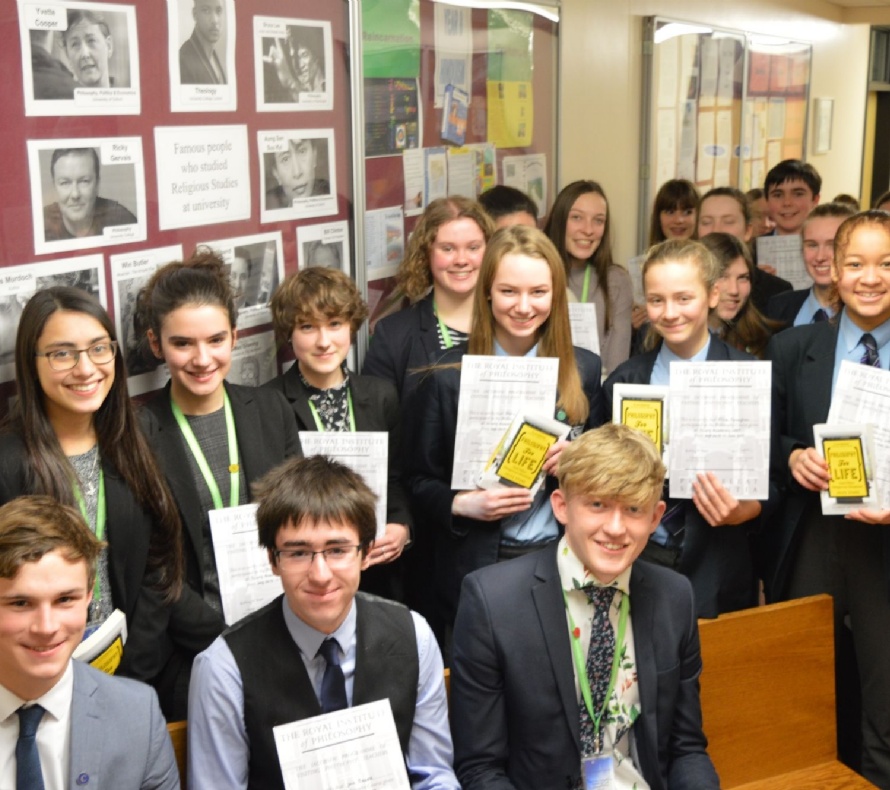 The RE block is a hive of activity on Thursday afternoons as students meet for the Philosophy Course and club. Here is what some of the students have to say (can you can spot the common themes).
Miles and Jane on the Philosophy Course: As A Level philosophy students, Jane and I were enthusiastic about participating in the Jacobson Program (a 10 week philosophical discussion course), led by a philosophy lecturer affiliated with Nottingham University. We have thoroughly enjoyed the course as it takes an informal discussion-based approach to many thought provoking topics. Recently we discussed the ethical implications of organ transplants, a topic which attracted a wide range of opinions. The current group is composed of 10-20 students from Year 9 to Sixth Form and the expression of a wide range of opinions enables us to enhance our discussion skills or simply appreciate the beliefs presented within the group. The course has a flexible approach to topics discussed, decided by the group the week prior. Also, we have posh biscuits.
Anna and Morgan on the Philosophy Club: The Philosophy Club is a welcoming relaxed environment, comprising a collection of people who from the outside look very normal, munching biscuits, talking away and laughing with each other. On the inside, however, it is a very different story. We discuss a whole range of concepts or controversial topics, that can span all the way from politics and current affairs to whether we can know anything at all really exists. Because the club is led by sixth formers, students get a greater say on what is discussed each week, so we can discuss topics that we're alternately interested in. Let's take our most recent discussion, chaired by current Head Boy Kevin Rebello, who asked, 'Is it ok to disobey a law that is morally wrong?' What started off as defining a few key words, analysis of language used and learning about the real-life philosopher Thomas Hobbes, quickly transformed into a jury of six students – and Mrs Stephens – debating not only the question but a whole plethora of matters related to the question. We discussed and debated the Catalonian Referendum, the Zimbabwean military 'coup' and the ethics of Scientology – and made cases for our opinions as we delved deeper into the question. It was an incredibly fun time, and during it I learnt about a range of socio-economic issues I didn't even know existed. I also learnt a lot about how laws are made and kept in this country and worldwide – and I made some great friends too. Given that several of our current Y13 members have been attending since Y9, it can't be denied that Philosophy Club is both an enjoyable and enriching experience. I can say personally that over the years it's helped me to become more confident in expressing my ideas, as well better at distinguishing a good argument from a bad one - both skills which are useful in areas beyond philosophy. Plus, Mrs Stephens provides a fantastic supply of biscuits - including cookies!