World Challenge - it's Almost Time!

Alice shares her anticipation about venturing to Costa Rica next month...
Twenty two days to go! One month today and we will be well and truly on our way to South America!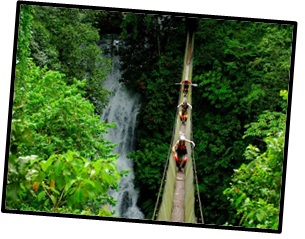 Our expedition is so close now that (surprisingly!) we are all becoming a little giddy with excitement! The final payment has been made and we are almost ready to go! Almost…!
After over a year of waiting, our build-up day is fast approaching – this is the day before we head out for expedition where we check our equipment and make sure we have everything we need (and take out all the things we don't! Bye, bye, hair straighteners…).
So far, I personally have managed to gather just about everything I will be needing for the trip – apparently just three t-shirts will be fine for over three weeks! Let's hope we get to do a bit of washing! I have a Spanish phrase book which I am sure will come into a lot of use! I am also now practising actually holding spiders because something tells me there might be a few out there, and quite a bit larger than the average house spider…hmm, something I am not looking forward to…
Our team has completed a 'bleep' test to check our fitness is up to scratch so we have a chance at making it to the top of Mount Cerro Ena! We have also ordered our group hoodies – the colour of which took a while to decide! – and many have been arriving this week so fingers crossed I will get mine soon! We have also had our last formal group meeting where we have met our expedition leader, who came all the way from France just to meet us. He thankfully (!) has an awful lot of experience, having been in the French Special Forces and has also been a mountain rescuer – something tells me we are in good hands! Although, apparently, he is not keen on large snakes so let's hope none of those make an appearance because if our expedition leader isn't mad-keen, there is no hope for the rest of us!
So with less than one month to go, we are slowly edging towards setting off on our adventure – we head down to Heathrow and then fly across to Miami, where we are jetting down towards Costa Rica! It is going to be a very long journey so we better get some decent sleep before we leave! This will be interesting considering one of our teachers is at the Year 11 Ball the evening before, and myself and one other world challenger are involved in a dance show also the night before! We might just be a little bit sleepy!
But once again, here's to the 6th of July! It will certainly be an adventure to remember…and I can't wait! BRING IT ON!

Alice, Year 12