Y8 Recruits join the CCF on an Easter camp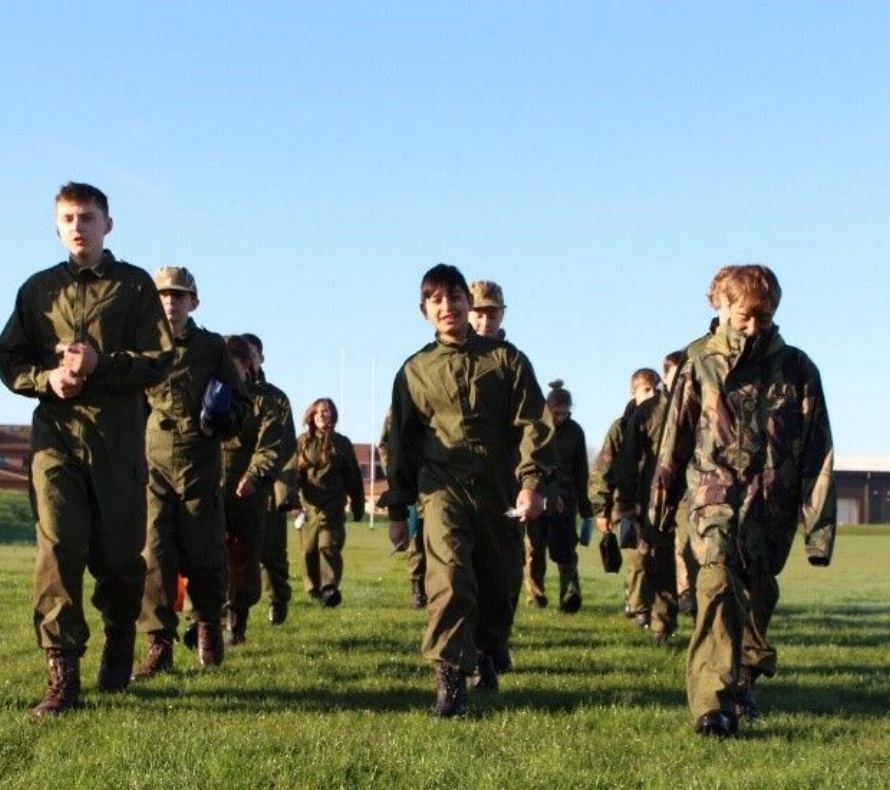 On Thursday 30th March to Sunday 2nd April, sixty Year 8 cadets from across the three Lincoln academies began their CCF experience with a four day Easter camp over at the Priory City of Lincoln Academy.
During the first two days we spent most of our time in the classroom learning the basics for Saturday and Sunday. They were both really long days from 0800 – 1730 and we learnt how to pack our bergen and found out useful tips such as always pad out the bottom of the bag. We covered the rank structure for both RAF and Army. Outside, we spent time learning and perfecting our drills. It was fun doing practicals in First Aid with the resuscitation dolls. We worked out the pros and cons of different shelters in which we would sleep and how to build them in preparation for our outdoor exercise. Nothing would prepare us for team building which was tricky because we had to transport a plastic ball (a bomb) from one place to another without it rolling away or falling. We made lots of notes in our notebooks to prepare us for the next exercise.
Saturday and Sunday was one of the best experiences I've ever had because we got to learn loads of new skills that will come in handy for when we become more experienced in the CCF. I had a great time in the field with all my equipment and eating out of ration packs which was really cool because we had to assemble our cooker, mess tins and light our block of gel on fire with our matches. Ration packs were better than I thought they would be. We built our bashers using trees and para cord, which was really hard because we had to sleep in a lean-to. At night we played games such as capture the flag which was one of the most tactical games I've ever played in my life because it felt like it was real life. After that game we headed off back to have a group talk with Sqn Ldr Thompson and then we went off to sleep.
The cadets had an intensive training program that enabled them to experience a wide range of cadet activities. These activities taught them new skill sets that they will use for the rest of their cadet career. The feedback from the cadets about the camp was that it was one of the best experiences they have ever had and they can't wait to get started into the cadet syllabus every Tuesday. The 60 Year 8 recruits we took performed exceptionally well and presented themselves superbly. The staff were incredibly proud of how far the cadets came during the four days.
I'd like to thank the Contingent Staff and Senior cadets for their help over the four days. Without them, the camp would not have taken place.
Written by Recruit Hayden Cann, Recruit Paige Taylor and CWO Frances.