CCF Range Day-RAF Digby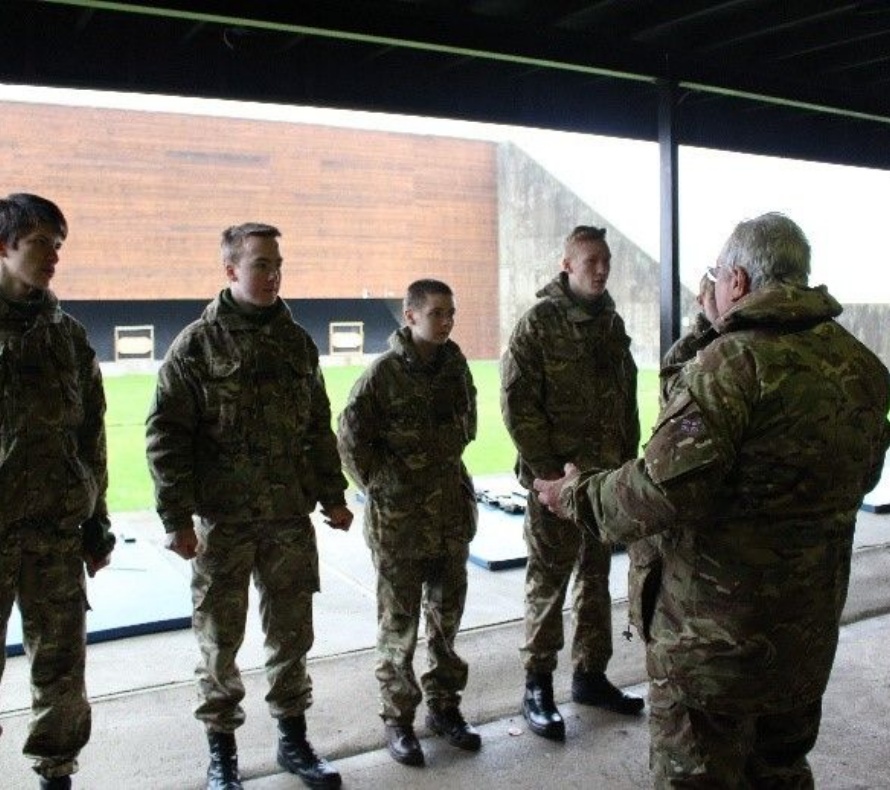 On Friday the 27th of January, 25 recruits from Year 9 and 4 from Year 12 travelled to Royal Air Force Digby to experience firing live rounds on the L98 A2 General Purpose Cadet Rifle.
The day started at The Priory Academy LSST with cadets arriving at 0800. They then set off to RAF Digby in two minibuses. Upon arrival cadets were given a briefing and their timetable of training for the day. There were 6 different stands for the cadets to visit, each 30 minute rotations. These stands included; marksmanship principles; cleaning weapons; live firing; First Aid 1; First Aid 2 and leadership tasks.
Whilst the cadets were at the range, they firstly revised their marksmanship principles, to improve their shot for the firing points. They were taught how to control their breathing and their positioning in order to fire effectively. They would then move to the firing point and fire 25 rounds at a specified target. They were told to focus on shooting 4 groups of 5 rounds at individual squares. They would then view the target to see their shooting before shooting a further 5 rounds with the aim of improving their accuracy.
They would then go to clean the weapons ready for the next round of cadets to shoot. The weapons need cleaning due to carbon building up in the gas parts. When carbon builds up it can lead to the weapon not firing effectively.
In RAF Digby gymnasium the recruits started their training on First Aid. There were two sessions of first aid running. The first sessions focused on assessing incidents and the first stages of identifying casualty injuries. The cadets were taught to follow a procedure known as the DR ABC. They would check for Danger, try and get a Response, check the casualties Airways, assess their Breathing and check their Circulation.
In the second session the cadets were taught to place casualties in the recovery position and were given scenarios to put their skills into practice. Their training will now develop to learning CPR and more in depth first aid skills such as bleeds, fainting and burns.
Also in the gymnasium, the recruits had their first experiences with leadership exercises. Fg Off Summers offered a number of different exercises that needed the cadets to think on their feet. A number of them were selected to be leaders of their group in order to solve a situation. The cadets will become more familiar with these types of exercises over the next couple of months as they finish their basic training.
The recruits really enjoyed the day and were full of adrenalin before and after shooting the rifle. Thank you to all the staff who took the recruits to RAF Digby.