Year 7 and 8 Match Day Coaching at Leicester Tigers v Harlequins.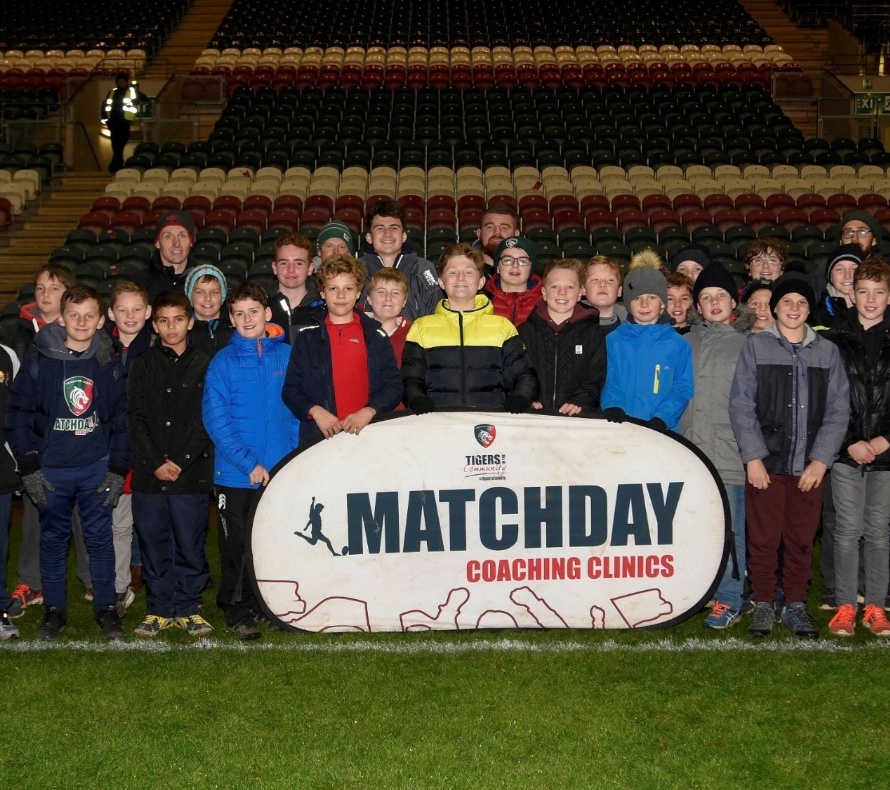 Last Sunday thirty three Year 7 and 8 rugby players travelled to Leicester to enjoy a combined day of coaching, a question and answer session with the Tigers' squad member Charlie Thacker – 'little' brother of Harry Thacker who was in the Tigers' Squad to play against 'Quins' in the afternoon - and then watching the premiership clash of Tigers and Quins, culminating with a pitch side photo after the game.
The weather was dry even if the training pitch wasn't. The Tigers' coaches, Will and Jack, put the boys through their paces, concentrating on ball handling skills and organisation behind the 'breakdown', or chaos corner as it was dubbed! The boys did improve their ability to maintain depth and move the ball effectively through their hands and down the line into space.
Despite a change of venue and a little overcrowding, the Q & A session with Charlie Thacker went very well, with interesting questions being asked by the students; "What would like to be if you weren't a professional rugby player?" – "A professional surfer!" and "What's the hardest thing about being a professional rugby player?" – "Early morning training in the winter ….. every day!"
The boys managed to take full advantage of the full range of food outlets at Welford Road before taking their seats to watch an initially very tight and edgy game. Penalties were exchanged by both teams (9 – 6 at half time), until the Tigers eventually gained the ascendency in the second half and came away winners, 25 – 6.
Despite a late return, the boys all seemed to enjoy the day and take a good deal from their experiences.
Thank you to Mr Clarke, Mr Bradwell and Mr Moran for giving up all of their day.
No comments have been left yet.