Staff Personal Development. Kinder Scout 18th 19th November 2016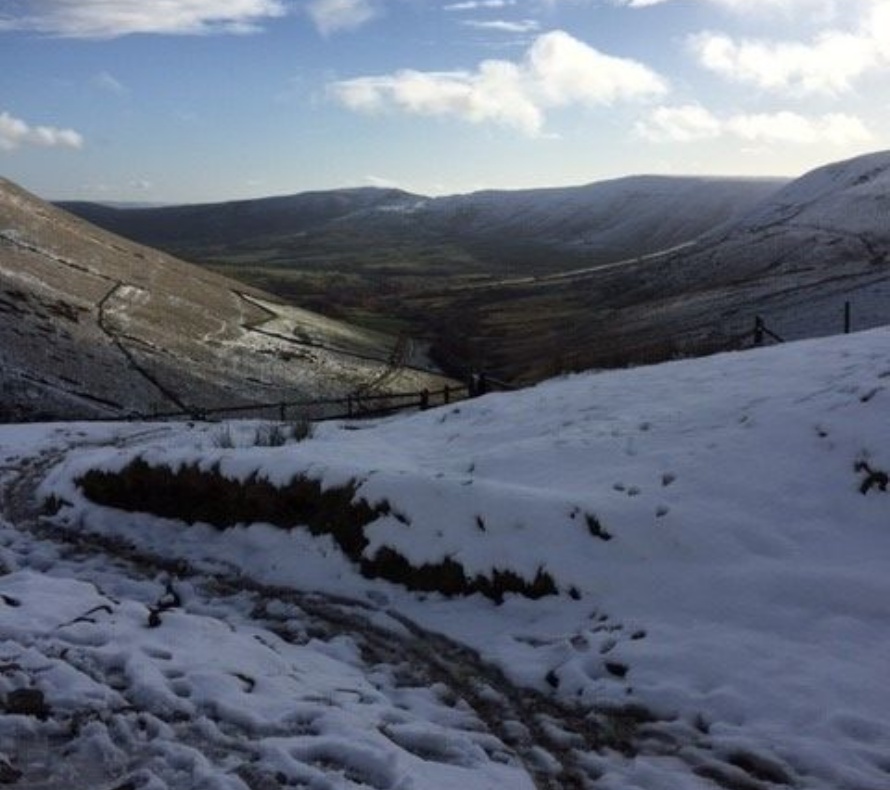 Staff personal development 18-19th November Kinder Scout via Jacob's Ladder.
After a successful seminar on the 18th the volunteers set out on a demanding day's walking in the dark peak district, but first we had to get there. Mr Stones, our intrepid minibus driver, coupled up the trailer and off we went via Mam Tor, as other roads had been closed due to bad weather (not a good omen). On arrival at Edale in the dark and poor weather conditions the first task was to pitch our tents. This was made even harder by muddy underfoot conditions, along with clouds heavy with snow filling the sky. The staff, as usual, got in amongst it and were soon comfortable. Then for dinner, which was taken early, and early to bed . On awaking the next morning we found the most picturesque view - the dark peak, now white. As the sun rose we started to warm up. We all made a hot breakfast ranging from bacon to porridge, then we were off on our day's adventure.
Staff were representated across the Federation. Our winter warriors were: Mr Stones, Mr Copeland, Mrs Greenfield, Mrs Thompson, Mrs Wilkinson, Miss Spencer, Miss Harrison, Miss Heckford, Mr Dale, Mr Wyatt and Mr Ginty.
All adventurers were keen to summit Kinder plateau, which they all did. Well done to all. This day tested the best of us either relearning or just learning new skills and getting to know one another in an environment other than the classroom. The snow brought along with it new challenges such as map reading and compass work. All rose to the challenge and best of all enjoyed the experience too... so they tell me!
See below Miss Harrison at the top of Jacob's ladder with sun in her eyes and a smile on her face. If you would like to join this happy band of adventurers please speak to any of those listed above and I am sure they will give you an honest and unbiased opinion of the DofE award scheme, we are always
on the lookout for new members to join us on our adventures, in supporting all of our students across the Federation.
Now for the long walk home. After summiting Kinder plateau with all staff safe and in good heart we set off down a now snow covered and slippery path. With plenty of stops and sure footed steps and strong hearts we rounded the corner into Edale where some staff found an outlet selling hot beverages and cake. This was welcomed by all and thanks to Miss Greenfield for sharing her Rocky Road. Now to the minibus and a slow but warm drive home back to LSST. All back safely after a thoroughly enjoyable and rewarding experience.
If you are interesting in joining the DofE Award within the Federation please contact any of the above or myself Mr M Ginty Priory Federation DofE Manager mginty@prioryacademies.co.uk
No blog posts have been added to this category yet.