Winning girls clear language barrier

Two students from The Priory Academy LSST went head to head in the regional final of a Foreign Language Spelling Bee.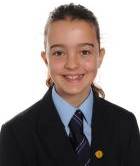 Year 7 girls from The Priory Academy LSST gave outstanding performances at the 2013 East Midlands Regional Final of the Foreign Language Spelling Bee at Corby Business Academy.
Our students who took part in French were Anna Thacker and Sophie Fox. The standard was extremely high with some schools having four contestants for French.
Although our two girls did not come away with a trophy, they were able to spell correctly at an exceptional speed and conducted themselves admirably. I watched spellbound at their performances.
In the German part of the competition, our pupils were Ellie Beswick and Millie Meyrav-Lawless and what a performance they gave.
It was a tie for first place and The Priory Academy LSST pupils had to end the competition competing against each other for first and second place.
The final result saw Millie Meyrav-Lawless (pictured above) winning the trophy for us and setting a new spelling bee record, with Ellie coming an extremely close second.
They certainly deserve praise from everyone - and it will help to encourage them to learn another 50 words for the final (a total of 200 words).
Miss Szczesna
MFL Department