CCF Fieldcraft Weekend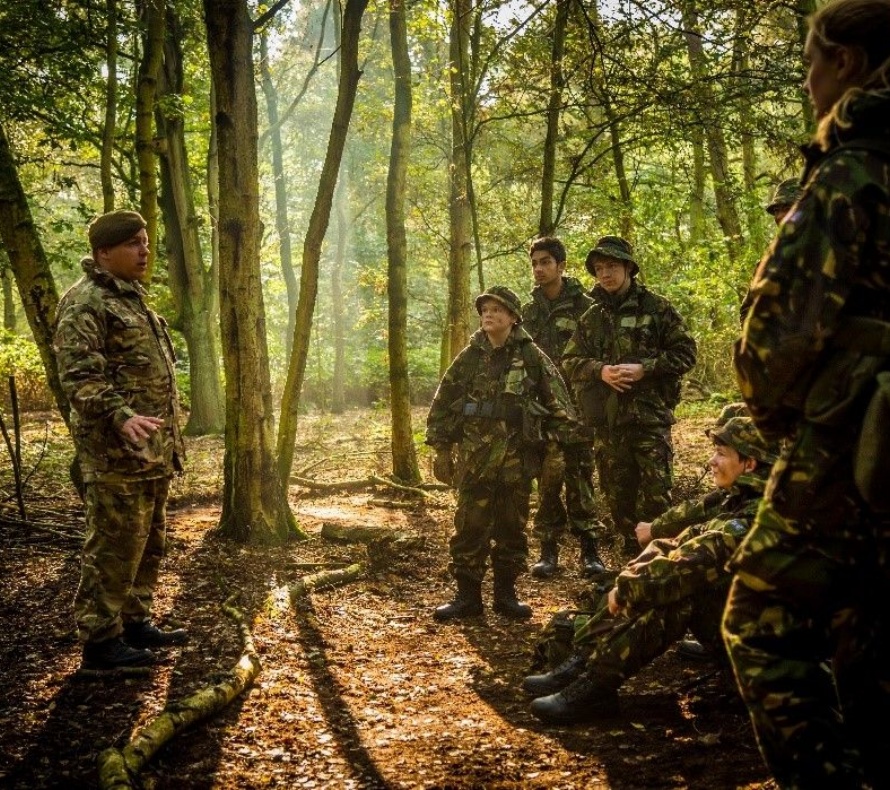 On Friday 14th October, the new Priory Federation (LSST, Witham, PCLA) recruits embarked on their first fieldcraft weekend.
Exercise priory fledging began at 0830 Friday morning. We deployed to PCLA pheasantry where the 34 new recruits would live for the next 36 hours. On their deployment, they would learn all of the basic fieldcraft skills needed to survive in the field. They also learnt how to erect a suitable shelter for the night and how to cook an operational ration pack. The recruits were split in to 4 sections in which they would look after each other, help each other and have fun.
Friday morning started with 4 lesson rotations. These lessons were camouflage and concealment, operational ration pack cooking, improvised shelters and harbour drills. The recruits got stuck in to their activities and made the most of their lessons. At the end of the period, recruits almost became invisible from their camouflage skills. They then set up their hexamine cookers and made their first hot drink from their ration pack.
In the afternoon, the recruits were again in a 4 group rotation of activities. This time the activities were, judging distance practical, movement without weapons hand signals and fire control orders. This saw recruits crawling on the ground and using figure 11 targets to identify from far distance. The morale of the cadets was still very high!
After the end of rotations, they were released into an open area to start cooking their evening meals. Recruits would use boiling water to heat up their food in a bag. There was a mixed opinion on the meals, some couldn't get enough, and some preferred to eat the breakfast bars! But none the less - everyone ate from their ration packs.
In the evening we conducted a series of night exercises for the recruits. They did a night line which tested their confidence and trust in their night vision. They also did a noise exercise which tested their skills to notice noises made by senior cadets. The recruits were tested on what they saw or heard. We also put them through a series of team building night vision games. At this point we had some very tired recruits who wanted to get in their shelter. We finished the night by a final briefing and getting them all to their shelters!
The morning started at 0700 to the sound of reveille. It started as a cold morning so the majority got into their jumpers and got their basha down quickly so they could start cooking. Fortunately, all of the shelters stayed up all night and nobody got wet!
They cooked their breakfasts and packed everything into their bags and they were ready to go at 0900. The mornings activities involved, patrol practice, team building, duties of a sentry and types of patrol. These were very active and saw a lot of the cadets running tonnes locations!
We finished teaching at 1100 and started to clean and pack away all the school equipment. The recruits were left with just a bin bag for their personal belongings. We marched over to PCLA car park 1400 and then we dismissed the cadets to their parents. All of the recruits still had a high morale when they left which is fantastic. We were all impressed with the amount of effort they put in to the weekend! It was fantastic and made our job as seniors easier. We awarded a best male cadet and a best female cadet to the cadet we thought had performed exceptionally well. Best male cadet went to Recruit Charles Walker. Best female cadet went to Recruit Emilia Ackland. Well done.
I'd like to say thank you to the senior cadets who taught the lessons to the recruits and supported them over the weekend. Cpl Jo Clark, Cpl Matt Fearn, Cpl Fiona Lawson, Cpl Imogen Simpson and Sgt Bradyn Wright. They all gave up their school lessons to teach the new recruits. Fantastic performance from them.
I'd also like to say thank you to all of the staff in attendance over the weekend. Without them - the recruits would not have been able to do it without them! Thy supported the senior cadets and the recruits constantly. Sqn Ldr Thompson, Capt Ginty, Fg Off Summers, 2Lt Mullins, LCpl Fox, CI Atkinson, 2Lt Smailes.
The recruits preformed fantastically so please pass on congratulations to all recruits around the Academy.