CCF Adventurous Week Keswick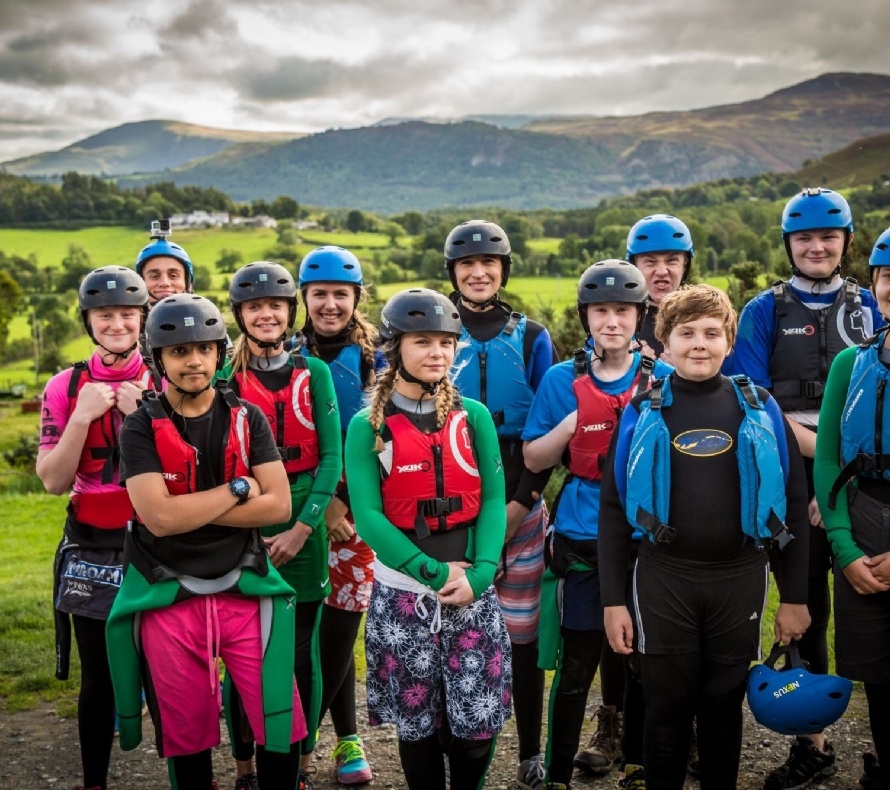 On Sunday the 18th of September a group of cadets went to Keswick, in the Lake District, for their week of adventurous training at Denton House, which held a number of different barrack blocks for our stay.
On Monday we woke at 06:30 to ensure we had time to prepare for our adventure. The day involved ghyll scrambling, rock climbing and abseiling. Ghyll scrambling is where you traverse down a stream, in some places sliding down rocks or jumping of ledges into pools; the experience was exhilarating especially after jumping and then having to climb up a waterfall. Rock climbing involved climbing up a cliff face and abseiling involved us going down an 80ft cliff face, having full control of the speed we descended. For most this meant having to overcome fears they have had, 'It was really scary at first, but overall it was one of the best experiences of my life'.
Tuesday was my personal favourite day as we challenged ourselves on the 'Via Ferata', which is Latin for iron road, by the Honister slate mine. This course was so high aircraft actually flew under us and you had to scramble across large metal staples, bridges and ladders in order to reach the top of Fleetwith Pike. The course was so scary that we were given the option to avoid the more extreme areas of this climb however; the more adventurous of us completed the whole course. Via Ferata really pushed some people out of their comfort zone, but after we were safe on the ground we all spoke about what an amazing experience it was. We also visited Honister Slate Mine, looking at the equipment miners used before drills, how they were transported to the mines via mine cart tracks and how the tiles from the mine were used on local houses. When we got back to Denton we had to pack to continue the rest of our adventure under canvas.
On Wednesday we were split into groups to try different activities. Some cadets, including myself, tried ice climbing where we were given ice axes and crampons, metal spikes that attached to the bottom of our boots, to help us scale a wall of ice. Climbing up the wall was an amazing experience, but was very tiring which meant we didn't get too cold during our ascent. After that we investigated Keswick which included a classic sweet shop; trying the SUPER SOUR sweets was an extreme sport all on its own. The day then continued with indoor climbing which catered for all levels of climbing from simple vertical climbs to some overhanging climbs. The centre also had its own indoor bouldering room, it was like climbing just harder and without any belaying ropes. Following climbing we had a round of mini golf course; although not extreme, it was definitely just as fun. Finally, we relaxed at the pool to give us some well earned rest.
Thursday was yet again another filled day, which gave us the opportunity to explore the local area by walking around the many beautiful hills. Again we were split into two groups, with experienced walkers tackling Haystacks which involved a lot of scrambling, steep hills, great views and even a small hut at the top where we could eat lunch. Less experienced walkers took the route around the nearby lake which again offered amazing views.
On Friday (our final day) we packed away all of our camping equipment before heading off to Derwent water to partake in some water sports. We were given the opportunity to try canoeing, kayaking, and raft building. Also, while building our raft I found out that Derwent water has been used in some recent films, it was the lake by the castle in 'Star Wars: The Force Awakens' and also, 'Swallows vs. Amazons'. To end off our water sports we had dragon boat race, this is similar to canoeing but instead there are more people in a longer boat, the race was very intense but also a lot of fun. To end off the week we had our final bus journey back to LSST.
The weeks training not only pushed us to try learn new skills, face our fears and develop our ability to take calculated risk taking, it also developed our camaraderie with others as we learnt to not only take care of ourselves but also to respect and support the people around us. Throughout the week we were also given the responsibility to organise where we stayed, taking part in the cooking, cleaning and other numerous preparations that are required to make something like this happen. This gave us the opportunity to develop our own independence and self-reliance. On top of this, a few people were chosen to be 'room IC's, given us the opportunity to be in a leadership position to ensure that the rooms were tidy, people were asleep at the right time and the necessary tasks were done.
Overall the week was amazing. We had lots of fun while doing things we wouldn't be doing normally, all with the help of 2 Lt Mullins' exceptional meals. A massive thank you to the 5 members of staff who accompanied the cadets to the Lake District and made it possible to do the fantastic activities. (Sqn Ldr Thompson, Capt Ginty, Lt Freeman, 2Lt Mullins and Mr Ackland.)