Prague Exchange 2016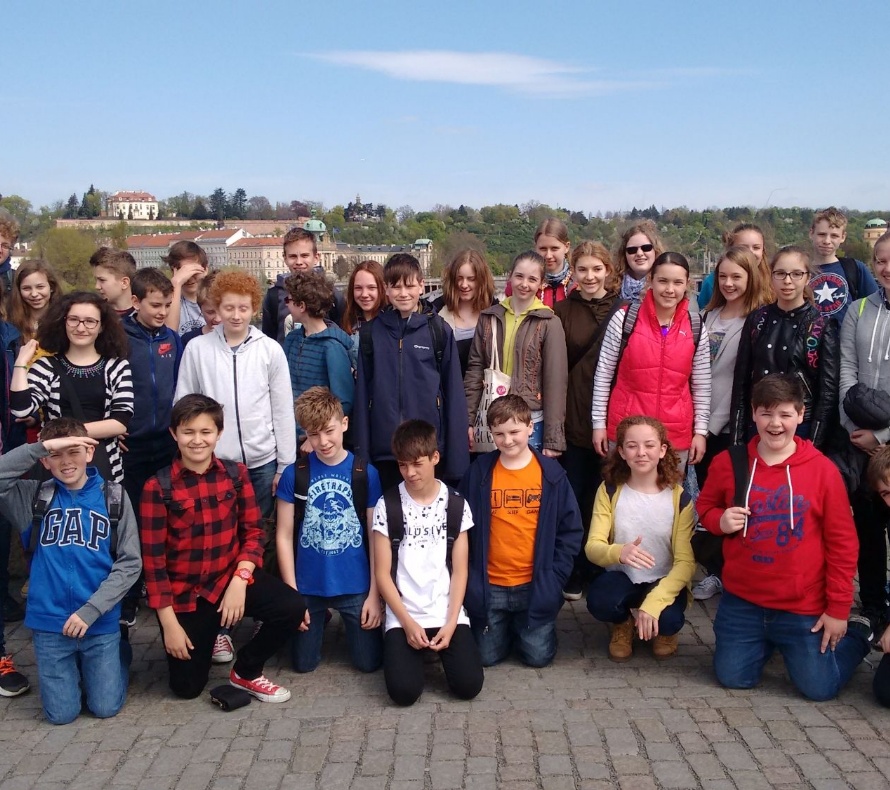 On Thursday 21st April, 18 Year 8 students - along with Mr Hardy and Mrs Moat - began the long journey to Prague. Leaving at 5:30am from Lincoln Train Station, we were beginning the second half of the Maths Exchange programme. Prague students (and their teachers) had already visited Lincoln, and stayed with students families, the month before.

It was an early start but three train journeys and a flight later, and we were in Prague - being collected and ready to enjoy a first, but perhaps somewhat nervous, night with our host families.

On Friday one of the Prague teachers (Mr Rufr) took us on a tour of the City. It is a beautiful place: lots of intricate old architecture, street entertainers, and a 'melting pot' of different cultures some might say! We soon learned the British Pound goes a long way in the Czech Republic, which was a good thing, as there were so many tasty street snacks and treats to enjoy. Mrs Moat particularly liked the long spiral crisp skewer thing, but Mr Hardy was too dedicated to his fitness to consider indulging in ice creams and donuts!

Pupils stayed with their host families over the weekend, and the efforts of the families to provide a fun and varied Prague experience was overwhelming. Pupils enjoyed trampoline parks, museums, zoos, science centres, and so much more.

Monday of the trip was spent in school, taking part in the second round of a maths challenge. Comparing the two schools proved interesting: the PORG school has no uniform, just 200 students, a table tennis table immediately outside the staff room! Seeing students from both countries working so well together at solving challenging maths questions demonstrated the positives of such experience. Students returned to their host families to spend one last night together.

Tuesday was a busy day - returning home using trams, buses, planes and trains. A few hours waiting here and there provided times to get lunch, buy presents, or lose a boarding pass or two. Luckily Easyet weren't in a rush that day!

It was a tremendous few days away, and a hugely successful exchange. Seeing the English and Czech students forge friendships has been humbling, and strengthened ties between the two schools. Pupils have been praised by the public for their impeccable behaviour along the way, and plans are already in place for next year's programme.

A big thanks must go to all those who made this year's trip a success: Student Finance, Student Reception, our students families, the Prague teachers, the Czech families, cover teachers, and the students themselves. Oh - and also to Mrs Moat, who now deserves some rest!
Please enter some content for your blog post here.