RAF Cosford March 22nd- 24th April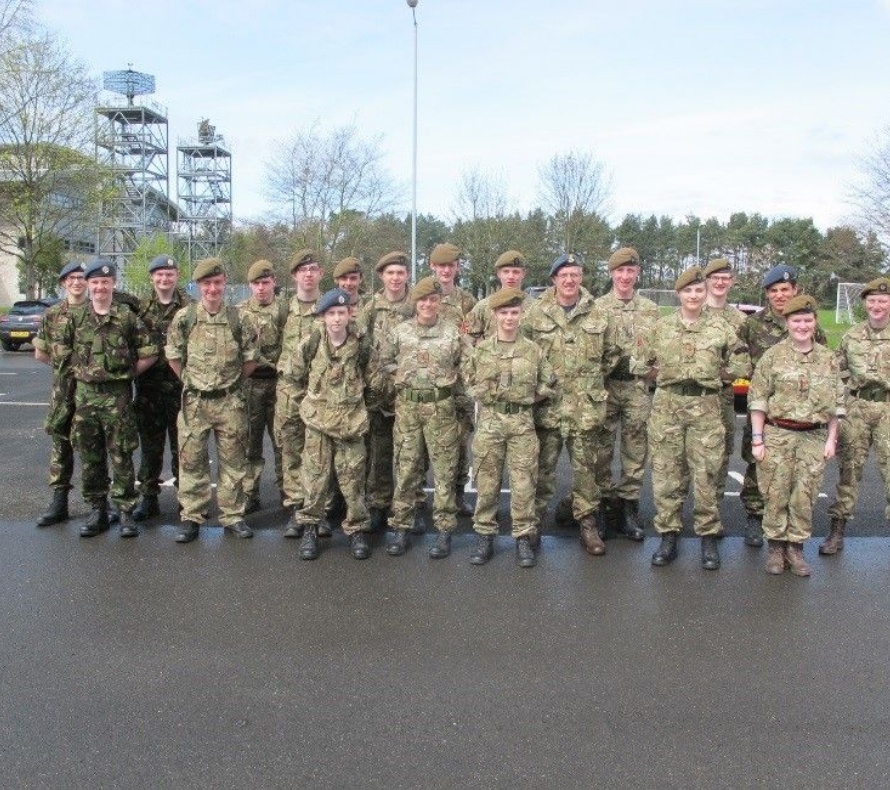 On Friday 22nd April 23 CCF Cadets, Army & RAF departed to embark on a new venture completing the RAF Cosford March. This would involve marching 20 km each day across the weekend.
1500 participants from across the British Military Services, Dutch, German and Italian military contingents along with numerous Air and Army Cadet Forces took part. The Priory were the only Combined Cadet Force participants.
Marching is recognised by all 3 Services as a core military activity and as such the RAF 2-Day March is a military training exercise for regular and reserve personnel; it is not a sporting or adventurous training activity. The exercise is also an approved cadet activity for members of the Air Training Corps, Army Cadet Force, Combined Cadet Force and Sea Cadet Corps. The RAF 2-Day March provides teams and individuals the opportunity to exhibit a variety of military competences, including leadership, personnel management, teamwork together with physical & mental ability and robustness.
The trip started with us gathering kit ready to depart at 1630 hrs on Friday 22nd April. This meant that many of us could not go home to get changed which is why only some people were in CCF uniform. The kit we were issued included a camouflage day sack, a 1 litre water bottle, a bush hat and a set of waterproofs; trousers and top.
We left at around 1640 hrs to head towards RAF Cosford near Wolverhampton on the minibuses. We arrived at RAF Cosford at around 2000 hrs and were greeted with the long line of coaches and minibuses full of military personnel and civilians ready for the March. Many of the people who had come were hoping to qualify for the 100th anniversary of the 4-day Nijmegen Marches in July this year. This meant that the entries were capped at 1500 people due to restrictions on the roads, our teams were quite lucky to be able to join.
The female accommodation for our 6 cadets were military barrack blocks which are actually very nice to stay in, especially when compared with male accommodation. Most of the people doing the March were male and so several large marquees had been set up, each with the capability to hold 180 to 200 people.
Unfortunately, on the Saturday morning one of the male cadets tripped over and was so shaken up he was pulled from the march by the medical staff before the march had started. Although he did get to spend the day playing Lincoln Monopoly with some very lovely nurses…
After the first day, Sergeant Walker was badly injured and went home because her blisters were so bad they had a possibility of infection. Although she especially deserves a special mention for determination, her blisters were about the same after 20km as 10km when they were seen at the rest area. This meant that she walked 10km with blisters so bad that she was taken off of the March although if she wasn't then I'm sure she would have also attempted the second day of marching.
On the last day after we had finished marching, medals were given to both teams for completing 20km on both days which is about the equivalent of a half-marathon and while this doesn't sound far, the warm weather and near-constant slopes were still very tough. We concluded the March at around 1300 hrs on the Sunday and proceeded to stretch our muscles in preparation for the 3 and hour journey back to school.
L/Cpl Anderson
Please enter some content for your blog post here.