Italy 2016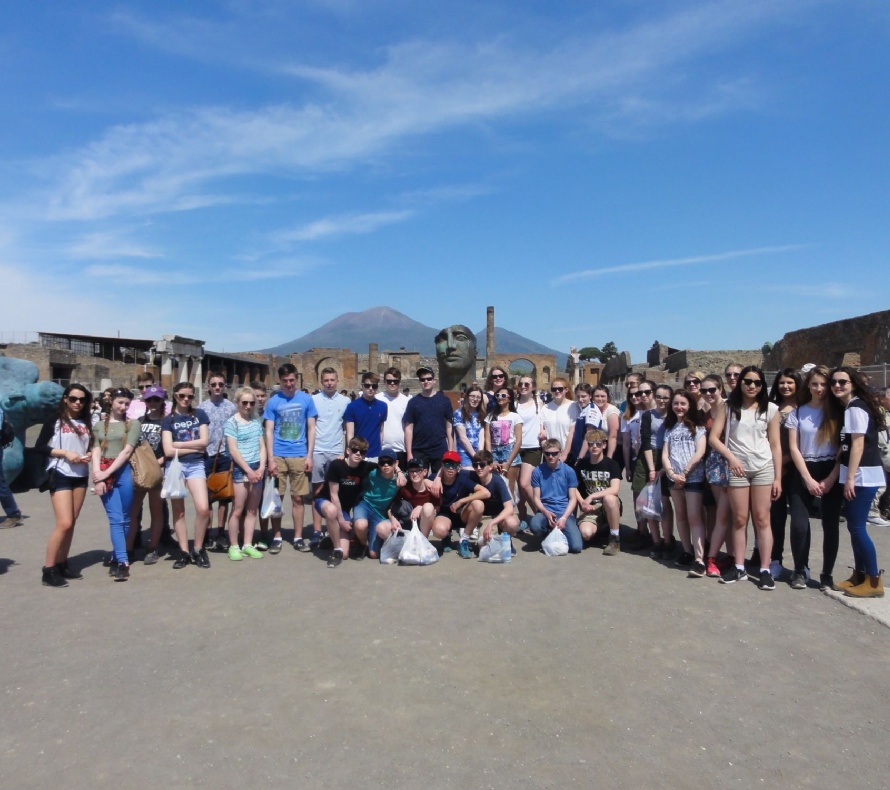 On the 20th April 40 students headed off in the middle of the night to Italy. We arrived mid morning to find the temperature had already reached 17C. By the time we reached Herculaneum the temperature was 23C and it was a beautiful sunny day. The students got to explore the site with a guide looking at how deep the ash was, how people had lived on the site many years ago and the impact of the eruption. Despite only about 30 percent of the city being excavated, the site was extensive and well preserved. We then got our first taste of home-made Italian pasta. In the evening, we walked into Sorrento getting excellent views of Vesuvius and Marina Grande, where we stayed.
On Thursday we headed for Pompeii, it is a much larger site than Herculaneum with more excavation having taken place. We were able to watch the archaeologists working to restore the site and look for new discoveries. We were accompanied by an archaeologist, who told us about life in Roman Pompeii, the impact of the eruption and even the origin of words like trivial. The students were able to see the ancient forum and mosaics. In the afternoon, we headed to modern Pompeii, whilst the staff took a leisurely stroll up the volcano, many of the students chose to run up the steep incline! At the top we were joined by a vulcanologist who talked to the group about volcanic monitoring, prediction and protection for when Vesuvius next erupts. The views from the top enabled the group to understand the challenges of living in the areas as well as the challenges of evacuating such a densely populated area.
On Friday, the group headed along the Amalfi coast with stunning views of coastal landforms. The students then looked at tourism in Amalfi itself, which is a small town with narrow roads which receives thousands of tourists each year. Whilst in the town we visited the cathedral which had beautiful frescos painted in the crypt using the same techniques that we had seen the previous day in Pompeii. We then continued along the winding road to the Pertosa caves, they are a large system of limestone caves with lots of stalagmites and stalactites. Whilst on a boat trip through the caves, we were lucky enough to see a bat. The students learnt about the formation of the caves as well as the inhabitants of the caves over the years.
The final day was spent exploring Sorrento, the students were able to enjoy the local pizza and gelato as well as picking up local specialities such as lemon products, made from the very lemons that we had seen on the Amalfi coast the day before. The students also got to experience a different climate with a really heavy thunderstorm.
Please enter some content for your blog post here.