Iceland- Geography field trip 2016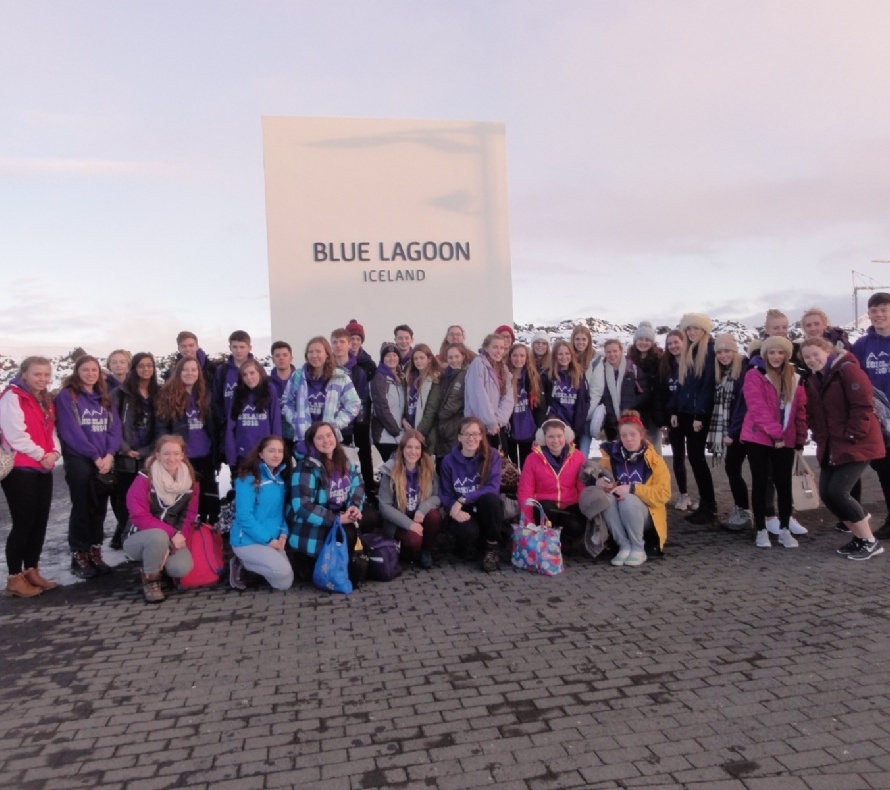 On the 11th February, 40 A Level students departed for Iceland. We arrived to find over 4 inches of snow on the ground which didn't stop us heading to the blue lagoon to go swimming, it was a lovely to relax in the warm water after the long journey.
The following day we watched the sunrise at 9.30am whilst on a scenic boat tour of the coastline around Reykjavik. The weather was fantastic with a clear blue sky but it was very cold at -4C. The group then headed to Seljalandsfoss, one of Iceland's most beautiful waterfalls, made even more spectacular in the snow and ice. From there we headed to the Eyjafjallajokull flood plain where the students watched a movie on the eruption and met the local farmer who had been affected by the eruption.
Afterwards, we headed to Reynishverfi which is a volcanic beach which has basalt columns, the students were impressed with the impressive power of the waves. The following morning dawned clear and bright with high winds, this meant that when we visited Dyrholaey, a small island which is now joined to the mainland after volcanic eruptions, the waves were exceptionally high and clearly showed how the sea had eroded the coast. Afterwards, we wrapped up warm and headed for a Glacier walk. We then visited Skogafoss another amazing waterfall which looked stunning. Later we visited an earthquake simulator, to see what life was like for villages who regularly experience earthquakes as they live along the plate boundary that runs through Iceland.
Valentine's Day started by learning about how Iceland generates its power and hot water from geothermal energy with a visit to Hellisheidi Geothermal Power Station. We then visited the cone volcano Kerid, which gave students an insight into the different types of volcano. Afterwards, the students headed to Gullfoss, one of the largest waterfalls in Iceland before visiting geysir to see geysers erupting. Later in the day we enjoyed an Icelandic favourite by visiting Efstidalur Dairy Farm for ice cream, even if it was exceptionally cold outside. We then went to Thingvellir national park to see where one of the oldest world parliaments began and to see a rift valley. Our last day was spent in Reykjavik, looking over the city at Perlan and picking up souvenirs in the city as well as looking at the cities landmarks.