He, (or she) who Dares (and Debates)…Wins!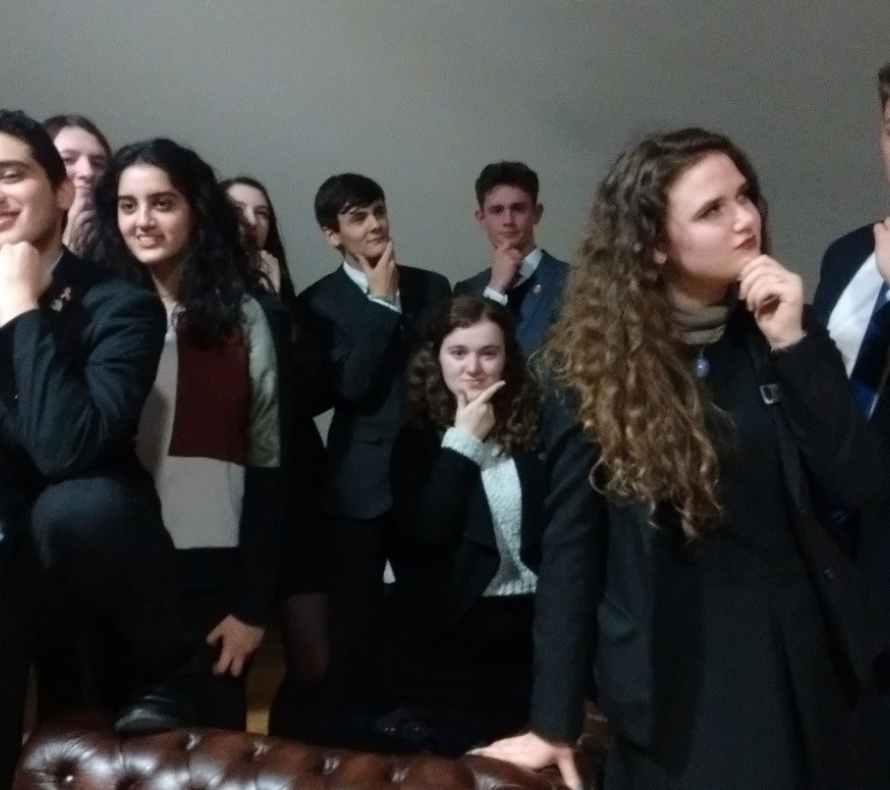 The Priory LSST Sixth Form get their mouths round words and arguments to win through the English Speaking Union Debate held in Doncaster on 4th December, and excel in the Cambridge Schools Debate at an all-day event in Leeds (12th December).
Scarlett Rowland and Kacper Batty won through the English Speaking Union 'MACE' debate at Hill House School in Doncaster on 4th December. Their eloquent and impassioned delivery style won the respect of experienced judges. Alongside the hosting school, they will compete in round 2, in January. If they continue to round 5, they will be representing England against the winning Welsh, Scottish and Irish group schools.
On Saturday 12th December, the Priory LSST debating team, accompanied by a host of excited spectators, travelled to Leeds Grammar School to partake in the annual Cambridge Schools Debating Competition. The debating team consists of eight sixth form students, debating in pairs. The competition involved three rounds based on a points scoring system. After three rounds had taken place, the pairs with the highest scores were to succeed to the final, held in Cambridge. There were twenty four pairs participating in the competition, with only two set to advance to the next round. Despite amazing efforts, none of our four pairs were picked to go through to Cambridge. However, the competition was an opportunity for the team to show how we have progressed since we began back in September, with some incredible debates in the individual rounds.
The first debate was proposed with the motion 'this house would privatise prisons'. Within a debate, there are two pairs arguing on both sides. As there were twenty four pairs, there were six individual debates for the same motion, and it was a random selection which debate each pair would be in and which side they would be arguing for. This meant at times, pairs would be working with other pairs from different schools, or maybe even against a pair from their own school. In this first debate, Saskia Dowley and Callum Janssen stole the show, finishing first place in their respective debate. Ashmeena Rickaby and Katie Goldblatt just missed out on another first, with a commendable second place. Tensions were high to perform again.
'This house will legalise euthanasia to terminally ill patients in the UK' was the second motion. Immediately, when this was announced, teams scrabbled to their feet to get planning straight away. With such a contentious issue, it was easy to form arguments on both sides, and the atmosphere was electric when the debates began. In debating, it is essential that you are passionate and committed to the argument and points you are conveying. Surprisingly, it wasn't difficult to fill five minutes through developing the issue and responding to points of information (protests from the other side!). Sophie Armitage and Lola Sharrock finished proudly in second place, with students from another school just clinching it.
The final debate was on the motion 'this house will remove immigration restrictions from countries which used to be in the British Empire'. It was time to put our GCSE geography knowledge to use! Because there were a number of different debates happening at once, there were also a number of different adjudicators; the fate of the debates in their hands. In this ultimate, and arguably most heated debate, George Baker and Henry Lucas were able to pull it out of the bag with another first for the Priory LSST.
Overall, two teams from Leeds Grammar School progressed to the next round. However, the teams from the Priory LSST were only beaten individually by Leeds and Bradford Grammar Schools, taking down teams which have been attending the competition for years! Out of 24 teams, these were the final standings;
Sophie and Lola (10th)
George and Henry (11th)
Saskia and Callum (13th)
Katie and Ashmeena (18th)
The Cambridge Schools Debating Competition was a thoroughly rewarding experience, allowing us to gain confidence and experience in debating formally and against teams we have never encountered before. A huge thanks to Mrs Pomeroy and Mr Watmore for giving up her Saturday to take us! It's safe to say that the Priory LSST are eager to return to the competition next year, destined for more success!
Lola Sharrock 12.9