CCF Cadets gain their EFAW (Emergency First Aid in the Workplace) qualification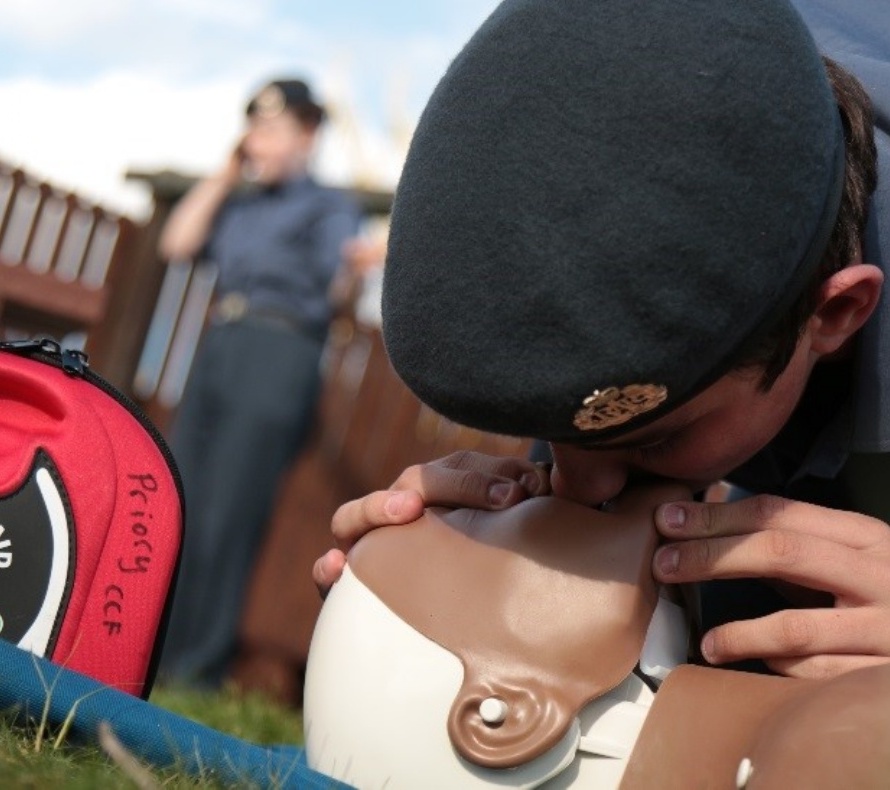 Over a 3 week period, the Year 11 Army and RAF Priory cadets have been training to earn an EFAW civilian instruction. Lt Ginty has been training us to ensure we reach the outstanding standards set by the important qualification to warrant us this certificate. It is a very well recognised certificate that employers value highly.
During the course, we covered many various areas to ensure that any emergency can be tackled and the certificate holder can give lifesaving first aid to anyone in need. Some of the key lifesaving areas we have covered are: Primary surveys, unconsciousness, shock, bleeding, burns, fractures and more injuries. Any of these can happen at any time and as a qualified first aider holding this certificate, we must be able to identify the persons need, make a clear decision, and remember the 3 principles of first aid - preserve life, prevent injury from getting worse and promote recovery! If all these happen then we have successfully delivered first aid.
However, the course is not all theory based, all cadets had to complete a practical assessment including the recovery position and how to sling an arm for a break or fracture. We also had to answer questions from Lt Ginty when asked upon, to check our understanding and to confirm we'd understood all information. These first aid skills are for anywhere we are working or in our leisure time, with statistics showing that you will more than likely be in a situation that requires you to dial 999/112 and required to give first aid at some point in your life.
It is a very good qualification to have on your CV; you will stand out to any employers compared to others who do have the certificate. We are lucky as cadets that we have Lt Ginty and other members of staff that are first aid trained and able to teach us and present us with a certificate.
I learnt lots of skills and procedures for first aid and I encourage everyone to gain a first aid qualification, you never know when you need it most.
Cpl Callum Frances