Duke of Edinburgh - Going for Gold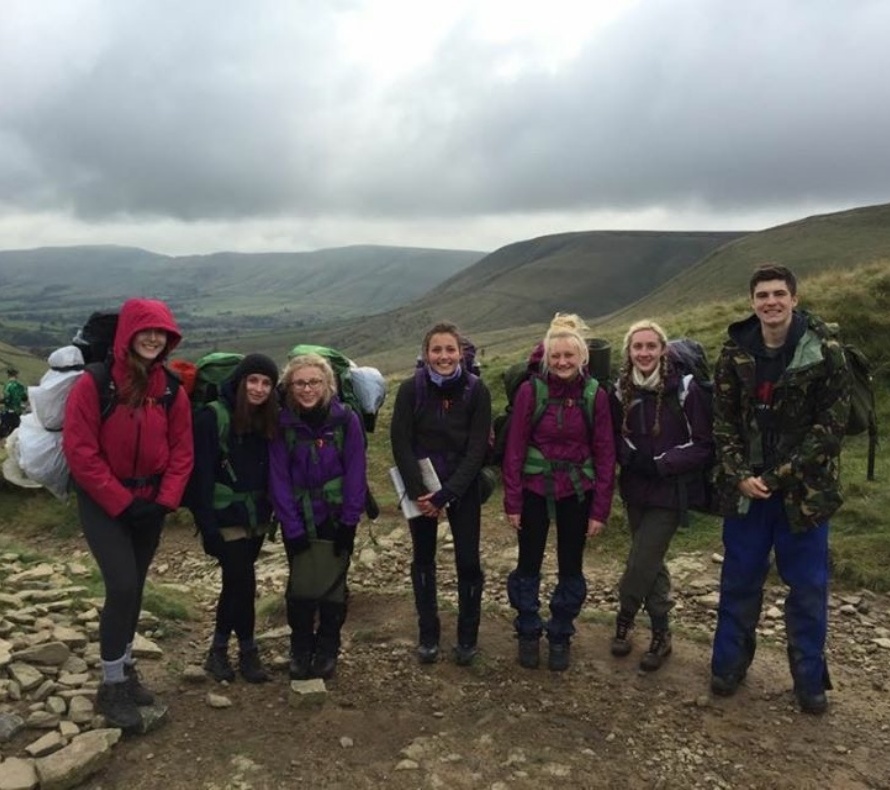 A delayed Day 1, due to traffic, began just before midday, fog lifting with our arrival – who said there's no such thing as luck?
After a few days of rain prior to the expedition, the fear of marshy terrain was on many people's minds, so it was no surprise that within 20 minutes of trekking, that we came across our first. Tactically avoiding a bog in true guinea pig fashion, we pressed on with high hopes, curious to what was to come over the next few days. Not before long, we found ourselves encompassed by an expanse moorland dotted with a myriad of reservoirs and streams. The majority of the day was spent on the Pennine Way, ending in a scenic decent into a valley, as the evening approached. We arrived in Crowden Campsite over an hour early just after dark, and to our joy – the first group in! Tediously after putting up our tents in the dark (note to self-bring more head torches in the future), we ate well, thanks to Daisy our amazing chef, and assisted other groups with their camp craft before wrapping up warm ready for the next day.
The first night was sufficed to say a cold and damp one, so predictably many (including my own) demoralised faces and shivering teens when the 6pm wakeup call came around. After a slow morning start, day 2 began, and despite the sun being up and the day dry, we still managed to moan about the weather, as us British tend to, complaining it was too 'hot.' Leg 2 came with a long haul up a 445m incline on the Pennine Way. With determination, motivation and team spirit (not forgetting 3 breaks along the way) we eventually made it to the top of the ridge, not to forget the true willpower and sheer dedication displayed by Katie-May on ascending these tricky inclines. At this point in the expedition we had found ourselves quite literally attached to the Pennine Way spending most of Day 2 on it, almost as our comfort blanket. Leg 7 came with a descent into Hayfield (campsite number 2) through a stream (Williams Clough), my personal highlight of the day. Winding steeply in and out of eroded rocks was not easy, but with James' masculine instincts kicking in and helping us down, we got the bottom in no time and it was very self-satisfying once reached. Before hitting the campsite, we walked past Kinder reservoir which was mirroring our view into the water as the sun began to set – truly beautiful.
As if we thought the cold evenings couldn't get worse, we were wrong. Night 2 was damper and even colder than the first. Fortunately we had the luxury of a dry room at this campsite, leading to much procrastination in the morning. Day 3 was to be the most impressive day, walking the Kinder Plateau (the highest point in the Peak District), Jacobs Ladder and Mam Tor - nothing us Gold DofErs couldn't handle. The day began again with another morning hill climb, so predictably a few grumbles, but before we knew it, we had reached Kinder Low! The views were amazing and there was great vibes within the team, despite the high winds and cold temperature; a great sense of achievement! Despite being cold, Sophie Hudspeth refused to give in to the elements, not moaning once and was always very helpful in every aspect of the expedition, nothing was ever too much. But group morale didn't stop there. It also was rambler's weekend on our expedition and so Jacobs Ladder (a point of interest in the Peak District) was heaving with walkers and various furry friends! We also managed to talk with a producer filming a clip for Country file who told us that we could get in the 'shot' (BB1 Sunday's 6-7.) Mam Tor was also very rewarding, providing incredible views of Hope Valley. The day ended, in true DofE style, with cross-county navigation over a river, executed precisely by Daisy. We reached Upper Booth campsite just after 5, damp feet, but spirits still high. It was nice for all 3 groups to be back together, sharing stories and experiences with each other of the past few days. This night in fact, was very warm and everyone had a good nights kip (well we were all tucked up in bed by half 7.)
Before we knew it, Day 4 had begun and the end was in sight. The start of the day was fairly easy going walking along the Hope Valley to Hope Cross. We managed to catch up with Group 2 on route and the addition of another 7 member's boosted morale instantly. It was also, I am sure, nice for James to have some male company after being bossed round by 6 girls for 4 days too! We had 16K to cover in about 6 hours, but nothing like a challenge! The route ended with a scenic descent down from Alport Castle. Particular credit here goes to Shannon who despite joining DofE at Gold level, showed impressive strength and determination on route, taking everything with a stride in her step - I don't think I saw her without a smile on her face at any point! We arrived before the teachers at the pick up point, mentally relived after walking over 100K over the 4 days (and I think our feet were too.)
If you were to ask me, over 4 years ago now, what I thought my experiences of DofE would do to me as a character, you would probably think you were talking to two different people. Being on a DofE expedition takes you away from reality almost, beginning to care about the bare essentials, like where you are next going to get water from, or the hope of a warm night's sleep, or a pair of dry socks. It takes you to the basics and tests your resilience within a highly demanding situation. Being a group leader through Bronze, Silver and Gold has taught me inate organisation skills, team work, communication and given me a boost of confidence I never thought I had in me, as well as being regarded as the group 'mum.' Although persevering at times, I wouldn't have done it any other way, nor could of wished for any better people to be in my cohort, all I can describe as a family away from home. Physically strenuous as the expeditions may be, I leave my DofE journey with a smile of the achievements I now leave with, landscape I have conquered and unique memories I will not forget.
Sophie Hockenhull
On behalf of Priory Group 3 (Shannon Roberts, Sophie Hudspeth, Daisy Gresham, Katie-May Coulson, James Mccran, May-Ashton Jones and Sophie Hockenhull)