EALT Leadership Course Part 2, RAF Wittering, 2015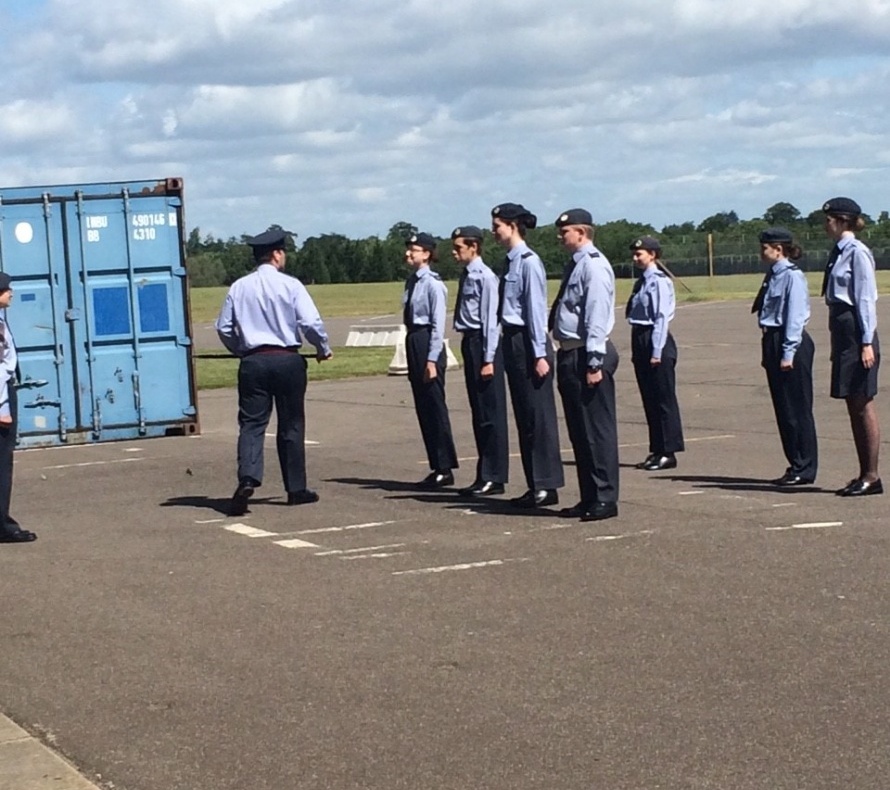 On 25th September 2015, a small group of Year 11 Priory RAF Cadets amalgamated with other schools around the East Midlands, to complete the second part of their leadership training at RAF Wittering.
Expectations
From the moment we arrived, the standards were already set for us. Our first lesson took place at 19:30 and outlined the expectations for us, they were as follows…
Work as a team

Upping the tempo

Work hard

Take and use notes

Get into the scenario

Play hard

Have fun
These expectations certainty set the bar for the rest of the weekend with: nightly room inspections, daily uniform checks and hourly team work and leadership tasks. As soon as we arrived, we were directed to our rooms and told to unpack, tidy up our rooms and ensure our uniform was up to high standards. This included wiping mirrors until they were gleaming, desperately trying to fix dripping taps and even crawling around on the floor, picking up bits of fluff and dirt. Soon after, our first lesson began and the health and safety talks started. We were reminded of acronyms such as F.O.D (foreign object, debris) and P.P.E (personal, protection, equipment) to help us remember the dangers around us and how to deal with them. These expectations helped us to maintain our self-discipline and standards to a high level for the duration of the course and I'm sure, far into the future too.
Tasks
Throughout the course we were subject to a host of teamwork tasks which, in turn, allowed us to be both a team member, and an effective leader. On the Friday night we arrived, PowerPoint presentations started at 19:30, and ended at around 22:30; only to be followed be gruelling room/uniform inspections at gone 23:00 hours. The next day, we were up and out of bed at 06:00, ready for a challenging 18 hour day ahead. During this time, we were split into 4 different flights; A Flight, B Flight, C Flight, and D Flight; and dropped off in the woods with our individual flight commanders. Whilst there, we each had the chance to lead a 20 minute activity at least once, however for many, twice. These activities included: travelling across an area of land full of mines, navigating our way to collect rods, and leading our blindfolded flight around the woods; ducking and lifting them under and over obstacles that lay ahead. As the night grew darker, it was time for our 'low light evening/ night exercise'. Commencing at 20:30, we were once again split into our 4 different flights and presented a map and compass. Using the grid references given, we were lead into the middle of the forest; home to creatures such as foxes, to try and collect a hidden pod. Using only the moonlight, each flight worked as a team to collect their specified pod and return it in the allocated time slot – however this wasn't as easy as it seems. Hidden by the opaque night's sky, rocks the size of small elephants and logs the length of ladders lay concealed on the forest floor, constantly tripping people up. Hours after the night's task had commenced, it was soon over and off to bed, but not before a warm cup of soup to heat us up. As well as outdoor tasks, we were each allocated a 5 minute time slot on Sunday for our public speaking presentation, which we were briefed on at part 1. Each of us had to present a 5 minute public speaking presentation based on CCF and perform it to around 8 different people. Each cadet had been giving a different topic, ranging from RAF Cranwell basic cadet training, to the RAF Current Aircraft Fleet. For many of the cadets, it seemed they had acted on the information given to them on part 1, and used this to better their speeches. This information was…
The more confident you appear, the more confidence people will have in you.

Make bullet point notes to refer to.

Only 7% of the information you transmit to others is in the language you use.

38% is how you speak (tone, accent, quality, etc.)

55% is body language (posture, eye contact, gestures, etc.)

< > (posture, orientation, proximity)

To get the most from a team

Some qualities of an autocratic leader

Also a good team member

Gives and receives orders
By learning and preaching these qualities, every single cadet at the course was able to become a successful leader, both then – and in the future.
Highlights
My main highlights during the weekend were the team work tasks. My favourite of which, involved trying to pass each member of the flight through a 'spider's web', hung up in the woods via some trees. We received our instructions in the S.M.E.A.C format (Situation, Mission, Execution, any questions, and check understanding.) The situation was that we were a team trying to escape enemy terrain and reach safety in a time limit of 5 minutes. We were to execute it using our team, but our limitations were that the flight mustn't use any equipment or resources (including rocks or twigs), we weren't allowed to touch the web, and once a hole had been used, it couldn't be used again. We had 5 minutes to complete the task to the best of our abilities. Needless to say, it didn't run too smoothly. The first team member crawled through one of the easier holes, as to help pass the next member through on the other side. Next, the slimmest member of the group was picked up and slotted through the next, having to be grabbed by the feet by the other team member. Then, it was my turn, I was to follow a similar procedure to the other cadet, however this time, due to limited support, the Officer had to step in a help lift me through, as to save me from hitting the floor and knocking myself out! With time running out, the final two 'larger' members of the group had to dive through the holes to speed up the process, however this was to no avail as the next snapped from the trees, and collapsed all around them. Not quite the success we hoped, but it certainly 'brightened up' our day.
Attributes Gained
Before I had even joined CCF, I was severely introverted; I didn't contribute in any discussions or even make eye contact with anyone other than the floor! But since joining CCF my confidence has slowly – but surely, grown; and by taking part in the Leadership Course, this will certainly help both now, and in the future. This course certainly pushed my limits in ways such as: taking lead of groups, speaking in front of people and being around people I'm unfamiliar with. But, by coming on the course I have learnt how to deal with these fears and know I will be able to use these skills now, and in my future. As well as gaining useful skills, we have also gained a useful qualification.
Conclusion
The EALT Leadership Course is an experience that has been – and will be of great value to us. The skills we have all learnt from both CCF and the Leadership Course can be taken into our future and be used in our jobs, interviews and day-to-day duties. It was defiantly worth going.
Ellie Dixon