RAF summer camp 2015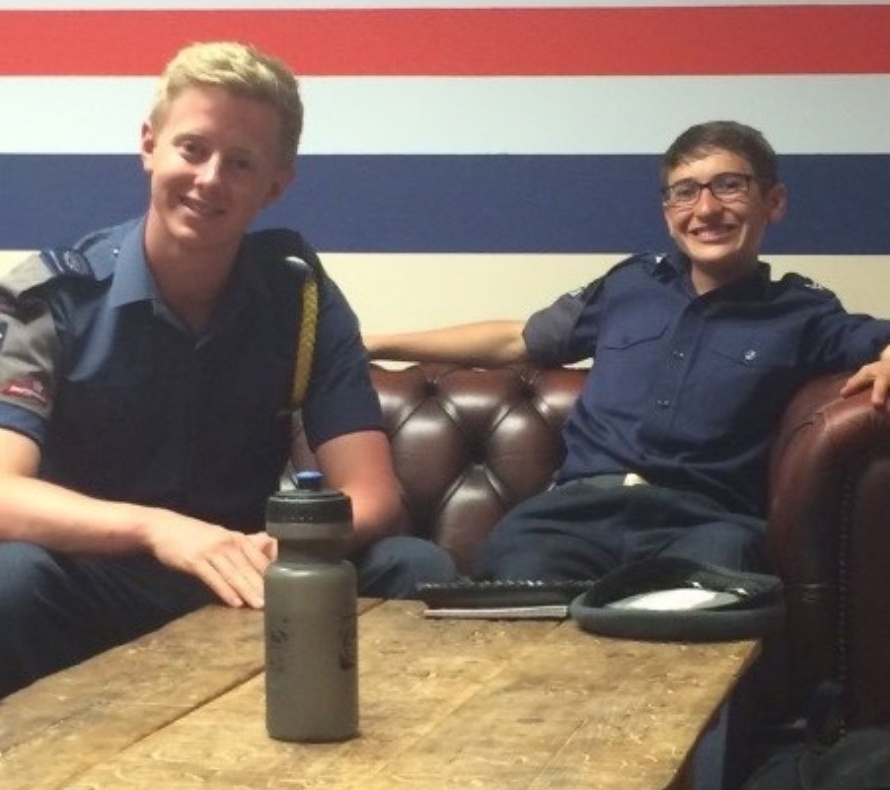 RAF summer training for CCF
RAF Summer Camp, RAF Benson
Ellie Dixon
22nd July 2015
This report aims to provide details of the experiences and tasks endured by myself and my fellow cadets during the diligent RAF Summer Camp. It was observed that each of the cadets who partook in the week, both enjoyed and benefitted from it greatly. These attributes can now be taken into our future careers and lives – both as cadets and as individual young men and women.
Attributes Gained
Shortly after we had arrived, the Albion cadets joined us and both schools began to mingle and intersperse with one another. This gave all of the cadets a chance to talk to people they hadn't met before and develop their confidence and communication skills. Once both schools had socialized, the sergeants took control of the flight and marched us down to an area of land on which we practised some drill manoeuvres – ready for our drill competition in a few days! This allowed the cadets to witness the standards expected from those in the forces and of themselves both on camp and during their time at CCF.
On the whole, we were expected to…
Be punctual

Be immaculately presented

Listen to others

Respect others and their ranks

Work as a team

Work hard

Have fun
These expectations certainty set the bar for the rest of the week with: daily tent inspections, regular uniform checks and hourly team work tasks.
Activities
As soon as we arrived we were told to unpack and immediately get changed into our uniform. Once the Albion cadets had arrived we were split into three flights; A flight; B flight and C flight, and we headed down to the parade square to practise drill manoeuvres for our upcoming drill competition. Once we had arrived there, we practised movements such as: about turn, right marker and saluting's to the front and side; all of which were in preparation for our drill competition on Wednesday.
Once we arrived back from tea, we changed into our civilian clothing and began some 'icebreaker challenges', designed to let the cadets bond and get to know one another. These icebreakers involved: organising each other into height order without the use of visual or verbal communication, producing an 'on-the-spot' 2 minute presentation about ourselves and the ever popular birth date order.
A key skill heightened in CCF is orienteering. This can be developed in orienteering exercises with the use of a map and compass. One afternoon during the week, the cadets were split into their flights (A, B and C) and were set a task to complete…They were to find as many of the given points as they could within the wooded area in the given amount of time; time penalties would be presented if there were any fewer than 3 together at a time or if they were late back to the coaches. 3rd place was awarded to C flight as it seemed some of their team had become seriously lost and even ended up ringing Sqn Ldr Thompson to come and collect them! 2nd place was granted to A flight, and finally 1st place was awarded to B flight (worthy winners!) During the entirety of the week, sport was a common activity with games such as rounder's, football and quick-cricket becoming popular during the week.
Throughout the rest of the week, we were privileged to experience activities such as flying. On the final all-embracing day of camp, the cadets were invited to encounter the thrill and stir of flying the renowned Tutor. For most of the cadets, they had already flown before so this time, they had the chance to experience aerobatics. This meant instead of just flying the plane themselves, these cadets acquired the opportunity to experience movements such as: 0 Gravity, loop the loop and G-force. For those who took part in any aspect of flying, they all agreed it was "a great and memorable day."
Opportunities
This RAF Summer Camp was host to a range of opportunities for me personally, but also as a whole for others. By partaking in the Summer Camp, we had the opportunity to lead groups, work as a team and mingle with students from other schools. As well as the Priory Cadets, other schools were also partaking in the camp; this gave us the chance to talk to people we normally wouldn't get the chance to, and even make some new friends. This week also gave everyone the chance to take lead in someway and learn the key information and top tips for being a respectable and effective leader. The definition of a leader is "To influence the thought and behaviour of others in a deliberate direction in order to achieve a desired objective." By learning and preaching these qualities of a leader, every single cadet at the camp was able to become a successful leader, both then – and in the future.
Highlights
One of my main highlights during the week were the sporting activities endure by the cadets. Having injured my ankle the day before camp, I was unable to fully participate in many of the physical activities; however I did partake partially. One of the sporting activities we played was quick-cricket; this is essentially cricket, just quicker and fewer turns! Each player took it in turns to field and bat (with myself as bowler) to score as many runs as possible whilst the rest of the fielders frantically tried to get the ball back to the bowler and get them out. Another game we played involved rolling/bouncing a football to the player, whom had to try and kick it as far as possible as to score as many runs achievable. To score a 'run', the player must run from one designated cone and return to the 'base', before the ball was thrown again. On the other hand, to get a player out, the ball must be caught by a fielder immediately after being kicked; without it touching the floor; similarly, a player could get out if the ball was returned to the bowler and thrown before the player had chance to kick it – if this happened, the player is out.
Attributes Gained
Before I had joined CCF, I was severely introverted; I didn't contribute in any discussions or even make eye contact with anyone other than the floor! But since joining CCF my confidences has slowly – but surely, increased; and by partaking in Summer Camp, this will certainly help both now, and in the future. This week certainly pushed my limits in ways such as: taking lead of groups, speaking in front of people and being around people I'm unfamiliar with. But, by coming on camp I have learnt how to deal with these doubts and know I will be able to use these skills now, and in my future.
Conclusion
The RAF Summer Camp is an experience that has been – and will be of great value to all the cadets. The skills we have all learnt from CCF can be taken into our future and be used in our jobs, interviews and day-to-day duties. It was defiantly worth going.