Young Women from Lincoln Learn to Aim High at Cambridge University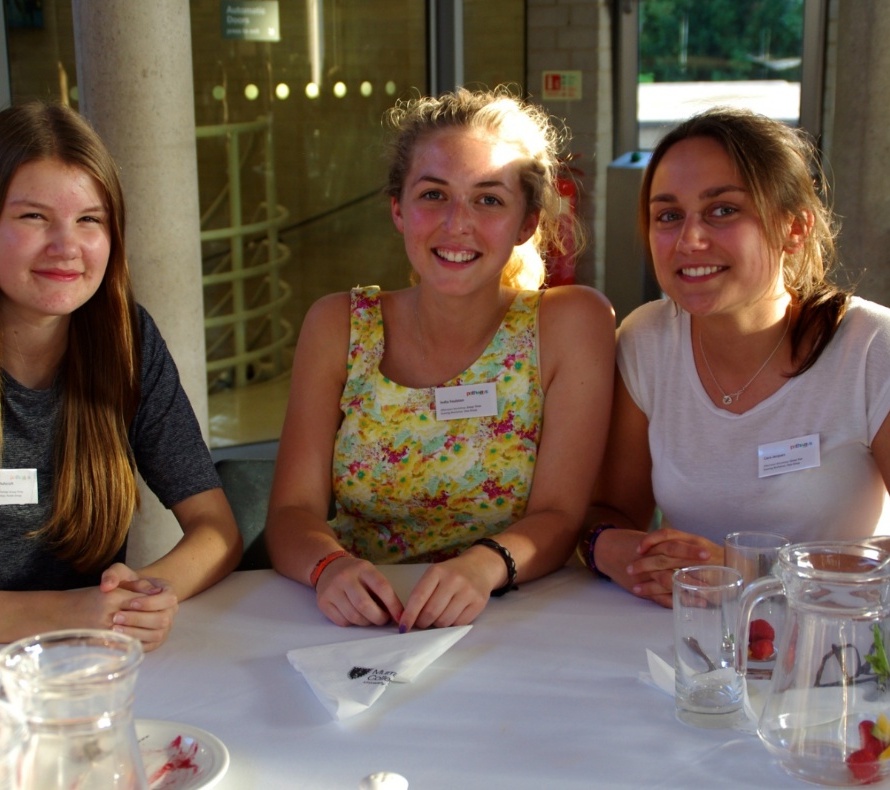 Four young women from The Priory Academy LSST in Lincoln have attended a potentially life-changing event at Murray Edwards College, part of the University of Cambridge, where they heard from inspiring female alumnae and explored their options for the future.
Pathways to Success, a two-day aspiration-raising conference (1-2 July), introduces high-achieving young women from schools across the UK to students, graduates and staff at Murray Edwards. The event aims to encourage young women to expand their horizons and to enjoy the challenge of aiming high.
The star pupils from The Priory Academy LSST were among a group of nearly 100 UK students from 25 schools, who were selected to attend the event based on their academic excellence. The conference included seminars on the meaning of success and a practical advice session on applying to the University of Cambridge.
The students also heard from alumna Kate Stephen, CEO of Smart Works, a pioneering UK charity which helps women on low incomes to secure jobs and become financially independent by providing interview training and clothes.
Another inspirational talk was given by high-flying educationalist Misbah Arif, a Professional Development Leader in the STEM Education Centre in London and a Professional Tutor on the Teach First programme. In September, Misbah will take up an exciting new role leading science at the University Academy of Engineering Southbank (UAESB).
Both speakers explained how their university experience had opened up new opportunities as well as discussing the choices and challenges which they have faced in their careers. Kate joined Murray Edwards College in 1993 to read history and Misbah joined in 1999 to study Biological Natural Sciences.
Elizabeth Ashcroft , a student at The Priory Academy LSST, said "I loved staying in the college with the other girls. The workshops helped me to know that I can aim high and choose what's best for me in the future."
Dr Hilarie Bateman, Admissions Tutor at Murray Edwards College said "Now in its 5th year Pathways to Success is a popular and inspirational event for high-achieving young women to explore their options and to strengthen their confidence in aiming high. The College has a proud history of providing education to outstanding young women from all backgrounds and it is a privilege to welcome the next generation of talented sixth formers and to share these stimulating discussions with them."
For more information, contact Tom Williams, Communications Officer, The University of Cambridge Tel: 44 (0)1223 766 762 / Email: tom.williams@admin.cam.ac.uk
Notes to editors
Murray Edwards College was founded as New Hall in 1954 to bring more women of outstanding potential to Cambridge. Six decades on, it's still abiding to that ethos.

The annual Pathways to Success overnight event is designed to encourage outstanding young women to succeed academically and in their chosen career. The programme is run in conjunction with the University Open Days in July. Each selected school is invited to send one teacher and up to four of its ablest female students from Year 12. The event is free for those attending.

Schools interested in applying for Pathways to Success 2016 should contact gateway@murrayedwards.cam.ac.uk
Widening Participation at Cambridge
The University of Cambridge is committed to widening participation both at the University itself and in higher education more generally. In 2013-14, the collegiate University delivered 4,000 access events which led to almost 200,000 interactions with school learners and teachers. The University's widening participation programme includes college and departmental open days, one of the UKs largest residential summer schools, subject masterclasses, Higher Education Taster Days, a student shadowing scheme and school visits.
For more information, visit www.undergraduate.study.cam.ac.uk