Red STEM Day RAF Scampton 8th July 2015.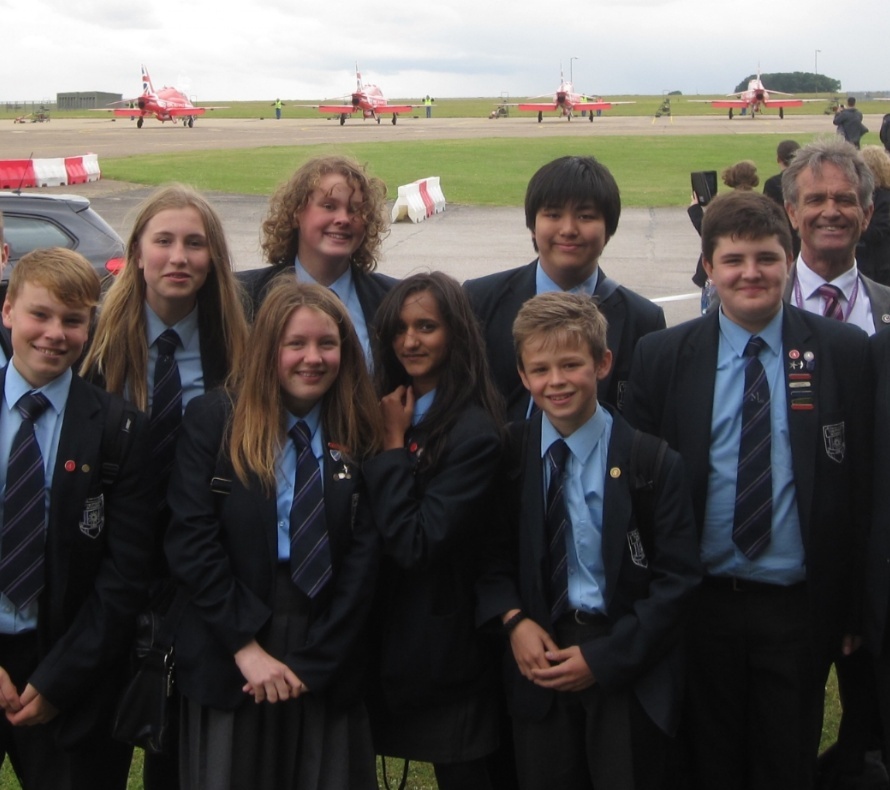 On Wednesday July 8th, a group of 10 Year 9 students, accompanied by Mrs Westbrook and Mr Clews, travelled to RAF Scampton to participate in an annual STEM day for 20 schools from across Lincolnshire.
When they arrived, they were given a short talk by a representative from the Education Business Partnership, and the Bloodhound SSC Race Driver. The schools were then separated into 4 groups, our group had a look round 5 different stations throughout the day, but there were many more to explore during the free half an hour at the end. The stalls we visited included Bentley, where we designed water filters, built structures from spaghetti and marshmallows and build towers out of plastic cups, Jaguar and Astin Martin, where we sat in a gorgeous Jaguar car and had a go in a Formula 1 simulator (with some enjoying more success than others), University of Lincoln, where we shook hands with a robot and tried on the Occulus Rift – a great invention which allows you to experience an alternate reality, the National STEM centre and Vulcan to the Skies, where we had great fun trying a Vulcan Simulator. At 12.00, the highlight of the day was upon us. The Red Arrows did a fantastic display and graced the skies with their Flat Display, because the weather wasn't great. Despite this, it was a wonderful half an hour, where we experienced first hand the outcome of practise, skill and dedication – a true inspiration to us all. In the final 30 minutes of the session, we had the opportunity to have a picture with Jason Bradbury, star of The Gadget Show, and many of us collected a free poster and walked around the hangar, attempting to get the signatures of all 9 of the Red Arrow pilots – sadly, Red 5 vanished into thin air and we were unable to find him before leaving. The day was a roaring success, and a great time was had by all who attended – Ethan from 9.6, who went on the trip told us "It was a great day for engineering and it definitely steered us in the direction of all things STEM. The Red Arrow pilots were amazing and inspiring – I would definitely go again!".
By Ellie Beswick and Rebecca Smalley.