Synergy Head for National Final in London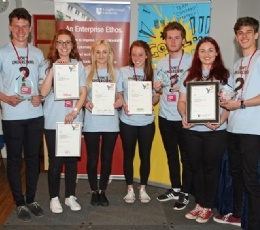 .The Priory's Young Enterprise champions are off to London in July to compete in this year's national final after claiming the regional title at Loughborough University.
On the 6th May 2015, Synergy, a Young Enterprise team from The Priory Academy LSST, competed in the Young Enterprise Regional Finals following their victories in the Lincoln and Lincolnshire rounds. The Finals were held at Loughborough University and it was a long day with the event beginning at 2pm and finishing at 10pm.
The judges on the day were:
Kate Faulkner, Managing Director, Designs on Property Ltd
David Marlow, Chief Executive, Nottingham Building Society
Richard Whitehead, Assurance Director, Collis Engineering Ltd, IOSH
Stephen de Looze, Managing Director, Air Cargo Transport Ltd
Emma Bagley, Loughborough University, School of Business and Economics
Ross Kemp, Managing Director, Asap Water Crafts Ltd
Synergy were once again demonstrating their journey with their product 'You Don't Understand'. A series of books written by teenagers about understanding teenagers. So far the students have produced four books in the series; 'Love', 'Social Media', 'Drugs and Alcohol' and 'School'. They are currently working on a fifth book in the series on the theme of mental health. The books are all branded in the house style the team has created and their use of branding and marketing has received many plaudits.
Competition on the day came from:
Ozone from The West Bridgford School in Nottingham – their product was called 'Build Your Own Birdhouse', an easy to build birdhouse that involved no nails and glue and is educational for children.
ProjectMIND from Kingsthorpe College in Northampton – this group were a social enterprise aiming to raise awareness of mental health in young people.
Zen from Friesland School in Sandiacre – their product was called 'Knotes', reusable post-it notes that help those dementia remember where they have placed things.
Gray Street Co. from Our Lady's Convent School in Loughborough – their product was 'Foodie' which is an educational food placemat for children.
The first stage of the competition involved the group setting up their trade stand (right). Synergy's trade stand reflects their excellent branding, as you can see, and it has now been seen at many sites, including The Waterside, ASDA and Bishop Grosseteste University. The team's trade stand received many compliments during the day and numerous visitors, many of which bought the team's books. It was clear the judges were impressed and after this first stage was complete the team were feeling positive.
During the next stage the team were interviewed by the judges. As you can see from the list of judges they were all highly qualified and experienced business people who asked the team many challenging questions. However, once again the team performed well, largely to their strong knowledge of their product, brand and company.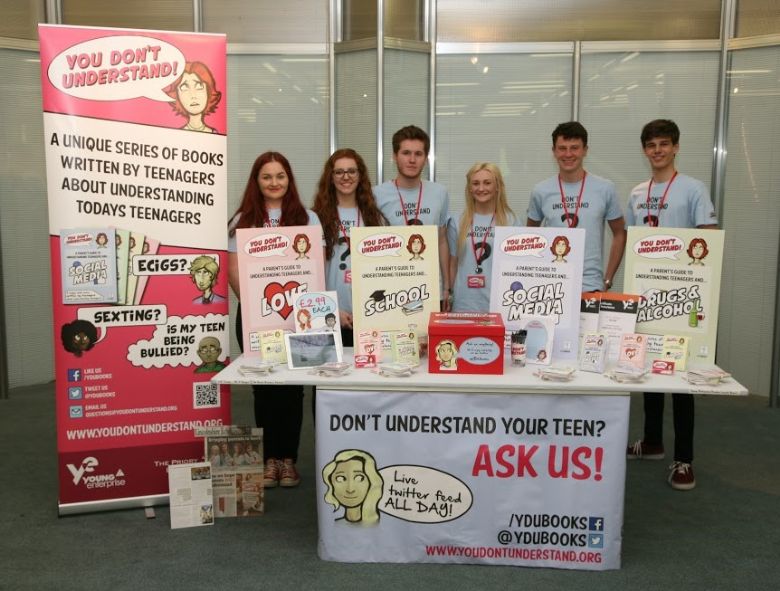 Finally the team had to give a four-minute presentation on their business journey. The team gave an outstanding presentation and we all felt it was their strongest performance to date. However, there was also an excellent presentation from ProjectMIND, it must be said, that was very inspirational and it felt after the presentations that Synergy and ProjectMIND were the two front runners for first place.
The judges then departed to deliberate over who should win which award. During this time the teams were fed and then given a speech by Ross Kemp. No, not Ross Kemp who played Grant Mitchell in Eastenders! Ross Kemp who started the business Asap Water Crafts Ltd. Ross's journey was documented in 'Be Your Own Boss' on the BBC where he received business advice Richard Reed, founder and Managing Director of Innocent Drinks, and he eventually struck a business deal with Richard Branson, owner of the Virgin group, who you have probably heard of! His speech was truly inspiring and the students took a lot from this.
When the judges returned the results were announced:
| | | |
| --- | --- | --- |
| Award | Company & school | Award Sponsor |
| Award for Retail Excellence | Synergy, Priory Academy LSST, Lincoln | ASDA |
| Production Award | Ozone, The West Bridgford School, Nottingham | GKN |
| Creativity Award | Synergy, Priory Academy LSST, Lincoln | Disney |
| Environmental Award | Ozone, The West Bridgford School, Nottingham | Campbell Scientific |
| Best Presentation | ProjectMIND, Kingsthorpe College, Northampton | Federation of Small Businesses |
| Teamwork Award | Synergy, Priory Academy LSST, Lincoln | Institute of Directors |
| Health and Safety Award | Zen, Friesland School, Sandiacre | IOSH |
| Financial Management | Ozone, The West Bridgford School, Nottingham | The Nottingham |
| East Midlands Overall Runner Up | Ozone, The West Bridgford School, Nottingham | Loughborough University |
| East Midlands Overall Winner | Synergy, Priory Academy LSST, Lincoln | Loughborough University |
A superb set of results for Synergy as you can see! It must be said that these results are reflective of their fantastic efforts. To put this into context over 150 teams and 1600 students entered across the region and they have beaten all.
They will now go on to compete in the National Finals in London, a 3 day event starting on the 1st July, at The British Film Institute and Kings College, competing against the best companies in the country. If you say any of the team please wish them luck! And if you are interested in the products please let them know.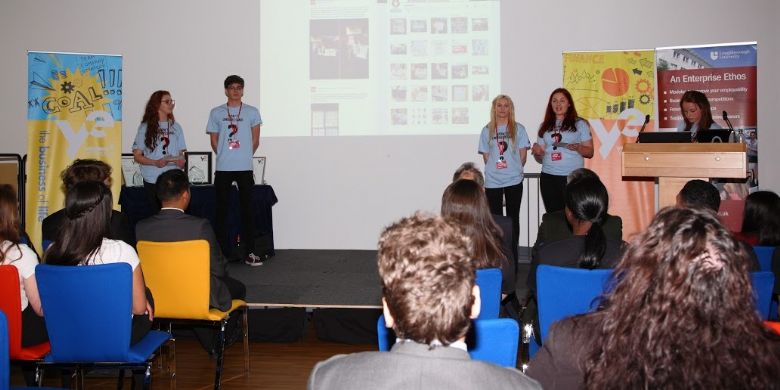 Team Synergy:
Tilly Wilks
Chloe Choi
Shannon Roberts
Edward Newnham
Bart Pang
Katie-May Coulson
Roseanna Evans
Gabrielle Vickers
Wing Chung
Osama Rabbani
Ching Yu Tang
Virrusha Vaikunthan
Pik Chan
Euan Scott (Business Advisor)
Sam Milford (Business Advisor