Sir Ian McKellen inspires hundreds in Priory visit

Multi-award-winning actor Sir Ian McKellen paid a surprise visit to The Priory and inspired students with a stirring talk on tolerance.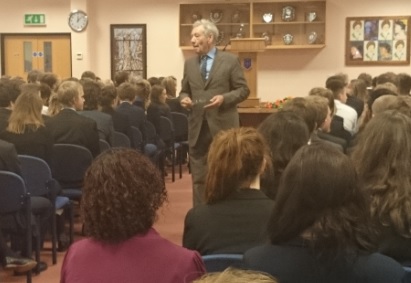 "I don't like microphones," McKellen begins. "I speak and breathe from my diaphragm, you see."
With that, he steps down from the lectern and begins his engaging and, at times, shocking talk about tolerance of minority groups, particularly homosexuals.
In addition to being a highly respected actor on both the stage and screen, McKellen is a passionate activist promoting LGBT rights. His seemingly whimsical opening lines begin to gather real grit when he reveals that, before 'coming out' about his sexuality, he experienced a genuine emotional obstruction. "My friends told me I became a better actor overnight," McKellen explained. "I wasn't holding anything back anymore. For the first time in my life, I let my emotions come from the diaphragm. They weren't blocked."
During his visit to The Priory, McKellen delivered two talks, relaying his message to a large proportion of staff and four entire year groups: Years 10 to 13. He shared some disturbing insights regarding his own experience of intolerance in addition to painting a vivid picture of how attitudes and society have evolved since he came out at the age of forty-nine: "It was illegal to be homosexual when I was younger. I thought there was something really wrong with me – and society clearly did. It was a blank canvas; you couldn't go to anyone and say, "Help!""
McKellen was brutally honest throughout, sharing one of the main influences behind his chosen career: "Acting helped me feel more secure in myself. I'd heard rumours of numerous people in the theatre being gay. Protected by that atmosphere, I got on with my life."
It was Section 28 of the Local Government Act that finally gave McKellen the verve to speak out. Enacted in 1988, the amendment stated that a local authority 'shall not intentionally promote homosexuality or publish material with the intention of promoting homosexuality' or 'promote the teaching in any maintained school of the acceptability of homosexuality as a pretended family relationship.'
"How ridiculous!" McKellen exclaimed. "That's suggesting that, by speaking to you in French, I'm going to turn you into a French person."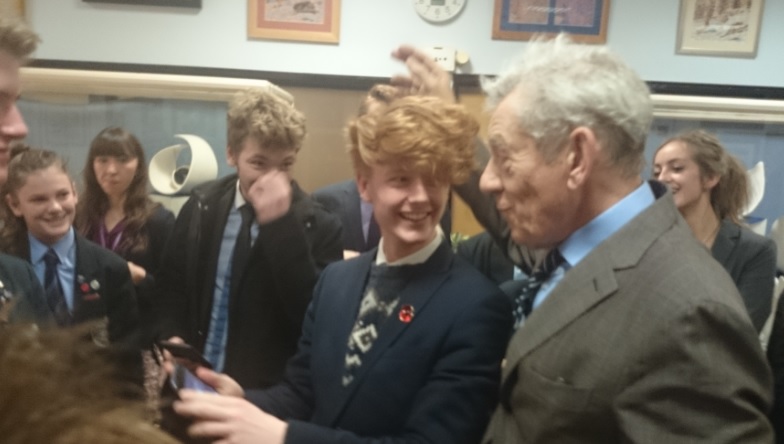 After relaying his fruitful battle with the governmental act, McKellen gave plenty of reassurance and advice to his audience, especially those who may be experiencing the same anxieties he once had: "I have never met a single person who has regretted coming out. The tyranny of hiding your sexuality is that you can't be yourself." Reminding us that everyone experiences physical and psychological changes in life, McKellen said that the most effective course of action is to simply talk to someone about it. He also recommended a book called 'Queers in History' by Keith Stern before donating a signed copy to the school library.
Sophie Crook in Year 13 commented, "Though largely focused on homosexuality, the talk positively influenced my own insecurities." Fatmira Vulaj said, "It truly opened my eyes to a subject I had very little knowledge about. It was simply amazing." George Hughes found McKellen's words "powerful and thought-provoking; it was an incredible and unique speech that really hit home about the importance of eradicating prejudice in today's society."
McKellen then treated his audience to a familiar warning of the repercussions of not working hard in school ("You shall not pass!") which was met by a standing ovation from the Sixth Form. He also admitted what he would love his gravestone to declare: Here lies Gandalf. He came out.
For more information on how you can promote tolerance yourself, and help young people affected by intolerance, visit:
Stonewall: www.stonewall.org.uk
Albert Kennedy Trust: www.akt.org.uk
Miss Chester