Legal team retains trophy in mock trial contest

The Priory Academy LSST has retained its title in Sheffield Hallam University's annual mock trial competition.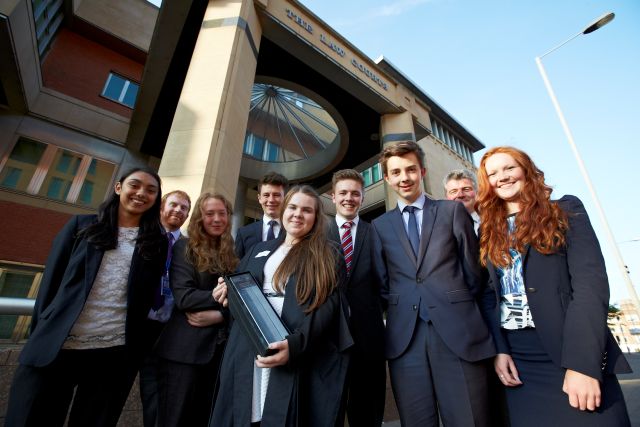 Amid tense scenes in Sheffield Crown Court, The Priory Academy LSST retained its title in Sheffield Hallam University's annual mock trial competition.
At the start of the trial, Year 12 student Shivani Brouwer had taken to the witness stand. She was playing the role of Ms Hinton, a security guard who was charged with assault occasioning actual bodily harm.
A convincing prosecution case was put forward by Sheffield's Notre Dame High School. However, Ben Evans was able to challenge the chain of events set out by the prosecution.
The prosecution witnesses were robust, but holes in their story were effectively teased out by affable, but perceptive questioning.
Jade Cormack articulated the case for the defence in a precise and smooth style. She allowed Shivani to convince the jury that she had acted in self-defence.
Sam Mackley gave confident evidence for the defence and withstood determined examination from the Notre Dame legal team.
The Priory research team of Lucy Keeling, Louise Hornsey, Ellie Jones and Sam Milford had worked out a timeline that allowed Jade and Ben to cast doubt on the evidence of the prosecution witnesses.
The jury briefly deliberated and a not guilty verdict (6-5) was announced. The presiding High Court Judge, Mr Justice Coulson, was impressed with quality of argument on both sides, pointing out that the performance of the "barristers" was so high that he had seen far worse from the professionals.
Despite a brilliant performance from the Notre Dame lead barrister, the strength in depth of the Priory team won the day and the trophy was retained.
Many thanks to the Y12 students who did the school proud and to Mr Marriott and Mr Strawson for their support in selecting, training and supporting the team through the heats on to their dramatic victory.
Mr Stones