Sixth Formers Attend Theatre Workshop Led by Kevin Spacey

Mr Craven, Will and Ben share their exciting experience in London last week...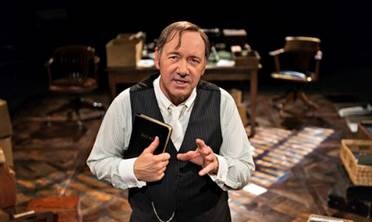 Having previously attended a workshop two years ago with the Kevin Spacey Foundation, we were invited to participate in another workshop - this time without having to apply for places!
We (Mr Craven and two sixth formers) were invited down to London to see Kevin Spacey in the one man show, 'Clarence Darrow', about the American lawyer of the same name; a man who was a fervent champion of the poor and oppressed and of whom it was once said, after he had been accused of corruption: "Darrow doesn't bribe juries: he just frightens them to death."
Ben Cavanagh was enthralled by the performance: 'It was fast paced and really kept us on our toes. Afterwards, we waited eagerly and everyone was chattering about whether we'd meet Kevin Spacey or not. We were then taken downstairs to sit on the front rows. After a couple of minutes, he finally arrived to an eruption of applause. Spacey introduced himself and welcomed us to ask questions; even though I didn't ask one, I felt as if I'd learned a lot about his world. I was hooked.'
The next day, we took part in a workshop led by the Foundation and members of 'Frantic Assembly,' a physical theatre company. We worked on a piece called 'Home Grown' all day on the Saturday.
The Kevin Spacey Foundation was set up to train young people, emerging artists and develop creative projects in theatre, performing arts and film. The project we were involved with is the start of a piece called 'Home Grown', which is going to use some of the ideas created by the students to help build a larger project.
Will Mason knew it was a very unique opportunity: 'I felt privileged to have been accepted on to the Kevin Spacey Foundation trip; it gave me a great insight into the methods and thoughts behind a one man show. Spacey spoke to us about the thought process that goes into a theatrical production and how he coped as an actor to portray a deeply troubled lawyer. I had a brilliant time working with new people and having had a taste of theatre school; I now am seriously considering it as a possible career path to pursue. The workshop leaders informed us of the difficulties applying for drama school and the troubles in obtaining substantial work afterwards, which poses a threat for most drama students. Despite this, I do still maintain a passion for theatre and drama school does appear to be a viable option with hard work and determination.'
Mr Craven, Ben and Will (Year 12)