Priory Press students interview Magna Carta expert

The Priory Press is invited once again to have an exclusive interview with the speaker at the annual Magna Carta lecture at Lincoln Cathedral.
As we stood in front of the mighty monument of the Lincoln Cathedral, lit by a warm evening glow, Yuvraj and I marvelled that this was, in fact, a lucky Friday 13th: as part of the Priory Press team, we were given the incredible opportunity to report on Magna Carta annual lecture.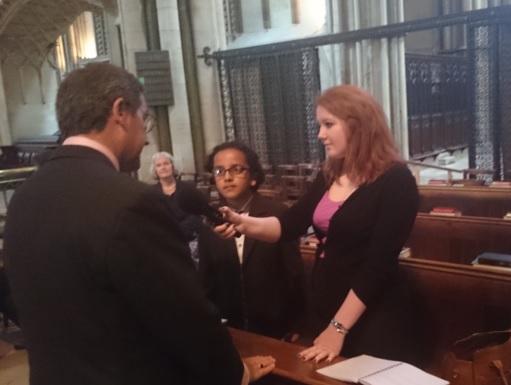 When Miss Chester and Mr Edwards accompanied us into the Cathedral, the seats were being filled by mostly mature, serious-looking academics; we were led to St Hugh's Choir to interview the internationally recognised scholar that is Professor Vincent on his recent research on the relationship between Lincoln and the iconic Magna Carta.
Nicholas Vincent is a Professor of Medieval History at the University of East Anglia. When we asked why he devoted so much of his time to Magna Carta, he said that it is simply a central document in the period of history in which he is interested and that "Everyone's interested in Magna Carta in a way that they are not necessarily interested in the things that particularly interested me, so I sort of got dragged into expertise on Magna Carta."
Professor Vincent also said that although he has been involved in events on a national and international scale - such as the sale of a copy of Magna Carta which fetched $21.3 million dollars in 2007 - the most exciting aspect of his research is "addressing audiences a bit like this. I very much like the attachment of particular places to their own archive and their own sense of the past. So I think that gives me the greatest pleasure, communicating some of these discoveries to a local public."
By the time the interview was over we indeed found that the mystical and sacred atmosphere of the Cathedral was replaced by an excited and expectant crowd and, as we took our own seats, the Dean opened the event with a jokey warning of the "acoustic challenge" a lecture encounters in a medieval building, but then concluded that, of course, "that is some of the glory".
The lecture was long but just as engaging: an intellectual and enlightening talk was enriched by witty humour. The fascinating analysis of the importance of Magna Carta throughout the centuries was deepened as we were read Professor Vincent's own recent translation of the work of a scholar, whose Latin words had not been read in over eight centuries. As Professor Vincent explained, his work could very probably have been a fundamental influencing factor to men such as Robert Langton, who had a key role in the creation of the Magna Carta at Runnemede. An intimate gathering listened in awe as we learned that such an iconic document as the Magna Carta had not only a physical connection to Lincoln, but was possibly inspired by the ideas written down in our very own Cathedral.
The long and spirited applause was the best credit to the Professor's eloquence and obvious passion for the subject that has still so much importance today.
In view of the 800th anniversary of Magna Carta next year, Professor Vincent revealed in the interview that he had no doubts that there is still more to discover about Magna Carta, and that his guess is that "somewhere in the middle of nowhere in the countryside of England, inside a large country house, is sleeping, maybe, one or more Magna Cartas, that nobody realises are there, that have just been overlooked over the past eight centuries and that, one day, sooner or later, is going to find us".
By Emily (Year 12) and Yuvraj (Year 7)