Students are Challenged Intellectually and Emotionally on a Recent Trip to Auschwitz

Alice gives a thought-provoking and honest account of the recent trip to Germany and Poland...
Making the decision to go on the Berlin trip was a difficult one; not only would we have to spend countless hours on a coach, but there was also the daunting prospect of Auschwitz-Birkenau, the famous concentration and death camps. The most worrying aspect - for us at least - was the uncertainty as to how we would react. Our hypothetical responses notwithstanding, there was much to experience before we got to our concluding destination, with Auschwitz being the last stop on our journey.
Our trip started with a group of bleary-eyed students and equally exhausted adults arriving at City of Lincoln Academy, all agreeing that the 2am start had been a terrible mistake. Whilst some managed to catch a few hours of sleep, due to excitement (and sheer determination) some somehow managed to stay conscious for the entire 18 hour journey. Countless hours of travelling, reviving service station visits and
an eclectic mix of films later, we arrived at our hostel in Berlin.
Berlin itself was an incredible experience. The reams and reams of incredibly complex history that great city has survived through - some events tragic, others not - seem to be written into the very buildings, the streets. It's truly an incredible experience to feel as if one is walking among stories and memories from lives long since past, physically remembered and preserved in every brick.
One thing that was reiterated time and time again during our visit was that the German people are adamant they shall never forget the misdemeanors of their ancestral kinsmen. Berlin is littered with memorials to those who lost their lives while resisting oppressive regime and preserved remnants of the Berlin Wall, for example.
During our stay we visited many recognisable landmarks, such as the Reichstag Building, the Brandenburg Gate, Bebelplatz, The Olympic Stadium and many exhibitions detailing the stages of Hitler's rise to power, and the subsequent fall.
After leaving Berlin, we travelled over night to Poland; some getting the best sleep they'd had so far and others barely getting three hours. Our day started immediately once we'd arrived, people running into showers and getting breakfast so that we could leave the hotel on time. We met our new guide, Moray - a man who fondly referred to everyone we met as 'lovely' - over breakfast, who informed us of our busy schedule. That day we visited an older and a new synagogue, a thought provoking graveyard and many sites used for the filming of Schindler's list. The most poignant element of the day was being privileged to hear one woman's story, who, as a teenager, had helped to conceal a Polish Jew during the Second World War. This story, coupled with the moving way in which it was told, truly put everyone's lives into perspective and established the undeniable, human component iterated during the trip.
Many went to bed that night dreading the day ahead: Auschwitz. Everyone had varying expectations of not only what they would experience, but how they would cope with that emotionally, and so it was a personal endeavour for everyone. Auschwitz-I had an ultimately cold and methodical layout, with its initial use having been that of a Polish barracks; as such, for some there was no personal link, and thus a minor emotional reaction. For others, the distance and uniformity was the epitome of the dehumanisation element of the Holocaust, and was therefore extremely moving. Alternatively, some members of our group connected deeply with the accumulation of items collected from the victims forced into the concentration camps. Universally, however, regardless of personal responses, there was a great sense of respect for those catastrophically wronged.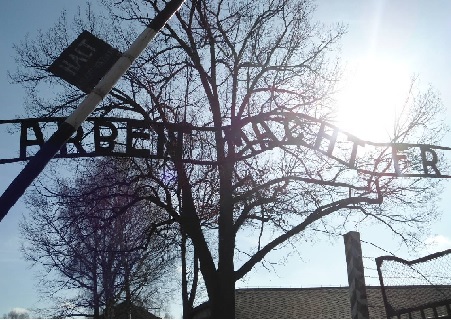 Birkenau was on a much larger scale, resembling somewhat a chicken farm, rather than a prison. What truly was impactful here was the magnitude of the camp; the acres and acres of land utilised purely for the systematic slaughter of millions. Notably, there was a display here of photographs recovered from the luggage of victims, and those portrayed were the loved ones of those who died. For some within our party, this was the most emotive section; the suggestion that every individual targeted had been a human being with thoughts, families, best friends, banal troubles, lovers-- lives.
After this exhibition, we were able to demonstrate our respects by lighting candles and allowing ourselves time to reflect. The remainder of the day was noticeably subdued, but most spoke afterwards to voice their opinions of the experience, and those of the entire visit as a whole. It became apparent that the reactions to the trip varied from person to person, but that everyone present had been deeply affected, and that none of us would forget this visit for the duration of our lives.
Alice and Scarlett, Year 11