Year 8 Students Show their Creativity in Gothic-themed English Lessons

Thomas tells us about the oustanding efforts shown in a recent English project
Josh Baratt, Ebony Walker, Lucia Kent and Thomas Green, all aged between 12-13 years old, had recently been set a 5-week English project on the Gothic genre. They were each set the same guidelines but came out with very different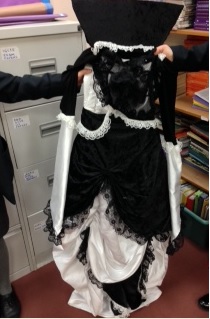 results as they were able to express their findings however they liked and in whatever area they were skilled at.
Josh decided to make a film based on the Gothic era. He played the main role himself and his family and friends also took on starring roles. He decided to put in main features of Gothic literature into the film such as a fallen hero and forbidden knowledge and he was very pleased with his end result.
Ebony decided to make a dress that gothic people used to wear. She started by researching all the different features of gothic clothing and the she got to work and made her dress from scratch. She can actually wear it!
Lucia decided to do a gothic painting which she put her modern interpretation on. She was very pleased with her end result and hopes for another opportunity like this again in the future.
Thomas decided to make a gothic castle out of lollipop sticks which were shaped out especially for this castle. He built these lollipop sticks in an interpretation of Neuschwanstein Castle in Bavaria, Germany.
Mr Jones was thoroughly impressed with the projects and asked us all many questions about what we had learnt throughout the project.
Thomas, Year 8