Future Chef House Competition 2018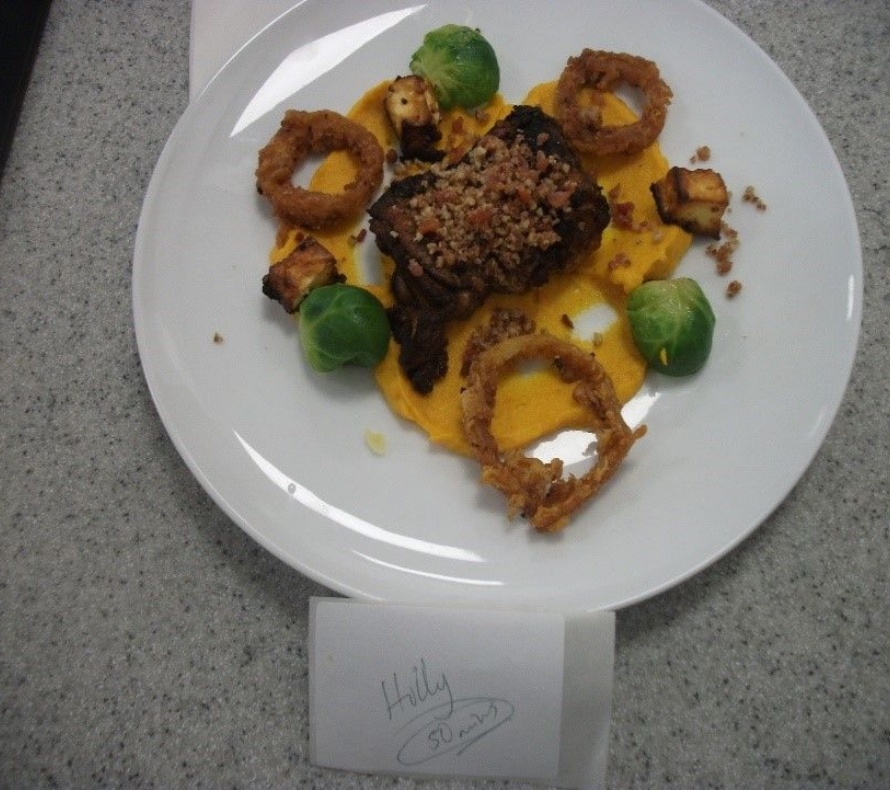 The last week of term saw the academy heats of Future Chef 2018 take place over four sessions. The standard of cooking and level of commitment from students from Years 8 to 11 was a pleasure to behold. All participants should be proud of their performances and should be encouraged to keep on cooking. Dishes range from vegetarian, fish, chicken and pork dishes. The creativity and presentation of dishes was impressive. After much deliberation the results are as follows:
Winner – Holly Blockley 10.6 (ALEX) Runner-up – Elizabeth Challans 9.2 (SEMP)
Both Holly and Elizabeth are invited to attend the local heat at Stamford College in December. Good luck to both in the competition's next round. Well done and thank you to all who took part. Be on the lookout for more competitions in which to get involved. A special mention to Joshua Phillips 11.1, making an impressive return to the kitchen.
Regards
Mr Goffe
A full list of results is as follows.
Positions
1st - Holly Blockley 10.6 (ALEX)
2nd – Elizabeth Challans 9.2 (SEMP)
Participation points
Year 8
Eve Watson 8.1 (SEMP)
Joshua Johnson 8.5 (AVAL)
Sophie Liddle 8.1(SEMP)
Zara Shewood 8.1 (SEMP)
Millie Lawson-Lyon 8.5 (AVAL)
Azteca Ridgeway-Adams 8.1 (SEMP)
Year 9
Millie Ashton 9.8 (CAST)
Fletcher Castle-Bray 9.5 (AVAL)
Joshua Crump 9.7 (AVAL)
Martha Eke 9.1 (SEMP)
Grace Green 9.3 (AVAL)
Tess Hall 9.2 (SEMP)
Alexander Halloran 9.9 (ALEX)
Amelia Locking 9.4 (ALEX)
Jordan Metcalfe 9.2 (SEMP)
Ethan Morgan-Brown 9.4 (ALEX)
Iona Rae 9.8 (CAST)
Gabrielle Shear 9.4 (ALEX)
Liam Sibilski 9.5 (AVAL)
Peter Wray 9.8 (CAST)
Year 10
Katherine Baker 10.3 (SEMP)
Thomas Bramwell 10.5 (AVAL)
Megan Brown 10.3 (SEMP)
Gracie Carlton 10.5 (AVAL)
Natasha Chavundura 10.6 ALEX)
Matthew Clapham 10.7 (CAST)
Lucy Evans 10.9 (ALEX)
Hannah Ferris 10.9 (ALEX)
Matthew Gudalajtys 10.8 (CAST)
Leo Hughes 10.7 (CAST)
Erin Lynch 10.6 (ALEX)
Elizabeth Moorhouse 10.5 (AVAL)
Evie Paton 10.6 (ALEX)
Alysha Redfearn 10.6 (ALEX)
Eleanor Richardson 10.8 (CAST)
Isobel Rutledge 10.5 (AVAL)
Eilidh Scott 10.5 (AVAL)
Paulina Stawarz 10.5 (AVAL)
Taylor Sylvester 10.5 (AVAL)
Lottie Veitch Parr 10.5 (AVAL)
Josephine Hannan 10.5 (AVAL)
Year 11
Joshua Phillips 11.1 (SEMP)