CCF Navigation Expedition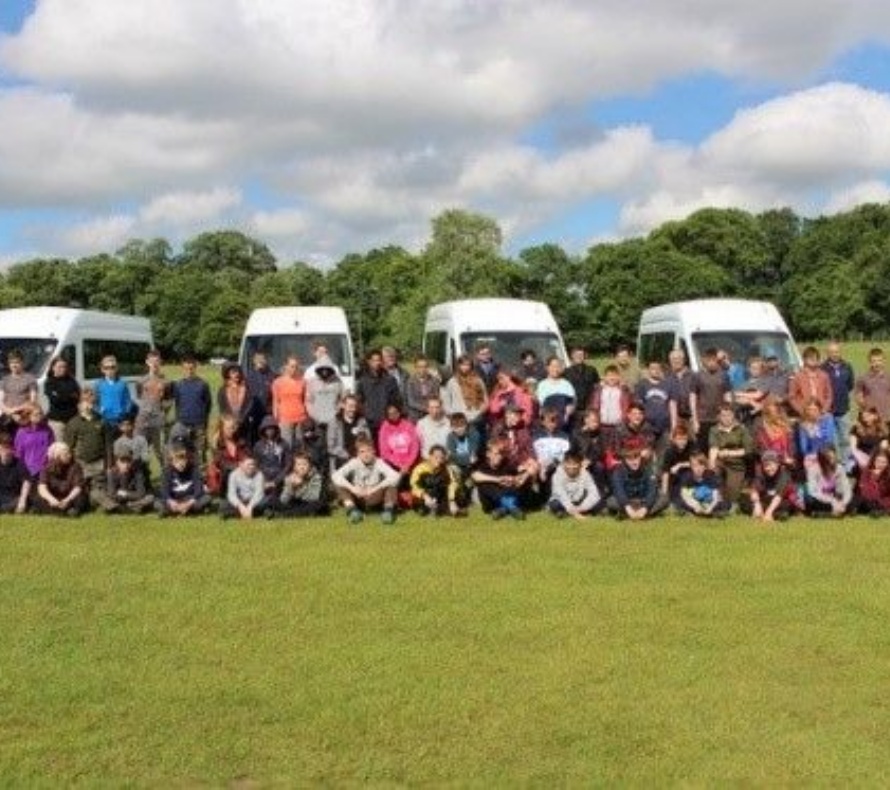 On Wednesday 7th June, 70 cadets from Years 8 and 9 departed to Walesby campsite. They were about to embark on two days navigation training, walking about 30km over the two days.
After arriving at Walesby Forest Campsite on the minibuses as group 2, we collected our bags before boarding the minibus again and travelling to Eakring. We parked by the road, before setting off to our start point, a nearby 'phone box. We came across our first turning, but ended up deciding it was the wrong one, when in fact, it was correct. We took the next right, which we decided was correct, taking a detour, and ending up in Rufford Country Park. With the help of Sgt Fearn, we found a new route and eventually ended up back on track. We arrived back at the campsite after about six to six and half hours of navigating, totalling 19-20 kilometers. After arriving back at camp we were soon instructed to put up our tents for the night. All recruits managed to get the tents up very quickly without too much struggle. It was a speedy set up and everyone was back doing their own thing after a short period of time. I know that after speaking to a few people, aligning the inner tent to the flysheet was slightly confusing, but the issue was easily resolved with the trial and error technique. Overall, day one was an eventful, yet fun and enjoyable day for everyone.
Day two was a very challenging day! We had to get up at 07:00 am, have our breakfast, pack our bags and then pack all our tents away before – all before 08:30am! We set off for our walk at 09:00am with our (heavy) rucksacks on our backs. We travelled 10 kilometers on day two with already shattered legs from the day before. Initially we walked 7 kilometers through Clumber Park to get to our destination, Manor Farm, which was on the other side of Clumber Park. When we arrived at Manor Farm we waited for our mini bus to come and pick us up, then it took us back to the place every section was supposed to meet. Rather kindly, we all got a well-deserved ice cream from our section leaders! After that, everyone put their bags in the van and we got driven back to the Academy where everyone had their various 'clean down' jobs to do. This entailed hanging the tents up to dry, cleaning the mini buses, unpacking kit borrowed form the Academy and then, thankfully we got picked up by our parents. Boy, did I sleep on Thursday night! I was exhausted from a very tiring but thoroughly enjoyable two day CCF camp. Bring on the next one!
Whilst on the expedition, we had to take four meals, two lunches, one breakfast and one dinner. As it was easiest to team up between people to carry the food between us, that's what we did. My friend carried some rice and I carried the chicken korma. For breakfast we had porridge as it was easy to make and light to carry.
We made the food by using a trangia which consisted of pots and pans and a little pot where you can put the fuel and light it. It's important to eat a good amount of food because if you don't eat properly, you may get light headed and feel ill which isn't good as you burn so many calories whilst walking and carrying your bag. Hydration is also extremely important because if you don't drink enough water you could get seriously ill and become dehydrated.
On the expedition we learnt a variety of skills. Personally I enjoyed the two day expedition because I had the chance to work in a team. I also enjoyed it because I had never completed any walking before and it was a challenge to walk the entire distance. I learnt how to read a map and that working in a team is important to succeed. We also learnt the importance of space management in our tents. Finally we learnt the importance of communication in the group and listening to all people. Next time, I believe that I would make some changes to the way we worked as a team. Firstly we will need to practise our map reading skills a little bit more, secondly not overcomplicate our routes and stick to the most apparent route and finally walking at the same pace as the slowest person in our group.