Remembrance Day Ceremony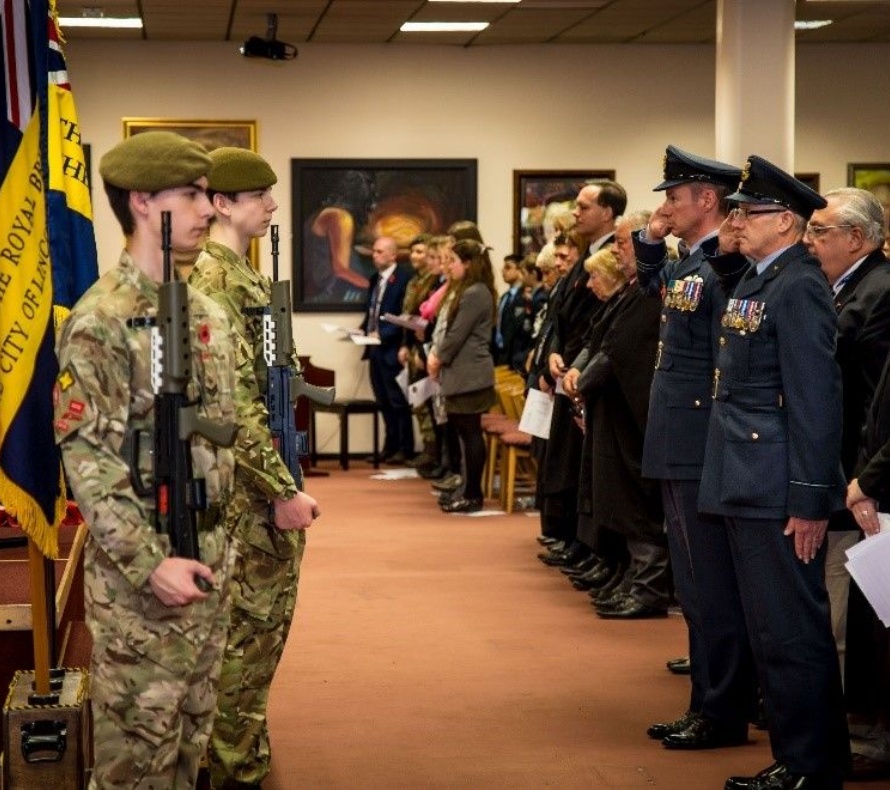 On the 11th of November the National Day of Remembrance was held all over the country. Remembrance is a ceremony which remembers all of the fallen from past conflicts. Here at the Priory Academy LSST, we held our own ceremony for the Act of Remembrance. The ceremony was managed by Mrs Stephens and Years 7 and 9 watched the ceremony. This year was the first time that all cadets from Priory CCF were in attendance and had the chance to remember. We hosted a number of VIP guests including, 2 Serving military officers – Sqn Ldr Paul Wyatt (Waddington) and Lt Col William Tosh (Andover), guest speaker Ms Ange Westbrook, Mrs Hopkinson, Head teacher, a number of the Senior Leadership Team, members of the Priory LSST Governing Committee – Dr David Knowles, Mrs Janet Siddall and Dr Tony Daniels, CCF Officers – Capt Ginty, Flt Lt Huckins and Fg Off Summers.
The following cadets played a part in the service and set the highest standards for the CCF. Cpl Ellie Dixon read the Ode Of Remembrance and Kohima Epitaph, Cpl Lawson, Cpl Simpson, Cpl Khan read poems, Sgt Dyer and LCpl Robinson laid wreaths, Cpl Nicholson and Cpl Taylor presented the standards for the ceremony, Cpl Nicol and Sgt Fearn guarded the standards for the whole ceremony, Cdt Haywood and LCpl Wallis guarded the standards as they were marched to the front. We also had an honour guard who lined the entrance for all of the VIP guests including LCpl Butterworth, LCpl Zou, LCpl Robinson, Cdt Tosh, Cdt Firth-Moore, LCpl Anderson, Cdt Atkin, Cdt Griffiths, Cdt Pankhurst and Cdt C
hetwynd.