RAF Section Summer Camp – RAF Honington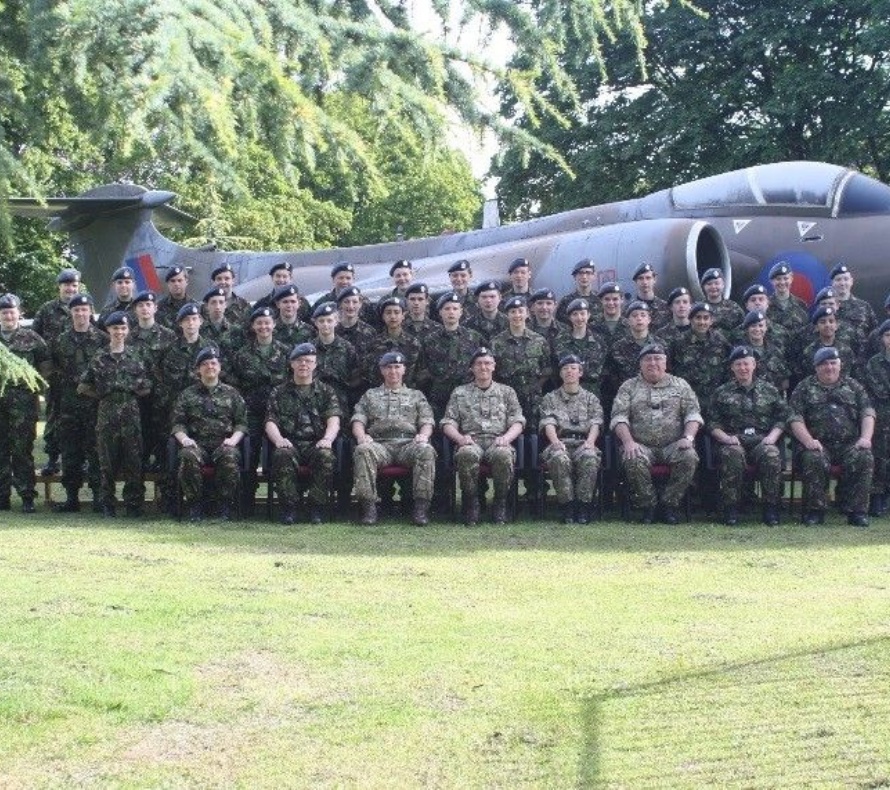 On Saturday 2nd July the RAF section cadets headed to the home of the RAF Regiment, RAF Honington for their summer camp.
The RAF Regiment is a very physical side to the RAF, as their job is to protect airfields around the UK and in areas of conflict. The training they undergo is extremely arduous, and involves a lot of mental and physical commitment. It was a pleasure to meet them and work with them day by day for the week. We also had a small insight into what life in the RAF Police was like, and got to experience many roles involved in it, including being a prisoner.
The camp began on Saturday. We travelled down to Honington in the morning, and had a drive on a coach of about 2 hours. When we arrived we picked our rooms, and unpacked our bags. We all had to have tidy rooms with correctly folded uniform, mainly to make life easier on camp, as well as to keep everything looking as good as possible - particularly uniform, as it needed to be in perfect condition, as it would be judged daily. After unpacking a larger air cadet contingent arrived from Edinburgh. We would be working with them for the rest of the camp. We were later briefed on what our camp would entail, and were split up into 3 flights (groups): Faith, Hope, and Charity.
On Sunday we travelled to IWM Duxford, a (mostly) air museum holding a variety of aircraft, ranging from a Concorde, to a Spitfire. We could either choose to complete a worksheet about the Battle of Britain or D-Day. It helped us get an insight into the history of the events, and also allowed for some competition and motive to complete them, as scores collected from the sheets would go towards an inter-flight competition.
The evening involved many of the male cadets from LSST organizing, amongst ourselves, a 'bulling party', in which one person hosted (in their room) and we had fun with music, and laughed the night away while also being productive. We improved our parade shoes, layer by layer with polish in order to make them shinier. The process takes months in order to bring them up to the best standards, so the bulling went on for several hours. It was a very fun and, unique at the least, experience for everyone.
Monday 4th July was a particularly busy day. The morning entailed an RAF Careers officer coming into Honington to speak to us about all of the different jobs in the RAF, in which there are currently 59, a shocking number. After a small presentation, we were set teamwork tasks in this session, including tasks such as building the smallest possible tower (using all the pieces) of a building set, and more. After this we moved on into Honington's gym to do a range of leadership tasks. Some examples are having a group on a mat and flipping it without touching the floor, having a leader command you to walk to a location, with obstacles in the way, while you are blindfolded, and more. This was a valuable experience, as it meant we had to begin to work as a team within our flights. Our time scores were also put towards the inter-flight competition.
Tuesday was RAF Police Day. We were lucky enough to tour the custody cells in the police building, and see what it was like to be arrested, and were able to ask any questions we wanted. Later that day, we had to work as a team to solve a murder, we had to search a house, investigate the murder scene by looking for clues, interviewing suspects, and more. It was an amazing and enjoyable experience, and everyone was able to identify the killer. We later enjoyed bowling in the evening, it allowed us all to have some social time with everyone in our camp, and have some overall fun.
On Wednesday we had our camp photo took with a Buccaneer and were able to spend the rest of the day with the RAF Regiment. We spent the morning, after the camp photo, learning about the tracking school the Regiment have to go through. We had to be very observant to succeed. It entailed finding hidden items (very well hidden!), as well as finding out what had happened before by looking at some imprints in some sand. It was amazing how much we could figure out with tiny intricate details. We were later able to explore the different weapons the Regiment use, as well as the vehicles. It was very interesting to get a feel for the weapons, as well as the vehicles.
Thursday was a very different day. We had all 3 meals of the day from an MOD ration pack, and we had to cook all of our food. The day was spent on the field doing a range of activities with the Regiment including methods of movement, camouflage and concealment, finding hidden objects, and more. We learnt the do-s and don't-s with many things in the field, including avoiding getting 250 press-ups, like myself.
Friday was our final day of camp. It began with a drill competition that we had been preparing for the entire week, as well as our uniform for the event (including our polishing and ironing in the upcoming evenings). Hope won the event, but everyone did very well. We then went swimming and had a fun game of water polo, of which Hope won yet again. It was a great experience, and was a real highlight for our teamwork throughout the camp. We spent a few hours in town later on, having a general good time to finish off the camp. In the evening we had a disco which had lots of fun activities to do, as well as comical 'paper plate' awards being given out, as well official awards, including 3 from LSST CCF, in which we are very proud of as a contingent: Cdt Alan Middleton gaining 'Male Cadet of Camp' and Sgt Callum Frances receiving 'NCO of Camp', and Cdt Owen Frances receiving 'Hardest working Cadet'. We got back to accommodation to a surprise pizza delivery, a great was to conclude the camp.
On Saturday, we packed up the bus ready to leave, prepared our rooms to tip-top condition and said goodbye to our new Scottish friends, who were due to leave an hour later.
Overall, everyone enjoyed the camp, and many, including myself, simply cannot wait for next year's camp.
Cdt "Griff" Griffiths.