9th March six year 12 Law students travelled to Sheffield Hallam.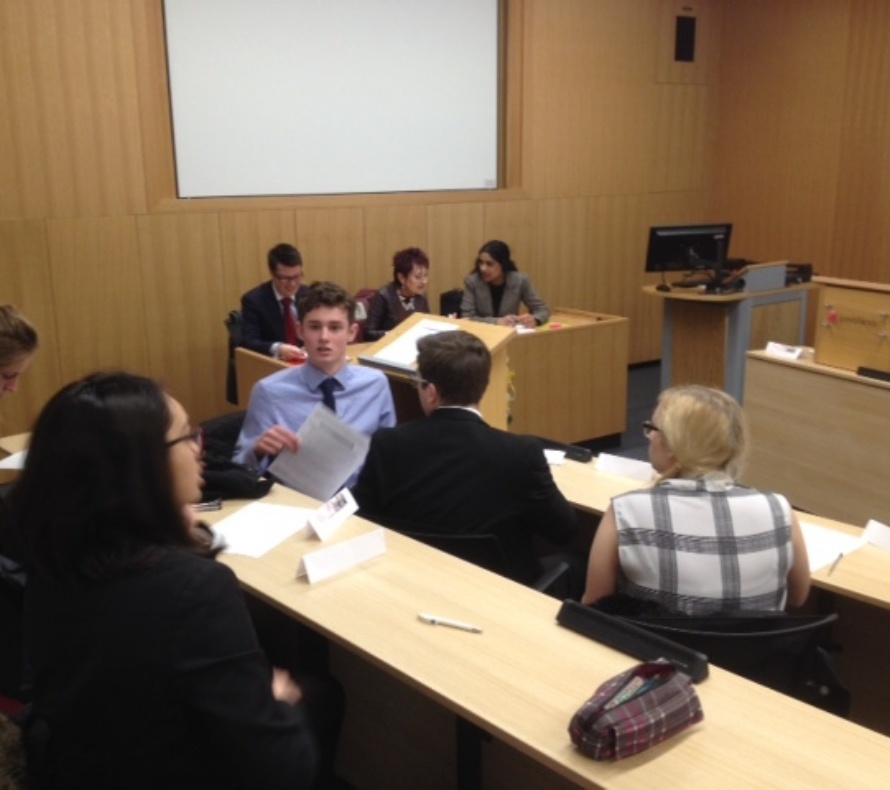 On 9th March six year 12 students travelled to Sheffield Hallam to partake in the gripping first round of a Law debate competition.
Headed by Mr. Stones, the team, selected after auditions- George Baker, Abbey Gould, Jake Gibbins, Molly Ripley, Saskia Dowley and Ashmeena Rickaby- nervously entered the MOOT room whereby they faced their opposition while debating the motion 'Should assisted suicide be legalised in the UK'. The team were given the task three weeks in advance to present an argument for the motion, during which they engaged in multiple meetings to develop their arguments to the best of their abilities.
Judging criteria included an individual mark for each member which formulated marks on things such as the clarity of voice, intonations and fluency, while also the persuasive power of the argument. With this in mind, the groups met frequently in order to be sure that all these criteria were met during rehearsal. These rehearsals included performing each argument to the group, and subsequently having it picked apart by other members, until they were at a stage where they could merge each three minute speech to form a whole argument.
The day itself proved to be a very tense time, and including rebuttals and questioning, the team were engaged in an intense formal debate for almost 2 hours. After this time, each team were asked to leave while the Judges- including barristers and solicitors- conferred over the results. The twenty minute wait to follow was incredibly tense, but when the LSST team returned, they had not only won the motion but also scored an incredible 250 out of the possible 260 points.
Needless to say the team were over-joyed as they had surpassed any expectations that was previously held. This pride was highlighted by the special mention that it was rare for a team to score above 200 points.
Now it is simply an apprehensive waiting game to see if the team has scored highly enough to beat the teams in the 4 other heats in order to qualify for the finals in June. We wish them the best of luck and cannot wait to see the final results!
Please enter some content for your blog post here.