EALT Leadership Course, RAF Wittering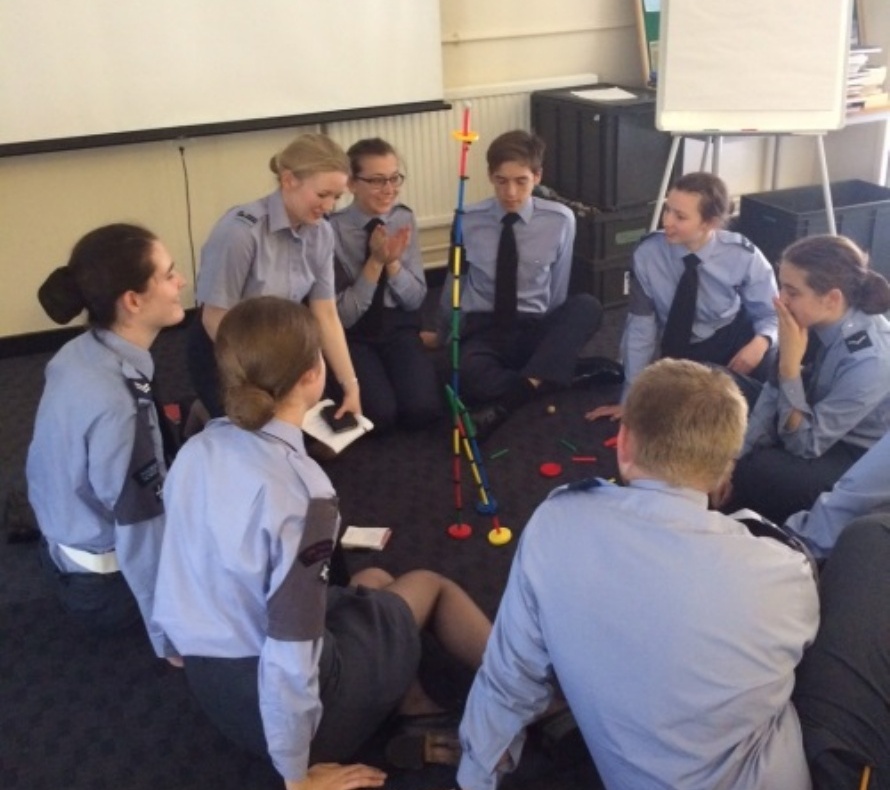 Year 10 Priory CCF Cadets, set off to RAF Wittering for a 3 day course involving: leadership theory, public speaking & team building activities. All cadets passed the part 1 Leadership Course and are thoroughly looking forward to completing part 2.
.
Expectations
From the moment we arrived, the standards were already set for us. Our first lesson took place at 19:00 and outlined the expectations for us, they were as follows…
Work as a team

Upping the tempo

Work hard

Take and use notes

Get into the scenario

Play hard

Have fun
These expectations certainty set the bar for the rest of the weekend with: nightly room inspections, daily uniform checks and hourly team work tasks. As soon as we arrived, we were directed to our rooms and told to unpack, tidy up our rooms and start prepping our uniform for the following morning. This included ironing shirts with crisp and precise creases, wiping mirrors until they were gleaming and even crawling around on the floor, picking up bits and dirt. Soon after, our first lesson began and the health and safety talks started. We were taught acronyms such as F.O.D (foreign object, debris) and P.P.E (personal, protection, equipment) to help us remember the dangers around us and how to deal with them. These expectations helped us to maintain our self-discipline and standards to a high level for the duration of the course and I'm sure, far into the future too.
Tasks
Throughout the course we were subject to a host of PowerPoint presentations ranging from self-discipline, to what makes a good leader. All of these PowerPoints, (however tiring the may have been) were very beneficial to us all. But amongst these presentations was: drill, team work activities and public speaking tasks. For roughly 3 hours of the weekend, Warrant Officer Gardner taught us some basic, and some challenging, drill command tasks including: about turns, slow march and removal of headdress. As a flight we had to work as a team to keep in time with one another and effectively listen to commands. Now and then, the Warrant Officer would select a cadet to stand out at the front and take control of the flight, allowing them to bellow commands out and learn how to lead a group to success.
As well as drill, we were each allocated a 2 minute time slot on Sunday for a public speaking presentation. Each of us had to prepare a 2-3 minute public speaking presentation based on CCF and perform it to around 10-15 people. But before we started preparing our presentations, we were offered some useful tips which were of much help for many of the cadets.
The more confident you appear, the more confidence people will have in you.

Make bullet point notes to refer to.

Only 7% of the information you transmit to others is in the language you use.

38% is how you speak (tone, accent, quality, etc)

55% is body language (posture, eye contact, gestures, etc)

< > (posture, orientation, proximity)

Opportunities

This Leadership Course was host to a range of opportunities for me personally, but also as a whole for others. By partaking in the course, we had the opportunity to lead groups, work as a team, publicly speak and mingle with students from other schools. As well as the Priory Cadets, other schools were also taking their part 2 leadership training at the RAF base, which the Priory Cadets will be completing later in September. This gave the chance for us to talk to people we normally wouldn't get the chance to, and even make some new friends. This weekend also gave everyone the chance to take lead in someway and learn the key information and top tips for being a respectable and effective leader. The definition of a leader is "To influence the thought and behaviour of others in a deliberate direction in order to achieve a desired objective." We learnt the different types of leaders (qualities, situational, autocratic, etc) and the most effective type of leader, which is…

To get the most from a team

Some qualities of an autocratic leader

Also a good team member

Gives and receives orders

By learning and preaching these qualities, every single cadet at the course was able to become a successful leader, both then – and in the future.

Highlights

My main highlights during the weekend were the team work tasks. My favourite of which, involved the whole flight flipping over a small poncho whilst standing on it. We received our instructions in the S.M.E.A.C format (Situation, Mission, Execution, any questions, and check understanding.) The situation was that we were a team practising for an agility competition and our mission was to turn over the poncho without touching the ground to build up our mental and physical ability. We were to execute it using the poncho, but our limitations were that the flight must start and finish formed as a flight at attention. We had 10 minutes to practise prior to the 'competition' and a further 25 minutes to complete it to the best of our abilities. We would then be compared to previous flights, however, if any member of the flight touched the ground, a 30 second penalty would be called and the flight would have to freeze. Fortunately, we managed to complete it in an astonishing time of around 2 minutes without anyone touching the floor – and we beat all of the previous flights!

Attributes Gained

Before I had even joined CCF, I was severely introverted; I didn't contribute in any discussions or even make eye contact with anyone other than the floor! But since joining CCF my confidences has slowly – but surely, increased; and by partaking in the Leadership Course, this will certainly help both now, and in the future. This course certainly pushed my limits in ways such as: taking lead of groups, speaking in front of people and being around people I'm unfamiliar with. But, by coming on the course I have learnt how to deal with these fears and know I will be able to use these skills now, and in my future. As well as gaining useful skills, we have also gained a useful qualification. As everyone is expecting to return to RAF Wittering to complete part 2 of the course in September, we will hopefully all complete it and then receive a report of how we did and a certificate for completing the course – this is a unique and important qualification to have.

Conclusion

The EALT Leadership Course is an experience that has been – and will be of great value to us. The skills we have all learnt from both CCF and the Leadership Course can be taken into our future and be used in our jobs, interviews and day-to-day duties. It was defiantly worth going.