From Romans to Railways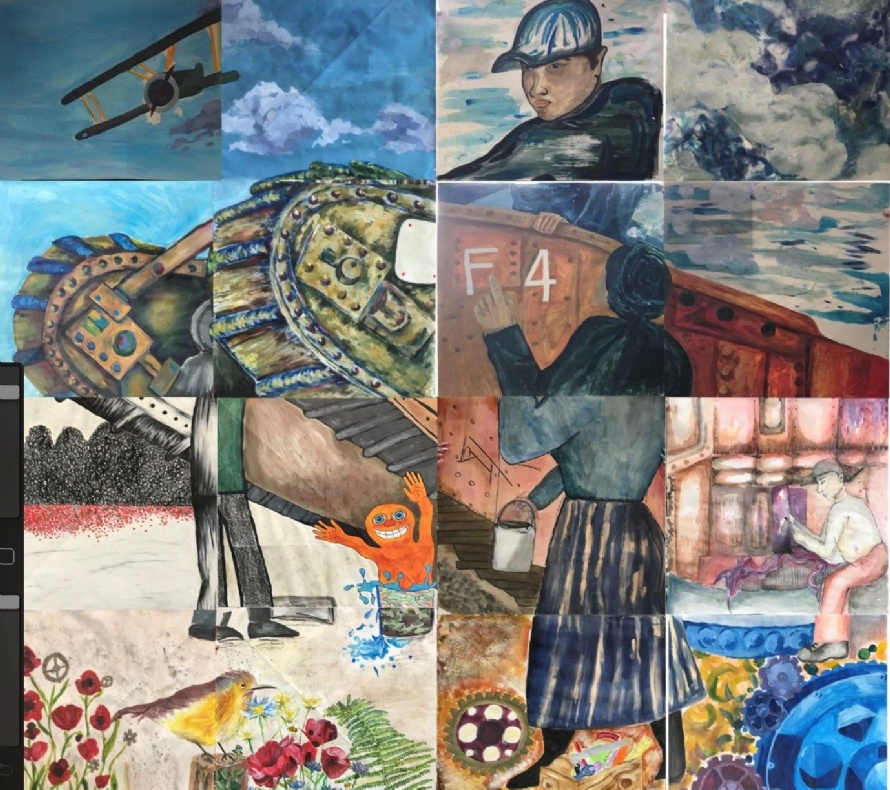 Year 13 Community Art Project
In July 2021 the Priory LSST Academy were invited by East Midlands Railway to take part in a collaborative art project with community rail* and a local artist. The piece you see in the picture is the outcome from the workshop on Monday 12th July with artist, Mel Langton
On Friday 25th February a group of A Level Art students were invited to the unveiling of the artwork at Lincoln station. This included the six pieces of artwork that have been created by local artist Mel Langton with the pupils in local schools including Lincoln Christ's Hospital, The Priory Academy LSST and National Citizen Service.
A Level students were asked to produce a large piece of digital work to be installed at Lincoln train station. Romans to Railways will be an addition to the recent refurbishment of Lincoln station, helping to make it an attractive gateway to the city. During the initial lockdown, whilst most students were working remotely, A Level Art students were researching historical elements of Lincolnshire and developing ideas independently. On Monday 12th July 2021 students were able to attend a workshop within the Academy where they produced an image based on the manufacture of the tank. This workshop was delivered by a local artist, Mel Langton, who has designed some of the Lincoln Imps for the 2021 trail and previously a Magna Carta 800 Baron. Nineteen A Level students worked with a variety of media and materials to produce a large image that has now been transformed into a 2-metre by 2-metre aluminium panel displaying the digital art work. All the students are excited to see their artwork in situ, giving them the opportunity to appreciate the city they live in as they experience seeing their work on public display.
The artwork showcases some of Lincoln's best attractions, as well as the talents of our young artists, who intend to inspire both the local community and visitors to explore all the city has to offer!
*Community rail consists of grassroots partnerships which by engaging with communities help people maximise the benefits their railways offer as well as promoting sustainable travel. They work to improve train services and stations as gateways to their communities and advance the provision of new stations and services. The North Notts and Lincs CRP covers an area of 2,200 square miles served by 11 railway stations, including Lincoln. NNLCRP is a Community Interest Company designed to serve the communities in its area. Stakeholders include train companies, bus operators, councils, Network Rail and Community Rail Network. NNLCRP also support volunteer station adopters.