Cadets hit new heights in RAF challenge

Sixteen RAF Cadets conquered a three-hour High Ropes course at RAF Cranwell.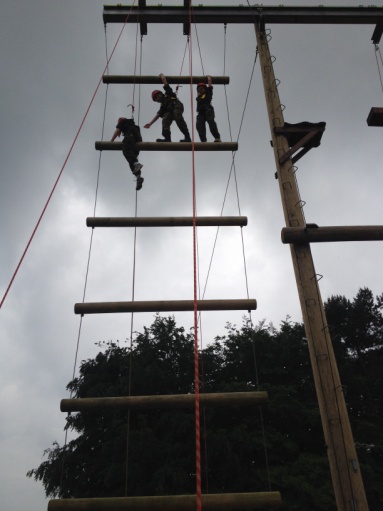 Sixteen RAF Cadets travelled to RAF Cranwell to participate in a three-hour High Ropes course. The aim – to take themselves outside of their comfort zone.
Being Royal Air Force cadets, one could only hope that they had a head for heights. The evening's events would test this to the limit.
Firstly, the team challenges, starting with the totem pole seesaw. The aim of the activity was to climb to the top of the totem pole and onto the seesaw, then await your team-mates before trying to balance the seesaw. Once all three members of the team were on top, the communicating began, as did the fear of walking further and further out to the edge. Essentially, it was all about working out who was the heaviest!
After the task was complete, the instructor below would ask you to step off the seesaw and hang in the air until your belayer lowered you down.
Click here to see a gallery of photos from the evening.
Challenge two was Jacob's Ladder – a hanging ladder where the team, with no individual heroics, had to negotiate their way to the top. Requirements – communication, teamwork and a bit of strength. The problem – the ladder just hangs there rocking all over the place and then, just to add to the difficulty, the distance between the rungs of the ladder increases each time.
All the time this is going on, you also need a good pair of interested belayers!
Victory is sweet, though, for those who conquer the ladder. Well done.
The third and final challenge – you, a very tall totem pole and a leap of faith. They looked in wonder, they climbed and then they jumped. Every single member of the group without hesitation jumped. Royal Air Force – rise above!
Mrs Thompson